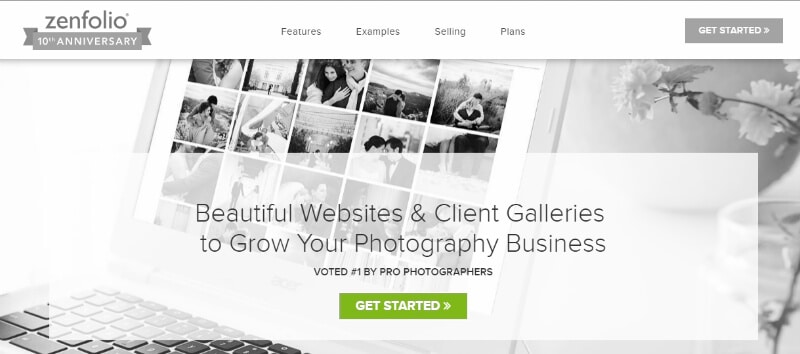 Considering Zenfolio to build your photography website?
I get it:
It's a great overall builder with a ton of features to help you get started.
Best of all:
It doesn't matter your skill level because they keep it simple for anyone to build a photography site that really stands out.
Get reading this Zenfolio review to see how it can work for you.
A Little Bit About Zenfolio
Zenfolio is perfect for photographers with and without knowledge of coding.
Novice and professional web designers see the value in the photography service because existing templates are easy to customize even without any knowledge of HTML.
There is also a custom template option for more advanced web design.
Signing up for the website takes minutes to complete and after selecting a template and uploading photos, members are able to launch their sites and start selling their photographs.
More detailed information is available to members through the account dashboard which serves as a valuable tool for updating information, viewing data, and adding additional photographs for sale.
The interface is clean, simple to understand, and offers members one-click options which save them time.
Zenfolio's most prominent features are explained in detail through the Customer Support Center where additional information is contained.
In addition to being able to access text and tutorials, members are able to watch videos and attend training sessions through this area of the website.
This allows them to make the most of website features and maximize their sales through Zenfolio.
The response time is quick as you click on the chosen icon on the dashboard that you want to view.
Uploading photos and price lists takes minutes to do and gives you the option to optimize descriptions using keywords. This makes the work that you post searchable on the search engines and across the website.
Clients looking for a particular style of a photographer can do so easily making Zenfolio great for photographers and people wanting to buy beautiful photographs.
Start Your Free Trial With Zenfolio
Zenfolio Pricing
There are three different membership levels to choose from with Zenfolio.
The first is the Starter option.
It costs $7 a month but is reduced to $5 a month when an annual membership is selected and paid for.
It offers a very basic list of features including a customizable website and blog, unlimited storage options, access controls with password capabilities, and hosting of HD videos.
The second membership option is Pro.
It's $28 a month and reduced to $20 a month when paid annually and not in installments.
It offers the same basic features that the Starter option offers in addition to watermarks and branding, client access, proofing, and saved favorites, freedom in pricing your own products, and a number of powerful marketing tools.
The last membership option offered by Zenfolio is called Advanced.
It offers the same great features of the Starter and Pro memberships.
It costs $40 a month when paid in installments and is reduced to $30 a month when paid in full annually.
Some features to note include multiple user accounts, order editing, a free listing on Photographer Central, and valuable live chat and phone support which is available immediately.
A free trial without the need to enter credit card information is available for all new users.
In order to try out the website, you'll need to enter your photographer name, email address, choice of password, country of residence, and agree to the terms of service and privacy policy included on the website.
Let's Check Out The Zenfolio Pricing Chart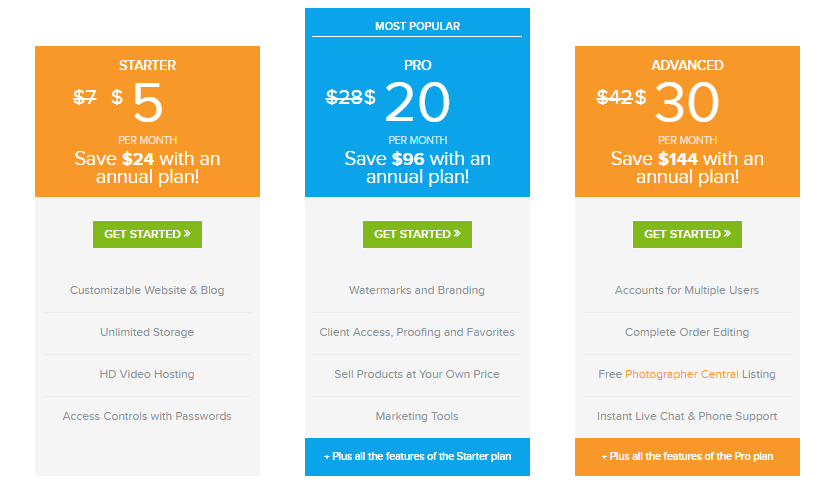 Zenfolio Pros Your Gonna Like
Photographers need a large amount of bandwidth to display their best photos at the most appropriate size.
An unlimited amount
Many websites limit users by giving them a limited amount of storage space to house and display their work.
Zenfolio offers unlimited storage space for even the most basic user. This is a huge selling point for the website.
Users don't have to sacrifice quality to meet the website's guidelines.
In fact, they have better opportunities to sell because they're able to include the best examples of their work not just what they could reduce in size to sell on a website.
Templates were designed to show off the skills and creativity of photographers by emphasizing visuals (photographs and HD videos).
Photographer Central helps clients discover photographers. The feature is yet another reason why Zenfolio isn't just a photo hosting website.
It's an impressive multi-media option for photographers of all skill levels to showcase their work, build their business, and earn a living.
Through photos and HD videos, you grab people's attention and get them interested in your body of work whether it be portraits, landscapes or nature photography that you specialize in.
Always a fan of this
Another impressive option offered by Zenfolio is its free trial. Consisting of 14 days, you're able to test site features without giving up your credit card information.
After the trial is up, you'll be given the option to purchase a paid subscription.
The choice of membership plan you go with depends on how much you think you'll use the website.
Even more importantly, if you pay annually, you save a considerable amount of money on whichever membership plan you've chosen for yourself.
Zenfolio Cons
The cons of Zenfolio are few in comparison to other websites with similar concepts.
One, however, stands out and that is the lack of immediate customer support it offers.
Unless a member has an Advanced membership, he or she is going to find it impossible to reach a live person.
Chat and phone help is limited to those who have the highest paid membership and limited to email for Starter and Pro members.
In order to take advantage of membership savings, members must purchase a year's worth of service in advance.
Not everyone has the desire or means to do this.
Month-to-month subscription services make it possible for even novice photographers to still use the Zenfolio website without losing a lot of money.
Although the additional costs are minimal, it may be a reason for some photographers to go with a different company for selling their photos.
This is definitely one of the cons for some photographers.
Start Your Free Trial With Zenfolio
Zenfolio Templates
There are twelve different templates to choose from and customize.
Each is high quality and easy to make your own.
There is a homepage option and gallery option for each template depending on your preferences in how your photos look and are arranged on the page.
The names of the templates listed on the website include:
•Ares
•Hemera
•Aura
•Persephone
•Hestia
•Veritas
•Concordia
•Invidia
•Nox
•Vesta
•Pomona
•Nesoi
After selecting the template that is right for you as a photographer, you're asked to upload one to five photographs to get started.
Once that process is complete, you're then able to add a webpage title, geographic location, and description of your website.
This helps others find your photography.
Here Are A Few Websites Using Zenfolio:

Zenfolio Fees
Zenfolio fees used to be significantly higher than they are today. In the past, they ranged in price per plan and currency.
As of November 2017, a flat 7% service fee for all product types, plans, and currencies is charged by the company.
This allows members to account for Zenfolio's fees when calculating their own prices for photographs.
Vendor Fulfilled, Digital Download, and Self Fulfilled products qualify for the flat service fee.
The service fee is based on the total selling price of the product not the markup added by the photographer.
The new fee, of course, is minus photographer issued discounts.
Zenfolio Customer Service
As with most websites these days, Zenfolio offers a Customer Support Center filled with information that helps users with their most pressing questions and concerns.
The topics addressed in the center include Training Videos, Online Training, User Forums, the Zenfolio Blog, Feature Ideas, and Contact Us.
Some of the more pressing topics for members to choose from include Frequently Asked Questions (FAQs), Getting Started, Managing Your Account, Organizing Photos and Videos, Customizing Your Website, Protecting Your Work, and Selling Your Work.
Zenfolio customer service agents are available to assist via emails. Follow-up times are typically four hours from the time the message was sent, 365 days a year.
It is recommended to contact photographers directly through their home or contact page with questions not addressed in the Customer Support Center.
Paid Advance members have access to live chat and phone support. Other members, however, do not have this option without upgrading their service. Issues that require immediate attention do not receive attention for hours if a user pays for a Starter or Pro account.
The company does have a Facebook, Twitter, Google+, and Instagram account that members can also refer to.
Although it's not mentioned on the website that support can be given through social media, answers to common questions likely will come up in Facebook and Twitter posts.
Members can communicate with one another through these platforms as well.
How To Get Started With Zenfolio Step By Step
You can click here to sign up really quick.
This will take place just after you did that 🙂
How To Get Started Selling With Zenfolio
Selling with Zenfolio is easier than you might have imagined. Everything is done through your account dashboard.
From there, you're able to do the following things:
•View Reports
•Request Payouts
•Create New Template Designs
•Manage Existing Template Designs
•Add and Manage New Coupons and Campaigns
•Add and Manage New Gift Certificates
Zenfolio allows you to print and sell photographs, accept credit card payments, give clients access to their photos using a unique key, and create packages.
Best of all, you're able to set your own prices and pay a low transaction fee of 7% which is less than it was in the past.
To get started selling on the site, there are some steps you'll need to follow. This is how you add Vendor products:
1. First, fill out the Payout Profile information. This lets Zenfolio know how you'd like to receive the money that you make from your photography sales.
2. Next, create a price list.
3. Include the products you want to sell to the price list.
4. Determine the prices for the products.
5. Assign the price list to the galleries of your choice.
The same process goes for Self Fulfilled and Digital Downloads, but you'll need to create the products before the price list not vice versa.
Starter members must use base lab prices to sell their work. Pro and Advanced subscribers have more freedom by being able to set their own prices and sell more products. To access the Selling option, choose Selling.
The Selling Overview is a dashboard glance at all the selling features offered through the Zenfolio website.
It allows members to manage orders, keep track of payments, and create promotions.
Compare Zenfolio To Other Photography Website Builders Before Using
If you really want to compare and break down the other photography builders to Zenfolio, here are two spots to do that.
Top Photography Website Builders
Photography Website Builders Comparison Chart
Zenfolio Review Conclusion
As you can see Zenfolio offers a ton of features that can grow and show off your photography business.
And, all the tools to be able to showcase your work and sell online easily.
Consider:
Heading on over and test drive it to see how it can help you out.
Quick question for you?
Have you had the chance to use Zenfolio yet? Or have been considering using it?
Also, whats your thoughts on this Zenfolio review, anything else you would like to see?
Summary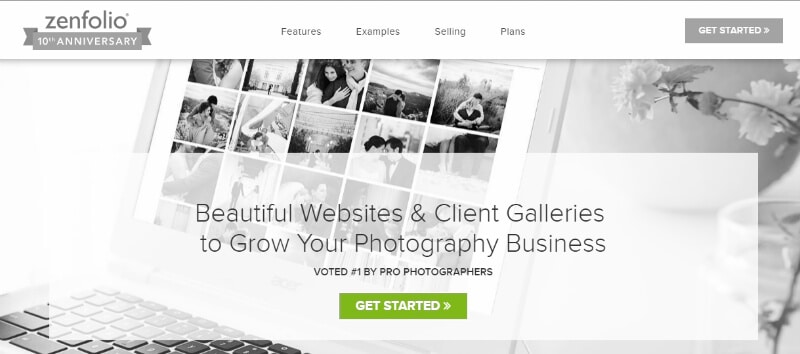 Article Name
A Zenfolio Review For 2018 (Pros, Cons, Pricing, And Features)
Description
Zenfolio is a very powerful photography website builder with a ton of features. In this Zenfolio review we are going to go over their pricing plan, ease of use, features for photographers, and more, so you can make the right decision.
Author