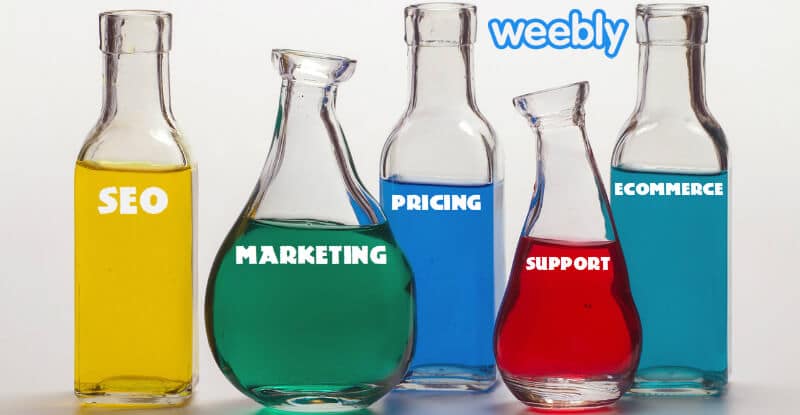 Considering using Weebly to build your website?
And probably
searching for terms like….
Weebly Review
Weebly
Weebly Website Bulder Review
Is Weebly Good To Build A Website?
Pros And Cons Of Weebly
Shoot, you're smart if this is what your doing.
Cause,
Your doing your research. On top of that…
You hear about them a lot, and usually, they are compared with Wix when it comes to building…..
A small and basic small business website or a just a simple website for your needs in general.
But:
You need to do a little bit of your own homework like I mentioned, before you just pull the trigger and use Weebly right?
Of course, you need to do that.
Let's go ahead and break Weebly down a bit more to really help you decide.
---
Welcome To Weebly Introduction Video
---
---
Weebly Website Builder Ease Of Use
---
San Francisco-based company, Weebly, was founded in 2007 and since then, has grown exponentially.
With millions of users worldwide, it allows people to create unique websites, blogs, and online stores.
In addition to offering full websites, Weebly also works on mobile devices giving individuals and businesses more flexibility than ever before.
Getting started with Weebly requires nothing more than an idea and an internet connection.
The website builder allows you to drag and drop different items onto your site making customization quick and easy.
You don't need a degree in design nor do you need to hire a design company to do the work for you.
Add text, photos, maps, and videos by dragging them and dropping them into the template of your choice.
Play around with font styles, colors, and sizes to make words and descriptions stand out.
You don't have to download or install anything to get your site up and running either. You do it from your web browser.
Thirty million entrepreneurs and small businesses attest to the power of Weebly which lets you know the site works.
If you want something affordable, user-friendly, and unique, it's a good place to start.
More importantly, if you have a website built and want to move it over to take advantage of Weebly's features, you can.
---
Weebly Pricing Plans
---
Weebly offers four different pricing plans to meet its customers' needs and budget.
They the Weebly Free plan, Starter, Pro, and Business.
A breakdown of each plan and its pricing is as follows: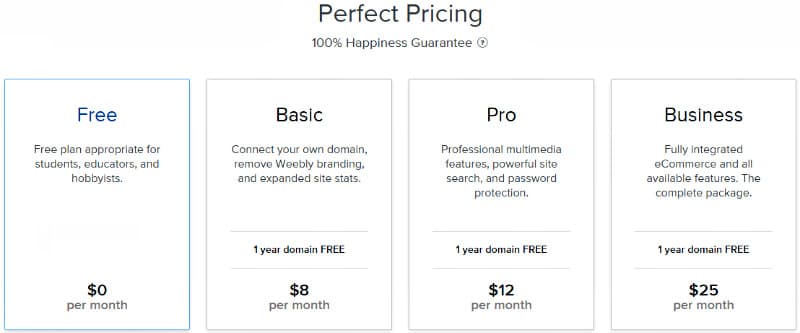 Weebly Free Plan
A Free account is exactly as it name suggests, an account that doesn't cost money. After you've created an account, you can use this option to create unlimited pages and host your website for free. Keep in mind, however, that you won't use a custom URL. It will have the name Weebly in its address along with your chosen web address.
Weebly Basic Plan
A Starter account lets you explore your options further. It costs $8, allows you to remove Weebly branding and connect your own domain. It also provides expanded site stats. A one-year domain is provided with this pricing plan
Weebly Pro Plan
Weebly Pro account costs $12 and provides a multitude of multimedia features. Among them is site search and password protection. Like a Starter account, it comes with a one-year domain.
Weebly Business Plan
A Business account is fully integrated with all available features. It costs $25 a month and comes with a one-year domain. Like the Starter and Pro accounts, all Weebly branding is removed.
The Business account costs far less than competitors Shopify and Bigcommerce. With that being said, however, each company offers its own list of features.
Businesses must weigh the pros and cons of each site to determine whether or not pricing is fair for the services provided by Weebly, Shopify, and Bigcommerce.
---
Weebly Templates Offered
---
There are responsive themes for your website, blog or online store. That gives you lots of flexibility in how you choose to design your site.
Among the most popular options are Slick, Paper, Impact, Oasis, and Highlighter.
Other free website themes for Weebly:
•Haberdasher
•Saucy
•Brisk
•Bradley
•Journey
•Redux
•Squared
Each website allows you to add your unique vision to it. By changing font colors, sizes, and styles, you instantly transform a simple template into a spectacular website.
You also have the option to add and remove pages, include widgets and social media icons, and switch out photographs and text with your own to give a template a personal feel.
Customizing background photos take a little time and help personalize the design.
Weebly provides high-resolution stock photos to choose from or allows you to upload and use your own.
There are a number of different filters that let your blur, sharpen, and darken images to your liking.
---
Weebly SEO Features
---
Search Engine Optimization (SEO) is what puts your website on the map.
It's the way people find you through the web searches they conduct on search engines like Google, BING, and Yahoo.
Without SEO, it's difficult to stand out in a sea of competition.
Weebly understands the importance of this feature and offers the following options with the registration of your website:
•A sitemap that makes it easier for the search engines to find your website.
•Automated pinging of all new content.
•HTML formatting the right way.
•Detailed meta descriptions.
•Alt tags on images.
•Page-specific descriptions.
If you still have no clue what all this means, don't worry.
Weebly gets that not everyone is knowledgeable about SEO.
That's why it provides a handy guide to follow that explains the steps it takes to make a site visible and appealing to the public.
Improve Your Weebly SEO Skills With This Video
---
Weebly Marketing Features
---
Marketing features offered by Weebly include integrated form builders and scheduling tools. Sharing content in the form of blogs is easy.
You don't even have to post it until later. Simply schedule the time and date you want your blog post to go live and spend time doing other things to make your business grow.
You also have the ability to add social media buttons to your website making it possible to engage with customers wherever they hang out.
People will see the consistency of your brand through your Facebook, Twitter, Instagram, Pinterest, and YouTube pages and want to join the conversation.
This is a great way to test the waters and see what changes need to be made in your business model.
You don't have to survey customers to find out what they like and don't like about your products and services.
You need to listen, read their comments, and reply in a timely manner. Weebly makes it possible for you to your social media accounts effortlessly.
---
Weebly Customer Support
---
Weebly provides a fully stocked support site that addresses its most frequently asked questions. Information is broken down into separate categories.
You'll find the answers that you need regarding The Essentials, Blogging, Building, Commerce, Domain Names, Mobile Apps, and more.
Each article answers specific questions and makes it so Weebly users get the assistance that they need immediately without waiting for a support specialist to contact them.
There is also the option to submit a formal request through a form available through the Help Center.
It asks for your email address, a description of the help needed, a field to type in the subject, and another for details about the problem you're experiencing. It also gives you the option to upload a screenshot or photograph before submitting the request.
Weebly does not disclose how long it takes to get a reply back after submitting a formal request for assistance.
The information may be in the Help Center itself but it does not state this information on the page with the request form. This makes it very difficult to gauge how long it takes to receive help with website issues.
Additional ways to reach Weebly customer support are through live chat and email. The contact form found in the support center states the hours that customer support is available and how long you will wait to hear from someone via email once you've submitted your request.
Live training sessions are offered free of charge and help you learn everything you need to know to build, launch, and run a successful online business.
---
Weebly eCommerce Solution
---
For many companies, selling goods and services online is inevitable. It makes sense economically because of lower overhead and impressive tools created to drive business.
Online businesses often require fewer people to run them which is great news for start-ups and boutique firms and shops with little money to get their companies going initially.
Weebly's eCommerce solutions are comparable to Shopify in many ways. For example, it offers an easy-to-use website builder that allows you to create a storefront that meets your needs and exceeds your expectations.
Customize
You can customize it as much or as little as you want. You're even able to have full CSS/HTML control and editing for a one-of-a-kind website that impresses each time it's seen.
Shopping Cart
Weebly offers a fully integrated shopping cart for purchases. Check out is secure allowing your customers to buy with confidence.
Mobile
The complete mobile store and checkout experience works on every device at all hours of the day or night. You won't miss out on sales because your website's down or there is a problem with the checkout process.
Product Filtering Made Easy
Customers shop online because they want to save time by reducing the amount of effort it takes to find what they need. That's where Weebly's powerful filtered product search comes in.
It allows your customers to search by price, color, and size. It also allows you to highlight relevant products which helps close the sale and earn your business more money.
Selling Physical Products?
As a customer of Weebly's, you're not limited to selling just physical goods. You're able to sell a wide range of digital goods including e-books, patterns, recipes, and even printables such as invitations, planner inserts, and workbooks.
If you do choose to sell physical items, you're not limited to one shipping carrier.
You have your choice to use UPS, USPS, FedEx, etc. and set shipping rates based on price or weight.
You're also able to charge tax wherever it applies because Weebly provides and maintains city, state, and province level taxes in the USA and Canada. Other country taxes are defined by the seller and stated on the website making it easy to sell to customers anywhere globally. You aren't limited to selling to one country's people and not another.
Inventory
Once your physical inventory dwindles, you'll know. You're able to keep your hottest selling items in stock and even create supply and demand by showing customers how few items you have left for purchase.
Once items sell out, they're labeled as "out of stock," making it easy for you to manage your storefront and alert customers to items that are limited or popular.
Hosting
Hosting is free and reliable. Your store is open at 24/7 and 365 days a year.
You won't miss out on customers wanting to spend money with you because your website is down for maintenance or not equipped to deal with an influx of traffic. Reliability is something Weebly is known for.
Other Features
You're also able to customize content, run specials and promotions, and accept all major credit cards from your own domain name.
If you want additional payment options to choose from, Stripe, PayPal, Authorize.net, and Square are a just few options that work well on Weebly sites.
When a customer buys from you, you're able to process and manage orders right away.
Send out confirmation emails, shipment tracking information, and handle refunds and returns in real time. You'll also receive reports for orders and sales.
Best of all, if you already have an eCommerce store, you're able to import it from Etsy, Shopify or any CSV file. Make the needed adjustments and you're all set.
You don't have to start from scratch to have your store in a different location online.
---
Weebly Apps
---

Build, edit, and manage your website through Weebly's apps for iOS and Android. They're available for free through the Apple App Store and Google Play Store.
The app can be used on the iPhone, iPad, Apple Watch, Android phone, and Android tablet.
App users are able to sell products, fulfill orders, check inventory, and accept payments anywhere they go on the aforementioned devices. As equally as important is the ability to build new websites whenever the need arises.
The Drag and Drop Editor with touchscreen capabilities make building a website from a mobile device effortless.
---
Weebly Website Builder Beginners Video Guide
---
This one should really help you get started.
Click here if you want to follow along.
---
Weebly Review Top 2 Pros & Cons
---
Cons Of Weebly:
Weebly is extremely easy to use and allows people with no knowledge of building a website options to create, publish, and promote a fully integrated website for their business.
It doesn't even matter what type of products or services said business sells.
There are a variety of themes available including the ones referenced above that make websites personal and practical.
The cost of maintaining a Weebly website is comparable to its competitors and offers a wide variety of useful features and tools that make selling and communicating easy.
Pros Of Weebly
The downside to Weebly, however, is fewer themes than WordPress and Shopify as well as Weebly branding on free accounts.
People without a budget for an upgraded account do not have the luxury of personalizing URLs and are essentially stuck letting their customers or followers know they are using a free account.
It's also difficult to find customer service information although Weebly offers a dedicated support center and e-learning opportunities.
After careful examination of the website, a contact form was found but the live chat option mentioned before was non-existent at least as far as we could see when perusing the website.
This is very off-putting for some people who require assistance with their accounts in ways that the support center doesn't suggest.
Having phone support or a web chat window on the website's homepage would eliminate the frustration of not being able to get support in a timely manner.
---
Wix Vs Weebly
---
Totally a popular question many have been wondering on.
Thankfully I went ahead and wrote a nice detailed and powerful…..
Wix Vs Weebly article you need to check out.
Enjoy!!
Weebly Website Builder Review Conclusion
Weebly offers a simple solution for building a website regardless of someone's knowledge on website building.
This review should help you understand different areas about Weebly to make sure it offers you what you're looking for.
Are you ready to try it?
Or can you share your experience with Weebly?
Summary
Article Name
2018 Weebly Website Builder Review (Pros, Cons, Pricing)
Description
Are You Considering Using Weebly To Build Your Website? You Need To Read This Detailed Weebly Website Builder Review To Help Decide.
Author