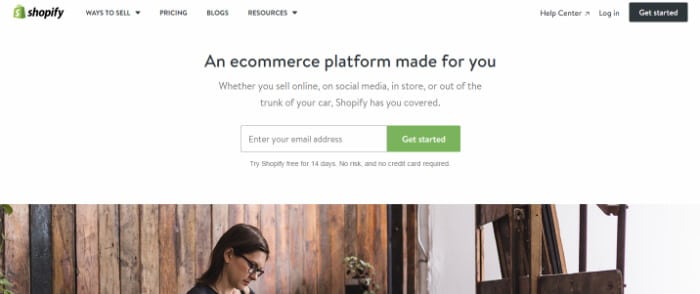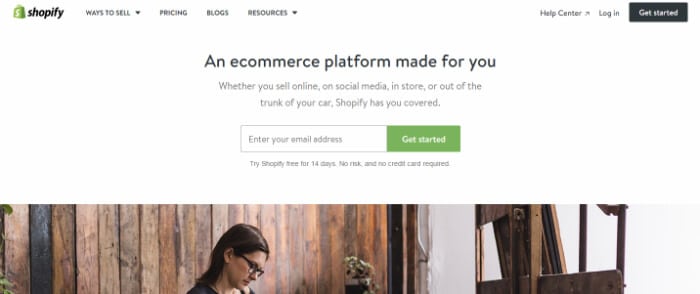 Can you name some ways to sell with Shopify?
Maybe 1 or 2 right?
Or
You might be scratching your head a bit right now.
Because:
Most likely you may have read you can open up a online store with Shopify, which I talk about a lot
But you may not know
They actually have additional ways to sell with them
What if I told you that with Shopify you can sell through
Facebook Messenger
Create A Buy Button
Create Buyable Pins On Pinterest
Just to name a few
I want to go over each one including setting up a Shopify store to explain them a bit
And:
Then show you how YOU how you can utilize this for your business.
Real Quick, These Are Your 2 Most Popular Ways To Sell With Shopify To Get Started.
The 2 easiest routes is to either use Shopify Lite at $9 Monthly so you have access to Sell on social media, in person, or on an existing website with Shopify Lite.
Personally,
I would recommend the Basic Shopify Plans at $29 so you have all the Shopify Lite features but also get a actual eCommerce online store.
This picture about sums it up: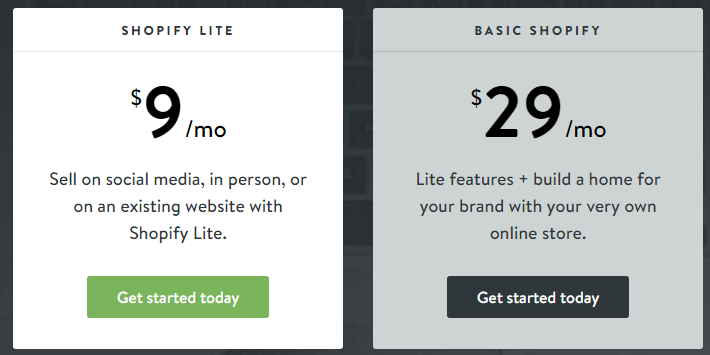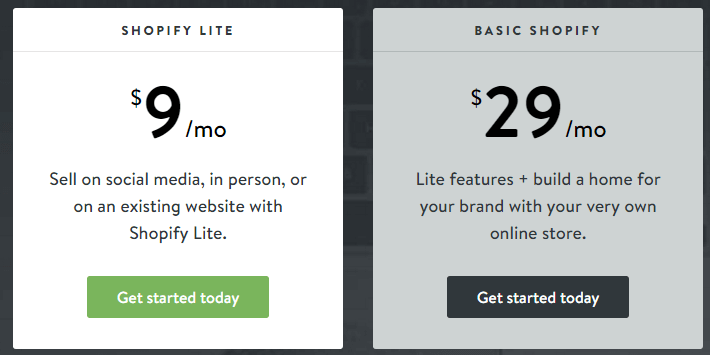 One little thing to add, if you know you going to need a store too, the Basic Shopify plan is the minimum, you might need the Shopify or Advanced Shopify depending on your needs.
Build An Online Store Free – Start your 14 day free trial with the Shopify Basic Plan, where most of my readers get started
Online Store – Easily The #1 Starting Point With Shopify

The most obvious way to sell with Shopify is through an online store that you set up and customize.
To begin, you'll add your products and then choose a theme for your shop. Once you have the domain name set up, you'll need to add shipping information and tax rates.
Setting up payments is essential because it allows you to receive money for the products and services that you offer in your store.
Through your online store, you're able to take credit cards which maximize the potential of you selling to visitors of your website.
You can set up new sales channels in seconds. Adding unlimited products and inventory means that your business grows with you. Tracking sales and growth trends as well as fulfilling orders is easy.
Shopify offers free online resources designed to help people at every stage of their business journey.
Some of the things offered include a logo maker, guides that address important business-related subjects, and podcasts.
There are also success stories and even a business encyclopedia that explores new ideas and terms.
A 14-day free trial is available for all new users. There is no risk and no credit card required. That means that you'll get to try everything out without committing to the service fully.
Shopify POS

Shopify POS makes it so you can sell products and accept payment on any device. You don't have to copy data between platforms because the POS system does all the updates for you. This includes inventory, orders, and customers.
To start, your customers can tap a product to start building a cart. Then they'll be able to apply discounts and taxes. Through Shopify's POS, your customer can accept any form of payment.
Customers then receive their receipts via email. It's an extremely simple way to for customers to keep track of purchases because they can file them in a folder and refer to them whenever necessary.
Some of the forms of payment accepted by Shopify POS is Apple Pay, Android Pay, and credit cards. A Shopify card reader makes it possible for you to accept payments in person.
Retail Package

Shopify's retail package makes it possible for you to sell in the store and still access all of the e-commerce company's most important tools and features.
For example, you can accept payments, cash, and gift cards which increase the likelihood of people shopping with you.
You're also able to manage your staff better than before with individual PINs.
This allows you to track their sales and register usage better than before. You also have the hardware integration that helps you sell more.
You get support for the barcode scanner, cash register, and receipt printer.
That means fewer issues with your hardware because you have a dedicated way to deal with these items.
Shopify allows you to purchase hardware individually or as a package so you get precisely what you need when you need it.
Systems accommodate the iPad Air ½, iPad Pro 9.7″ or iPad Mini. A package consists of an iPad Stand, a Cash Drawer, a Receipt Printer, and a Card Reader which allows Tap, Chip, and Swipe payments.
You're given free shipping and have 30 days to return hardware for a full refund.
You're able to accept all major credits cards including Visa, Mastercard, Discover, and American Express for as low as 2.4%+0 cents with no hidden fees.
You're also able to accept cash, credit, gift cards, Apple Pay, and Android Pay.
Partial payments or deposits are other options that you're able to account for as well as splitting payment between two or more payment types depending on the customer's needs.
Keeping track of the daily cash flow for your business is easy because you're able to monitor cash register adjustments easily.
The Retail Package is ideal for retail stores and people who sell in person at events like conferences, games or conventions.
Third-party hardware support is available. Shopify offers Support Documentation of these hardware devices.
The model numbers must be an exact match, however, for them to be able to help you.
Shopify POS can be used on multiple iPads making it easy to sell more and handle customer demand quicker.
People won't be stuck waiting on one cashier at one register.
They'll be able to move through the line quickly because you have more than one register running at a time.
Buy Button

A Shopify Buy Button allows you to add embeddable products to your website. This allows you to present your products the way that you want. You're also able to embed a shopping cart.
It's a mobile-friendly option that enhances the customer's experience. They click on the button and are able to instantly add their favorite products to the shopping cart.
You get the peace of mind of knowing that this option can include the custom colors you feel matches your website theme and company's image best.
Web developers are able to build a custom online store thanks to Shopify's JavaScript Buy SDK.
That means that incorporating lookbooks, sponsored content or ads is a possibility. Get the traffic that you deserve by accurately conveying your brand to the people you think it will help most.
Thousands of websites use the Shopify Buy Button including Marsh & Mallow, Fabio Viviani Wines, Synchro Genesis, and Contour.
You're able to sell unlimited products, integrate orders and shipping, track sales and growth trends, and even figure out global tax and currency. Your customers get a secure checkout experience where over 70+ payment gateways are accepted.
Key features with the buy it now button
Embed products on your site like WordPress
Embed a shopping cart
Customize the product to your brand
Try The Buy It Now Button This is included in the Shopify Lite plan and up
Pinterest Buyable Pins

Shopify partnered with Pinterest to allow customers to buy your products and services without leaving the Pinterest app. Any item that was pinned from your Shopify store becomes a Buyable Pin.
Rather than leave the app to go to your website to make a purchase, they're able to check out from their phone or tablet using a credit card or Apple Pay.
The advantages of using this app are that it allows you to get to know the customer better by allowing you to track the number of pins, repins, and orders that you're receiving on a daily, weekly, and monthly basis. All you have to do is use the Pinterest Channel Dashboard to access the analytics.
This allows you to do three things. First, it helps grow our brand.
Second, it helps grow your audience. Third, it helps grow your network.
For example, you're able to grow your brand by telling your story the way only you know how to do. This appeals to your customers because you're helping them achieve a certain lifestyle.
The more appealing your pins are, the more likely they'll be to buy the item that shows in their feed.
Next, you can expand your reach by making your pins shareable. This helps you grow your audience exponentially. The better the copy is, the more compelling your products and services seem.
You can tap into influencer marketing by finding the right Pinfluencers and bloggers to work with your brand. They'll create guest Boards that showcase your product or service.
Their popularity helps your business grow by attracting, even more, customers to what you're offering.
Part of being a Shopify customer is having the option to sell across multiple channels such as Pinterest.
You're able to create a personal and authentic experience for you and your customers by offering what they need on the channel that they're most likely to visit. After spending time researching your target demographic, doesn't it make sense to sell in the space they spend their most time in?
Some key features with the buyable pins
Your customers can check out on Pinterest
All your products pinned from your store become buyable pins (Huge Value)
Easily measure engagment
Facebook Shop – A Great Way To Sell With Shopify

The Facebook app by Shopify allows you to sell products directly on Facebook. It also creates a Shop tab for your Facebook page.
Customers don't need to leave their social media accounts to be able to shop your website. This is a big advantage for you because you're meeting your customers where they're already at.
You also have another platform for your sales. The more exposure you receive across platforms, the better able you are to meet your sales goals.
Facebook Shopify is packed with features and very easy to setup.
It's designed to save you time because it automatically syncs new products to your Facebook shop. It also allows you to stay on top of inventory and sales made through the social media website.
Creating collections of products that you want to feature helps drive sales and gets people interested in what you have to offer.
Key features with the Facebook Shop
Let your customers easily browse your products on Facebook
Designed for mobile users in mind
Super easy check out
Try Out A Facebook Shop This is included in the Shopify Lite plan and up
Facebook Messenger

Facebook Messenger makes it easy for you to connect with your customers instantaneously. They can browse and even buy products through the personal messaging application.
Order tracking and shipping updates come through on Messenger.
You can keep track of all of the different communications you have in one thread, too. This makes it easy to refer to questions or suggestions offered by your customers.
You're able to ease their concerns about purchasing products and services from you because you'll be able to talk to them one-on-one.
Key features about Shopify messenger
Buy right through messenger
Give easy product ordering info right through messenger
Instantly connect with your customers
Try Facebook Messenger This is included in the Shopify Lite plan and up
Sell On Amazon

Among the many benefits of selling through your Shopify website via Amazon is that you can create offers for items that already exist in any category directly from Shopify.
It doesn't require you to jump from one site to another in an attempt to get everything listed efficiently.
Some key features:
Sync your products from Shopify to Amazon in minutes
Easily manage inventory
Sell On Amazon With Shopify This is included in the Shopify Lite plan and up
Enterprise – Shopify Plus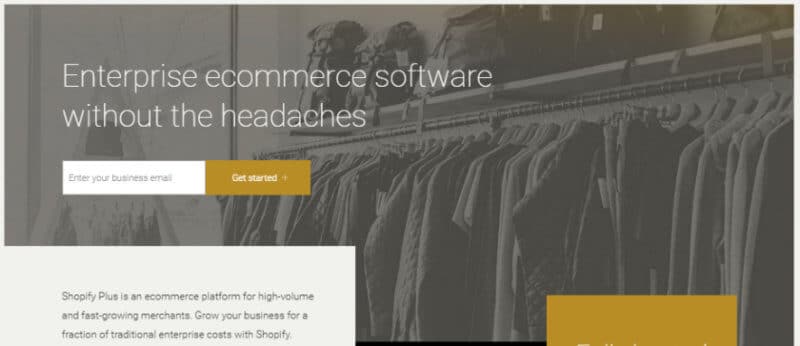 Shopify Plus offers "Enterprise e-commerce software without the headaches." It's perfect for merchants with high-volume sales and who are seeing growth potential in a tangible way.
Shopify's cloud platform can handle five sales per second.
This allows you to take advantage of unlimited sales, visitors, and products. You're able to receive support 24/7, too.
That way, if you encounter a problem or have a question, you'll be able to address it right away.
You can chat with a Shopify Plus guru or fill out the online form requesting a phone call. This allows the team to help you as quickly as possible.
You're able to get the resolution that you need to run your business efficiently because of the customer support you receive as a Shopify Plus customer.
Conclusion On The Ways You Can Sell With Shopify
Just to recap on
The 9 ways to sell with Shopify:
Online Store
Shopify POS
Retail Package
Buy Button
Pinterest Buyable Pin
Facebook Shop
Facebook Messenger
Amazon
Enterprise
Who would of guessed there was so many ways to utilize Shopify to grow your brand and business.
Everything here is just an additional tool to really grow your sales and offer your fans and customers tons of outlets.
The great thing is this this can all be up and ran today.
And:
As you need more you can upgrade to the next plan as it fits your needs.
Have any questions, or what are your thoughts?
Summary

Article Name
9 Ways To Sell With Shopify (Increase Your Sales Everywhere)
Description
Can You Name All The Ways To Sell With Shopify? If You Can, Awesome. If Not, Check Out All The Ways You Can Utilize Shopify To Sell Your Products.
Author