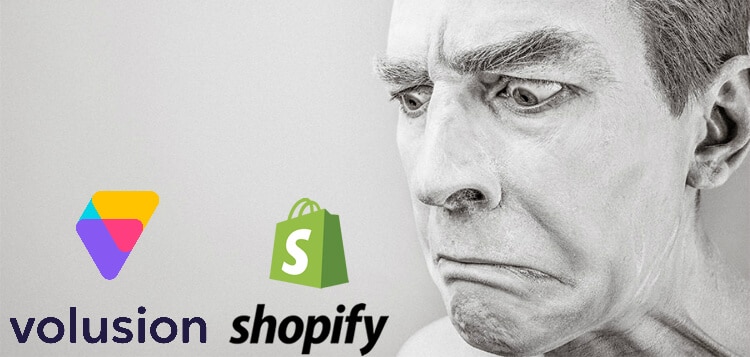 Both Volusion and Shopify our both straight up known when it comes to building an eCommerce website.
There is a reason their both featured on my top 5 eCommerce website builders article.
So:
I figured it would be nice to do a Shopify Vs Volusion comparison on certain topics to see what they offer to help make your decision a bit easier.
Well, let's get started on this.
Pricing For Shopify & Volusion
Let's check out what each one has to offer on pricing.
Shopify Pricing:
Shopify Lite -$9 Monthly – Sell On Social Networks, In Person, Or Existing Website
Basic Shopify Plan – $29 Monthly – Everything Lite Offers Plus Your Own Online Store. (82.1% Of The People I Help Start Here).
Shopify – $79 Monthly – When Your Starting To Grow – 1 Client Has Been Happy With This Since It Started In 2012
Advanced Shopify – $299 Monthly – Advanced Features When Your Scaling
Shopify Plus (For Larger Companies)- Negotiated Pricing – This starts at about $2,000 Monthly –  Read More About Shopify Plus here
Discount Pricing– Once you select a store plan you can pay monthly/1 year/2 year/or 3 years with each offering a better discount (This offer works for the Basic Shopify Plan, Shopify, & Advanced Shopify as far as I know)
Volusion Pricing:
Mini – $15/Monthly
Plus – $35/Monthly
Pro – $75/Monthly
Premium – $135/Monthly
Transaction Fees For These Two
Shopify Transactions Fees
With Shopify, you are able to avoid any transaction fees if you use the platform's own payment process system, Shopify Payments.
Shopify Payments is available to retailers in United States, Canada, Puerto Rico, the United Kingdom, Ireland, and Australia.
Unfortunately, if you are outside those regions Shopify Payments is unavailable to you at this time.
But for those retailers that are within the regions of availability, Shopify Payments is a viable option.
Third Party
If you choose to utilize a third-party payment system — like Paypal or Square for example — Shopify will charge transaction fees on those purchases.
The percentage varies depending on which Shopify package you subscribe to.
Shopify Lite and Shopify Basic plans have a 2% transaction fee.
Shopify (the middle range with solely one name) has a 1% transaction fee and the Advanced level is 0.5% fee per purchase.
Choose Your Payment
Shopify allows retailers to choose which payment options they want to offer customers.
Offering solely Shopify Payments will save retailers on transaction fees.
However, sales could be lost if retailers decide to forgo the more convenient and trustworthy third-party options like PayPal.
Volusion Transaction Fees
With e-commerce platform Volusion, you are able to avoid any transaction fees. Volusion doesn't charge transaction fees themselves.
The platform does integrate with a variety of third-party payment processing systems including PayPal Pro, Stripe, First Data, Authorize.net, Cybersource, and Skrill.
While Volusion doesn't charge transaction fees, the third-party payment systems typically do — so be aware.
The Volusion Market Service
Volusion also offers their own payment processing system called Volusion Merchant Services. With this system, there is a 2.15% transaction fee.
Some users have reported that Volusion has a fair amount of "hidden fees" like a $99 contract termination, so it's good to ask those questions before signing any contract.
The Ease Of Use For Shopify And Volusion
The Ease Of Use with Shopify
Shopify has long been a leader in the e-commerce space, in large part because of its ease of use.
The drag-and-drop functionality paired with the pre-made templates — both free and paid — make Shopify great for newbies in the field.
It's also fully customizable to the point where more experience online retailers would be satisfied with the product.
Everything at Shopify is mobile responsive — meaning everything adjusts to accommodate customers looking at the site both on a laptop/desktop and on a mobile device like a phone or tablet.
The Ease Of Use with Volusion
Just like Shopify, Volusion prides itself on being an easy, one-stop-shop for launching an online e-commerce operation.
In the past, Volusion has been criticized for having minimal options for templates but has increased its selection more recently.
It now has a healthy selection of both free and premium themes for purchase.
There is a built-in template editor with Volusion, the Easy Editor.
Options are simple to use, but fairly limited when it comes to changing design elements.
There are HTML and CSS style sheets for those who wish to code for more customization.
What About POS Options For These Two?
Point Of Sale Options for Shopify
If you have a brick-and-mortar operation or you plan to make in-person sales, you'll want to know how each platform's point of sale (POS) systems work.
A streamline process
Shopify has a streamline, ready "out-of-the-box" POS solution that can plug into a mobile device like a smart phone or tablet.
It automatically integrates with the Shopify platform to make selling items anywhere — and anytime — a viable option.
Two Options
There are two options for chip and swipe credit card readers with Spotify. The first is the free option of the "Chip & Swipe Reader."
This reader comes free with the Shopify payment system and allows customers to either swipe or use the chip in their credit and debit cards.
The second option is the "Tap, Chip, and Swipe" reader for $89.
This reader adds additional functionality of the contactless payment options that some credit cards offer.
The "Tap, Chip, and Swipe" also supports Apple Pay and Android pay — a feature the free "Chip & Swipe" reader does not offer.
Also This
If retailers choose not to use Shopify's POS system, third-party payment systems can be utilized instead.
Higher transaction fees may occur in this choice, but it does provide more options to obtain payment out in the "real world."
Point of Sale Options for Volusion
Volusion is compatible with over 35 different kinds of payment processing systems including major players like Stripe and PayPal.
However, it does not offer it's own POS options directly.
For example, with Shopify you can get the mobile card readers directly — with Volusion you have to get the card readers from a third-party payment system.
Stripe, PayPal, and Square all offer a mobile dongle card reader as part of their program, as do other vendors.
On the upside,
Volusions integration of third-party payment systems gives retailers plenty of flexibility — but it could be more complicated at the start to integrate the POS system into the e-commerce business.
Retailers could also run into headaches trying to offer multiple avenues of payment and managing multiple third-party vendors.
Let's See How Customer Support Stacks Up
Support Services for Shopify
One of the best things an e-commerce platform can offer to its clients is great support services.
No matter how great the product, retailers are bound to have questions at some point in the process.
With Shopify,
online retailers have 24/7 support. Service reps can be contacted anytime day or night in a variety of ways — via phone, email, or live chat.
This can be an invaluable service for entrepreneurs who may keep unconventional hours or are starting the e-commerce store as a side business outside of their 9-to-5 workday schedule.
Also:
Most customer service representatives are based out of Canada — but with a 24/7 policy time zone doesn't matter.
For North America residents, however, having a support staff in Canada could be a plus to avoid dealing with overseas call centers.
Support Services for Volusion
Volusion also offers 24/7 customer service support from it's home offices in Austin, TX.
Representatives can be contacted via live chat or telephone.
There's also a help center full of advice for frequently asked questions.
In addition to comprehensive customer support,
Volusion has an in-house agency for design and marketing help.
Retailers can utilize online chat or a telephone number to reach experts in both marketing and design.
At first glance of the website, it appears this service is free with the Volusion platform.
For hands-on retailers that want control and to learn the ins-and-outs of designing and marketing their business, Volusion offers a great service.
A quick customer support test I ran
I reached out to each company to see the time frame to hear back
I chatted Shopify and got a response in 13 seconds.  Dang, I was barely ready for help.  Super impressive for response time.
I cut this one short at this time because I had to leave and it was at about 20 minutes so far.  Also, they replied to state they usually reply in a few hours and also gave me the ability to leave my info.
Overall, Shopify won this because they provided peace of mine literally right away.
I like and love that.
I hate an issue with my site that I can't get resolved immediately.
Shopify And Volusion SEO & Marketing Features
SEO & Marketing Features of Shopify
Shopify has a variety of options to help market a budding online e-commerce store.
They offer a vast app store with differing tools and widgets to help you marketing the online store.
The apps cover anything you might need including email marketing, SEO optimization, online ads, social media ads, push notifications, and more.
These options allow for serious customization for retailers, but could be confusing for first time e-commerce stores.
Budget-wise,
there are seemingly marketing apps to match any budget.
Many apps are completely free, with most of the paid apps coming in under $100 a month.
Shopify also:
offers some basic marketing advice in their "Help" section.
It's a great starting point for newbies.
For more high level marketing advice, Shopify has a list of recommended marketing experts.
These consultants are available for hire and have been vetted by Shopify for quality.
Consultants and agencies range in price starting from under $100, with some exceeding the $10,000 mark.
Expertise varies as well with some focusing on design and optimization of the website and other offering comprehensive marketing plans.
There's a fit for almost any online retailer.
SEO & Marketing Features of Volusion
Volusion starts out its marketing features by optimizing its website for SEO.
The platform offers built-in SEO optimization tools to help your page rank in search results and drive traffic to your online store.
To Add:
The Volusion "dash" — the hub for the platform — also has built-in social media tools making it easier to promote the store via social channels.
The platform also offers comprehensive reporting to help retailers determine which avenues of marketing are working and which are not.
Just like Shopify,
Volusion offers vetted marketing experts to its clients.
Unlike Shopify, you aren't able to directly choose which expert you would like to work with.
But it appears that, at least initially, you can chat with an expert via live chat or phone for free.
Volusion boasts they have experts in everything from PPC to SEO to help online e-commerce businesses.
Even with the expert help,
Volusion seems to be a more hands-on approach for retailers.
There doesn't seem to be an option to hire expert help through Volusion.
Shopify offers some of the same DIY support for marketing — with added access to vetted experts for those retailers that would rather outsource the marketing work.
My Final Volusion Vs Shopify Verdict
I really feel Volusion and Shopify both do a good job overall.
But:
As you probably guessed I feel Shopify will be the better overall eCommerce platform to build your site.
Let me throw some reasons at you.
Better for dropshipping
No limits on bandwidth
No limits on products
Easier to blog right away (love this)
The CMS is just easier to use
Better payment gateways
Point Of Sale functionality
Has it's own Shopify point of sale option
Keep in mind they both offer free trials so it never hurts to test both of course if your just not certain on either platform.
So, what are your thoughts on these two?  Have you tried them?
Summary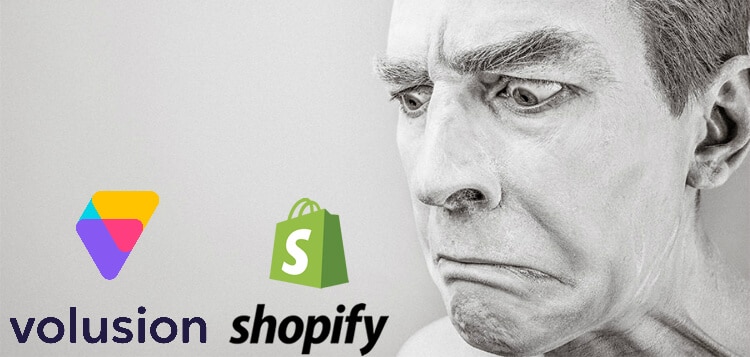 Article Name
Volusion Vs Shopify eCommerce Builder Comparison
Description
Shopify And Volusion Are Both Popular eCommerce Platforms That Are Always Considered When Building One. Let's Compare Important Features.
Author