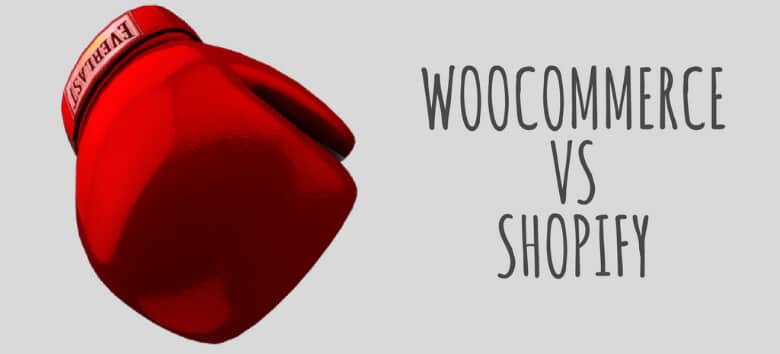 Shopify & Woocommerce are super popular platforms for building eCommerce websites.
There is a reason tons of people are searching for terms like
Woocommerce Vs Shopify
Shopify Vs Woocommerce
Should I use Woocommerce or Shopify
These two have established themselves as leaders in platforms for eCommerce.
And it's well deserved:
Because, they offer their users a ton of features to build and grow online.
Which, if you didn't see
According to eMarketer the sales will continue to see double digit growth through 2020 reaching 4 trillion.
Ummmmmmmmm,
I think I would take a piece of that pie, you?
But, most likely you have to decide on what platform, and maybe its down two these two
If not though, you can check this and this out to help you out (Finish this article first though 🙂
Let's get started breaking these two down though…..
See Woocommerce or Start Your Shopify Free Trial
What Exactly Are These Two eCommerce Platforms?
Let's keep this simple and break down what each one exactly is.
What is Woocommerce?
Woocommerce is a free open source eCommerce wordpress plugin that allows wordpress users to build their own eCommerce website.
What is Shopify?
Shopify is a complete all in one hosted eCommerce platform.
So, bottom line:
with WooCommerce you install it as a plugin on your self hosted WordPress website.
As in using a website hosting company like Bluehost to to install WordPress then download the Woocommerce plugin.
Shopify on the other hand is just logging in and BOOM there begins your journey of building your eCommerce site.
Hence the all in one eCommerce platform.
Make sense?
About These Two eCommerce Website Builders
About Shopify
Shopify is a self-hosted platform focused on helping entrepreneurs set up an online store in an easy way.
Founded in 2006 by snowboard retailers, Shopify was created to fill a void at the time for online retailers.
The platform offers a full-service product that allows sellers to build a storefront and shopping cart — while also providing tools to market those products. Around 50,000 online retailers use Shopify for their stores.
With Shopify, you can host your entire website with Shopify — including your own domain name.
The web-based website builder comes with over 100 professional themes that are easily customizable.
The platform is intuitive and meant to be used by anyone — no knowledge of coding necessary. But if you are an HTML and/or CSS wizard, Shopify allows you to make your own coding changes.
In addition to hosting your entire eCommerce website, Shopify is also a full blogging platform that offers the ability for community building and open communication around the brand.
Shopify offers a 24/7 support team of eCommerce designers, developers, marketers, and platform experts.
About WooCommerce
WooCommerce is currently the most popular eCommerce platform on the web with around 28% of all online stores using the platform.
The WooCommerce company was built as a WordPress toolkit provider focused on online retailers.
WooCommerce is a WordPress plugin that is 100% open source. The open source design allows for full customization and scalability that evolves along with your business.
The support system for WooCommerce includes a community of more than 350 contributors and dedicated customer support team.
In addition to the eCommerce platform, WooCommerce has over 300 free and paid extensions to extend the offerings of features and integrations.
Getting Started
How to Get Started with Shopify
For new users, Shopify offers a risk-free, 14-day free trial that doesn't even require a credit card.
If you continue on past the first 14-days, you can choose from several paid monthly plans.
Shopify was designed to be intuitive and easy-to-use for all online retailers.
After signing up for the free trial, the platform will walk you through how to set-up the storefront on your own domain.
Choose a theme — both free and paid options are available — and start adding features.
Shopify has its own shopping cart, payment processing, and order management systems.
How to Get Started with WooCommerce
To utilize WooCommerce, you must already have a WordPress login and profile.
Shopify Vs Woocommerce For Pricing
Pricing and Transaction Fees for Shopify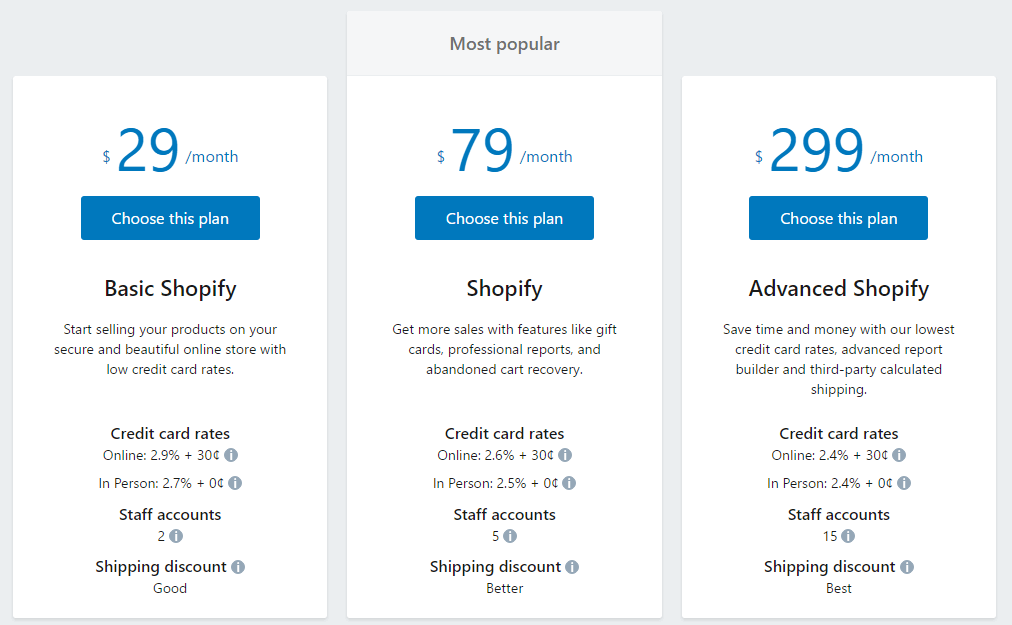 Shopify offers a 14-day free trial to get started, but to continue retailers have to pay a monthly premium. There are three payment tiers available:
1. Basic Shopify for $29 a month
2. Shopify for $79 a month
3. Advanced Shopify for $299 a month
The transaction fees for running credit cards vary according to the monthly plan as well. Credit cards fees from Shopify are as follows:
1. Basic Shopify is 2.9% plus 30 cents
2. Shopify is 2.6% plus 30 cents
3. Advanced Shopify is 2.4% plus 30 cents
Additional costs could be added if you would like a professional to set up your Shopify store for you.
While the tool is intuitive, many retailers would prefer someone with knowledge about Shopify set up the site.
Shopify provides a list of Shopify Experts to help you set up your page professionally.
Projects can run anywhere from a few hundred dollars to as much as $15,000+.
Pricing and Transaction Fees for WooCommerce
Getting started with WooCommerce — and its main platform WordPress — is free to begin.
You'll never pay for those basic services, but there are a multitude of for-pay add-ons that can be really helpful for a retailer.
WooCommerce showcasing the hundreds of extension options in its Extensions Store.
They range in price from free to $299 and help online retailers add functionality like accepted payments, social media integration, shipping options, and much more.
WooCommerce has has a Theme Store to help retailers develop the look, feel, and functionality of their online storefront.
The most popular option is to go with WooCommerces Storefront theme — that easily integrates with the hundreds of extensions available.
Storefront itself is free, but most of the extensions are an additional cost. There is also the Canvas group of themes that range from $99 to $199.
If you want to purchase a bundle of all available themes (to create multiple storefronts or online shops), a package is available for $399.
See Woocommerce or Start Your Shopify Free Trial
Top Pros And Cons For Shopify And WooCommerce
Top Pros of Shopify
Now that the basics have been covered, let's dive into the top pros for using Shopify:
It's an all-in-one platform that allows you to build a full website and eCommerce store without having to use plugins or code.
The tool is intuitive and easy-to-use even if you have no web design or building experience. Shopify walks you through things so you know what you need and how to customize it.
Mobile commerce ready, meaning as soon as you design your Shopify storefront — customers can be buying your products.
Integrates with a wide variety of payment processing tools including Visa, Mastercard, Discover, American Express, Paypal, iDeal, and even BitCoin.
Shopify integrates with drop shipping like Ordoro, Inventory Source, and eComm Hub to appeal to online retailers looking to avoid holding inventory and start a drop shipping enterprise.
Users have access to 24/7 support including teams of experts in marketing, design, and development.
Billing is a monthly premium, so you always know what Shopify will cost you. This makes budgeting long term easy.
Top Cons of Shopify
While Shopify is a fantastic tool, there are a few things we would like as a con to the service, like:
There's slightly less options for customization if you're looking for something really specific.
Shopify users have reported annoyance with the way Shopify allows you to categorize products — only offering variations of size, color, and material. (I will say in fairness, there are apps to really spice up your product features too)
Top Pros of WooCommerce
Being the most popular eCommerce platform means WooCommerce has a long list of pros:
Easy to integrate if you already have your own hosting, domain, and WordPress account.
Offers fully customization, with access to over 300 plugins and integrations.
Allows for unlimited product categories, a perfect fit for unusual or hard-to-categorize items.
WooCommerce is 100% open source. That means you have an active community of designers, developers, and retailers contributing to the improvements of the platform. If you're into web design or coding yourself, you'll appreciate the ability to adapt WooCommerce ot meet your needs.
WooCommerce and WordPress are both free to start and use. If you're on a tight budget, this can help you get started without making any monetary investment. You could potentially build an eCommerce website with zero dollars and a serious time investment.
Top Cons of WooCommerce
There are a few downsides to choosing WooCommerce over other eCommerce website building options, including:
You have to use WordPress as the main platform which restricts some options.
It can be challenging to build a shopping cart or store front using WooCommerce if your knowledge of web building is minimal. Even knowing which extensions you will need can be confusing and overwhelming to a beginner.
Security — particularly securing an SSL certificate — is something you have to purchase separately from WooCommerce. When dealing with people's money online, this is a necessity you will have to spring for and integrate yourself.
While using WooCommerce is free to start, all the extensions and add-ons can multiply costs quickly. If you need to know costs strictly ahead of time, a monthly premium is easier to budget for.
Shopify Vs Woocommerce Conclusion: So, What Is The Best One For You?
Truthfully:
That is one darn tough question after checking these two out.
They actually both offer great eCommerce options.
So, your not making a bad decision either way.
However,
From a learning curve stand point
Shopify makes life super simple
From getting started, you can be signed up with Shopify in 60 seconds
And, with WooCommerce it will take days for you to get going if your not…..
Hiring Someone
Familiar With WordPress
Familiar With WooCommerce Installation
So, my best plan of action for you, is to start out by testing out Shopify for 14 days totally free.
From there:
If you just don't feel it's for you I encourage you to maybe start heading down the WooCommerce direction.
Or
Check out my 5 best eCommerce website builders to see if any of these fit your needs.
Or: contact me directly if you need to and we can chat.
What's Your
See Woocommerce or Start Your Shopify Free Trial
Whats your thoughts on these two platforms?
Summary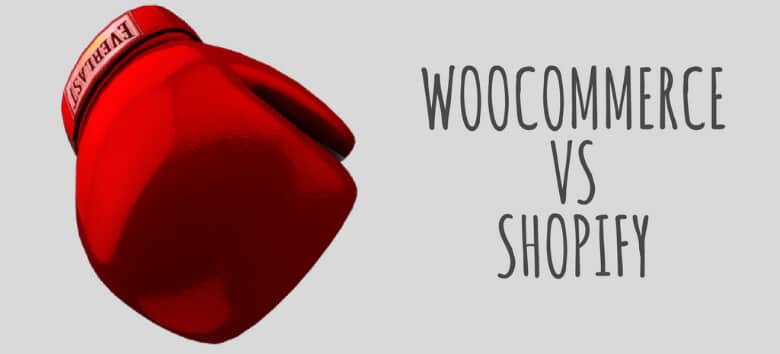 Article Name
2018 Shopify Vs Woocommerce Comparison (Make The Right Decision)
Description
If Your Searching For Shopify Vs Woocommerce Your Serious About Building A eCommerce Site. Check This Out To Make Your Decision Way Easier.
Author