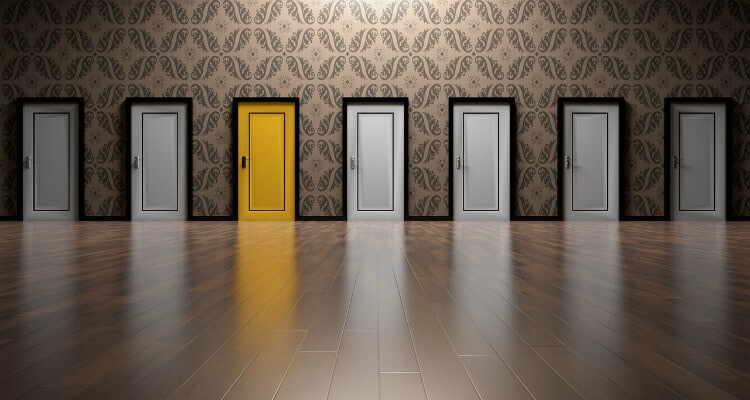 Most likely you know Shopify and Squarespace if you got this far.
and most likely:
You're plugging in search terms such as.
Shopify vs Squarespace
Shopify vs Squarespace for eCommerce
Squarespace vs Shopify
No matter how you look at it
You're most likely looking to compare these two to build an eCommerce website
Or shoot:
I hope you are cause you got here 🙂
The thing is, you need some solid information and data to help make your decision easier
And:
Peace of mind your on the right path to choosing the best eCommerce builder for YOU.
Let's go ahead and break down a ton of the information you need such as pricing, features, apps, and more to see what each one has.
At the END:
I'll give you a quick glimpse into what I would out of these two to possibly help you out a bit 🙂
---
Getting Started With Shopify And Squarespace
---
Getting Started with Squarespace
Website hosting and template builder, Squarespace is easy to get started with.
It's pretty intuitive and walks you through the process step-by-step once you activate the program's 14-day free trial.
The team at Squarespace has also put together a step-by-step video series that helps you build your first eCommerce website with Squarespace.
The Starting Point
To get started you'll need a valid email address. Squarespace offers a free 14-day trial, so it's free to get started.
You can even build the entire website to see how it will look before ever having to pay for hosting or even a domain name.
Domains are available through Squarespace or you can use one purchased elsewhere.
And The Next Step
Squarespace is a drag-and-drop style platform that walks you through most steps.
You don't need any coding or website building background to build a Squarespace eCommerce store.
If you do want to customize the templates with your own coding, Squarespace allows for this option for coding-familiar customers.
Andddddd
After you've entered in your site information, the process of building an eCommerce site with Squarespace starts with choosing a template.
Squarespace has a wide variety of templates available that make the process of building the site drag-and-drop easy.
See our paragraph on pricing to see what Squarespace costs after the first free trial.
Getting Started with Shopify
eCommerce and website builder, Shopify, makes it easy for you to get started as well. The company prides itself on being easy to use, with a strong support system.
In fact,
the company pulled together a free downloadable guide with step-by-step instructions to getting started on the Shopify platform.
Follow it and you'll have a functioning online store in what feels like no time.
Or one of my favorite methods is a follow along video too
Click here to follow along, the main page is a bit different by the way.
Simple
It is a drag-and-drop functionality for most options, meaning you don't have to have a coding or website building background to build a storefront.
If you do have coding knowledge, there are opportunities to apply your own code within the template.
14 Day Free Trial
Shopify allows new users to begin with a 14-day free trial.
To sign up, you'll need a value email address and will have to have the name of your store decided.
After providing that Shopify will ask for some additional information. Then it will give you the option to "Enter my store."
Click on that and it will take you to the admin page of the Shopify store. It's from here that you can customize the store to meet your eCommerce needs.
Purchasing A Domain Name
Shopify provides the option to purchase a domain within their system — or bring over a domain that you have purchased from somewhere else.
With some packages, the domain is free with Shopify.
Get Started With Shopify Or Start Your Store With Squarespace
---
Top Features For These eCommerce Builders
---
Top Features of Squarespace
Squarespace boasts a long list of key features that make it a viable choice for building an eCommerce website.
Customized Templates
Among the top of the list are Squarespace's template designs. Each is designed in a modern fashion with the latest HTML, CSS, and Javascript in mind.
Unlike some other platform, Squarespace actually allows you to utilize multiple templates within the same web page, meaning you can use one template for your homepage and a different one for your online store.
While the focus of this article to explore eCommerce options, Squarespace does offer templates customized to all websites needs like pages, blogs, photo galleries, calendars and more.
Unlimited Product Selling
Squarespace allows you to sell unlimited products on an online store.
Each store can also list multiple product variants (sizes, colors, styles, versions, etc) and SKUs — leaving seemingly endless opportunities for product listing.
Drag And Drop At Ease
The drag-and-drop functionality of Squarespace makes it easy to sort and categorize products in an eCommerce business.
This benefits both the builder of the online store and visiting customers who will find it easy to navigate the different product listings.
Squarespace makes it easy to create an interactive experience, by incorporating options to upload photos, videos, related products, and more for each item listing.
Optimization
All sites on Squarespace are optimized for mobile, including the single-page checkout.
Customers will find it easy to shop, buy, and find deals — as Squarespace offers built-in schedulers for discounts, sales, and incentive programs.
Simplistic Check Out
Customers will be confident in their purchases as Squarespace allows you to customize the one-page checkout with your own company logo and color scheme.
The service also boasts 2048-bit SSL encryption to protect all parties sensitive information.
For payment, Squarespace is equipped to accept multiple forms of payment including credit cards, PayPal, and Apple Pay.
Top Features of Shopify
Shopify is an online store builder platform that was created with eCommerce in mind — a fact that sets it apart from some other services.
It has a variety of perks and features.
The Drag And Drop
The service is designed and a drag-and-drop store builder that has over 100 store themes — both free and professional versions available.
Every template and store design is optimized for mobile — so customers will enjoy the same experience across devices.
Marketing
Shopify helps online retailers easily market their products with built-in SEO functions, automated marketing, and an impressive library of continually updated educational materials — guides, tutorials, etc.
All store templates have blogging functionality to improve SEO and brand identity for retailers.
Tons Of Payment Options
Payment options with Shopify are quite extensive. The platform allows for online retailers to accept credit cards without a third party vendor.
But if you are interested in accepting alternative payments, Shopify is compatible with an impressive over 70 external payment gateways.
The Integration Rocks
Another thing that makes Shopify unique is the ability to connect and integrate over 1,000 third-party apps — like MailChimp, Xero Accounting, and Kit — to allow retailers to manage all aspects of an eCommerce business from one central location.
With all levels of Shopify subscription, retailers get unlimited numbers of product listings and an unlimited file storage.
Additional, Shopify offers SSL security for all its pages to ensure a safe checkout for all customers.
---
Let's Check Out The Templates Shopify And Squarespace Offer
---


Squarespace Template Options
One of the main features that Squarespace is known for is its very stylish, modern templates.
The templates are beautiful, designed around functionality, and the drag-and-drop features of Squarespace make it easy to make customizations for each retailer.
Organization
The templates are organized by functionality or purpose — Online Stores, Art & Design, Community & Profit, Creative Services, Entertainment & Media, Fashion & Beauty, Food & Drink, Health & Fitness, Home & Living, Music, Photography, and Professional Services, Travel & Lifestyle, and Wedding.
Online Store Templates
The online store templates are photo-centric and geared to really highlight product sales.
With the free trial, you can build a whole online storefront with these templates to see what it looks like before committing financially.
Shopify Template Options
The online store template options with Shopify are plentiful. Even the completely free options are sleek, customizable, and already optimized for mobile.
In fact, in the listing, Shopify shows what each site would look like in its mobile version.
The Free Templates
Each of the free options come in multiple versions, meaning there's a good chance you could find a free template to suit your particular eCommerce needs.
Once a particular retailer's photos are inserted into the template, it's hard to tell that so many storefronts also have the same template.
But if you're looking for something more unique, there are professional templates available for purchase.
The Professional Templates
In addition to the free customizable templates, Shopify has over 100 professional themes available for purchase in the Shopify theme store.
Most of the professional themes are priced from $140 to $180.
Get Started With Shopify Or Start Your Store With Squarespace
---
eCommerce Store Examples For Both
---
Let's go ahead and look at a couple examples of what companies are running on each platform.
I love seeing who uses what, and the look and feel of the stores.
Shopify Store Examples
Squarespace eCommerce Store Examples
Stores still being compiled
---
Shopify Vs Squarespace In The Pricing Plans
---
Pricing & Transaction Fees for Squarespace
There are 4 main options for pricing when it comes to building an eCommerce page with Squarespace — personal or business plans.
The personal plan is $12 a month when billed annually or $16 a month if billed month-to-month.
The business plan is $18 a month when billed annually or $26 a month when billed month-to-month.
Both plans offer a free custom domain (with annual purchase), a mobile-optimized website, SSL security, 24/7 customer support, fully integrated eCommerce, and unlimited product listings.
The business subscription offers a few extra perks for the additional charge.
With the personal plan, you can build up to 20 pages within your site — while the business plan allows unlimited pages.
The business plan also offers a lower transaction fee of 2% versus 3% with the personal plan.
A customized Google email and $100 AdWords credit comes with the business plan — not available with the personal plan.
The Other 2
Let's look at a quick snapshot of the online store pricing too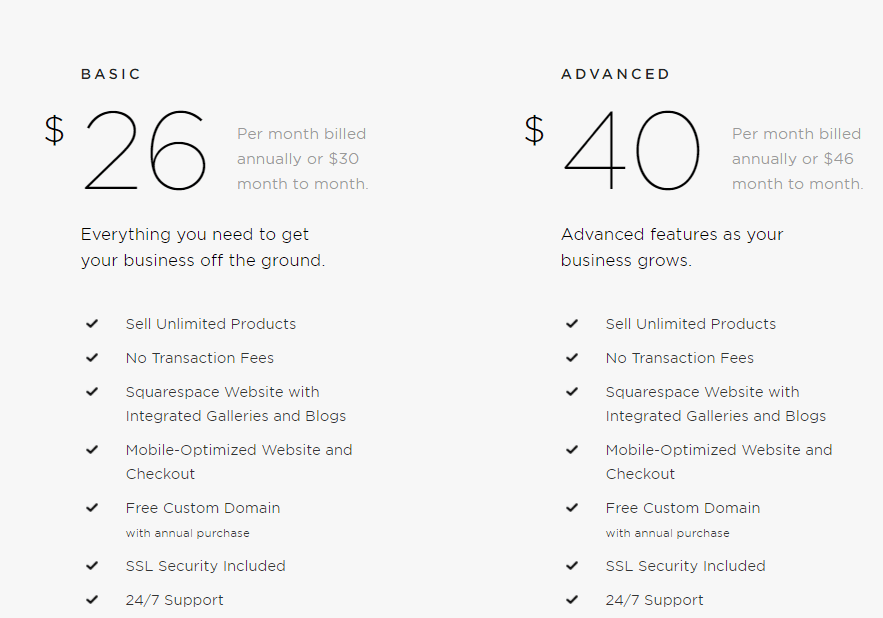 Pricing & Transaction Fees for Shopify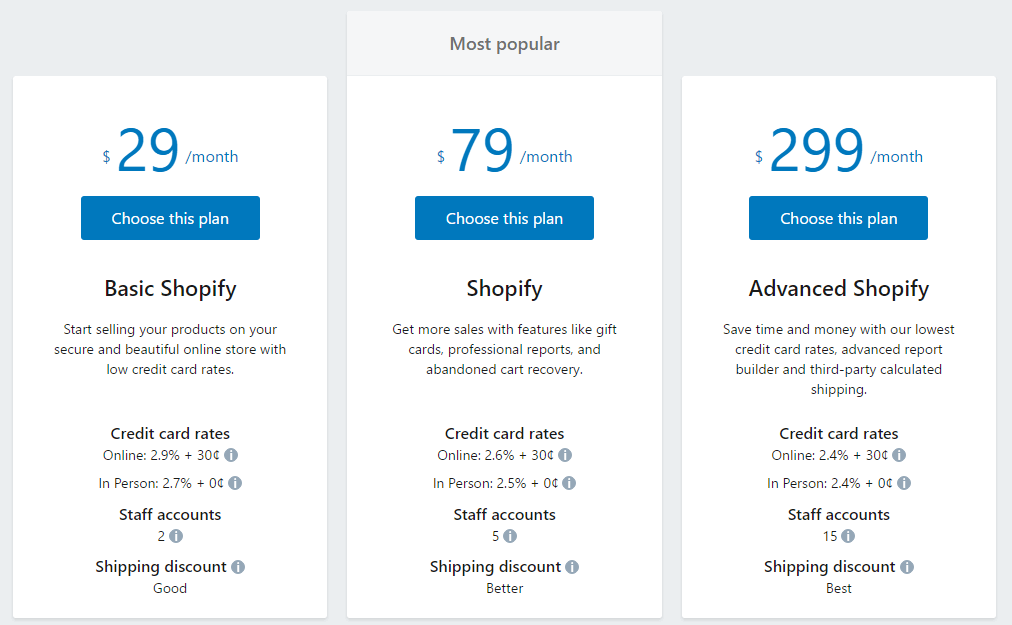 Shopify has three separate prices points with a list of different functions for each level — Basic Shopify, Shopify, and Advanced Shopify.
Basic Shopify Plan
Basic Shopify is available at $29 a month and is a great basic package for someone new to eCommerce.
Credit cards transaction fees for Basic Shopify are 2.9% and 30 cents for online purchases.
Shopify provides in-person sales through a mobile dangle that swipes cards. In person purchases at the Basic Shopify package are 2.7% and 0 cents.
There's an additional transaction fee attached to outside payment options of 2% for Basic Shopify subscribers.
Shopify – Middle Of The Road
The middle option, named just Shopify, is priced at $79 per month. Credit card processing fees are less with Shopify at 2.6% and 30 cents for online and 2.5% and 0 cents for in-person sales.
External payment option fees drop to 1% with this package plan. Shopify includes all benefits of Basic Shopify with some added perks.
With Shopify, retailers get gift card functionality, professional reports, and abandoned cart recovery.
Advanced Shopify Plan
Advanced Shopify is the top price point for Shopify's packages, available for $299 a month.
Credit card fees at 2.4% plus 30 cents for online sales and 2.4% and 0 cents for in-person sales with Advance Shopify. External payment gateway fees are just 0.5%.
The Advanced Shopify level encompasses everything the middle option Shopify provides — with the addition of an advanced report builder and third-party shipping calculation benefits.
A few other options:
Outside of the three main packages, Shopify has some alternatives for subscriptions for retailers who need something a little bit different.
Shopify Plus is available for large-scale enterprise-sized retailers that do a high volume in sales.
Shopify Lite is an integration that allows retailers to manage their online stores within Facebook — rather than build a full online storefront.
Plans for Shopify Lite run at just $9 a month — making it a great choice for newbies who already have a Facebook presence or are more comfortable with the Facebook platform.
Get Started With Shopify Or Start Your Store With Squarespace
---
Shopify Vs Squarespace For eCommerce Conclusion
---
Listen:
I can't sit here and tell you any different.
After I looked everything over and made my own conclusion in my head.
I think:
Squarespace can make a nice small eCommerce option for a smaller company
But, small business or large.
If you plan on starting an eCommerce website I would go with Shopify. Shopify is going to be a better fit for you because of the tools they have, plus the easy ability to scale with them.
Have you had the chance to use either one of these yet?
Or, any input you can throw in?
Summary
Article Name
Shopify Vs Squarespace For eCommerce 2018 (Compare Now)
Description
Let's Do Some Shopify Vs Squarespace Comparison To Find The Best Online Store Option For You. Will Compare Pricing, Features, Support & More.
Author