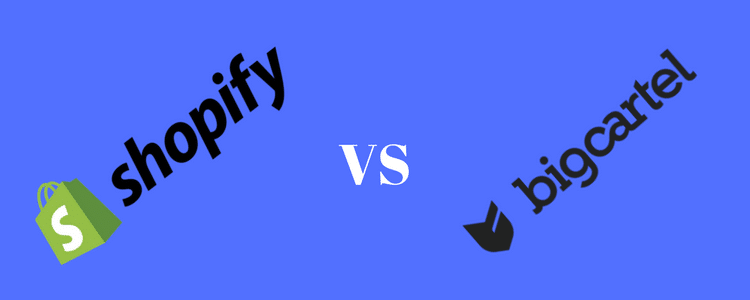 It's a proven trend I've seen:
People looking for the top eCommerce platforms are using a term like Shopify VS Big Cartel.
I get it:
They want to compare them.
I figured since I'm seeing this it would be nice to go over each one and put them head to head in certain areas.
Let's check them out.
---
Shopify Vs Big Cartel For Pricing
---
Shopify Pricing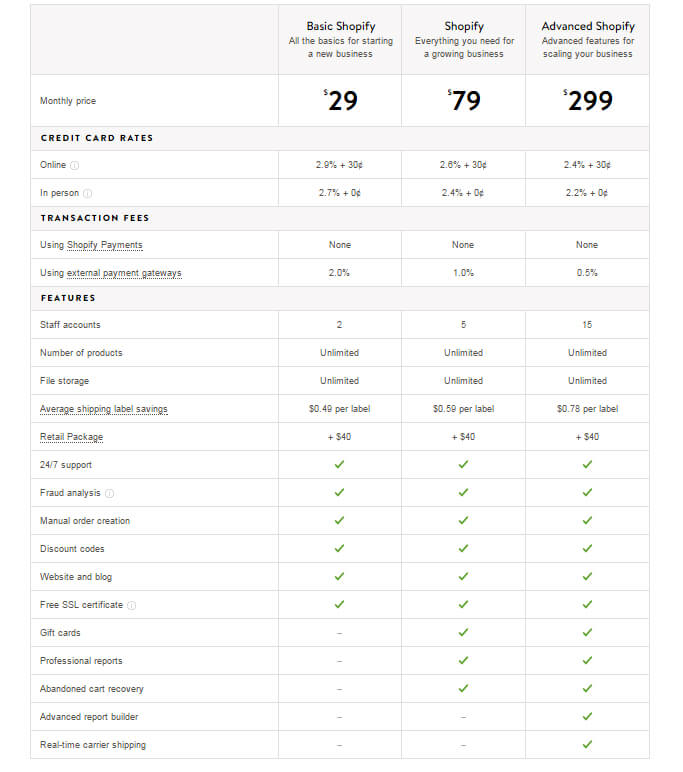 When it comes to pricing, Shopify offers three different membership levels.
They are Basic Shopify, Shopify, and Advanced Shopify. The memberships start at $29 and cost up to $299 a month.
Each account offers its users unlimited product listings and file storage.
Transaction fees, however, are different for each membership level with Advanced Shopify members being charged the lowest online credit card rates of the three membership levels.
It is 2.4% + 30 cents for online transactions and 2.25% + 0 cents for in person transactions.
There is also no transaction fees for using Shopify Payments. Advanced Shopify members pay a low 0.5% transaction fee for using external payment gateways.
They're also given the best shipping label discount of the three membership levels.
Big Cartel Pricing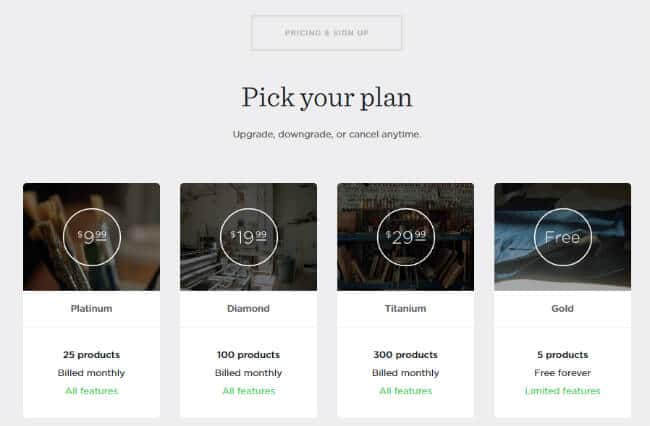 Big Cartel's pricing options include four membership levels.
They are Platinum, Diamond, Titanium, and Gold. They range in price from Free to $29.99 a month.
The Gold account (Free forever) allows a person to list up to five products on their website. It offers limited features.
Platinum ($9.99 a month) allows a person to list 25 products and provides them with all features.
Diamond ($19.99 a month) allows a person to list 100 products. It, too, provides them with all features.
Titanium ($29.99 a month) allows a person to list 300 products and provides all the same features as the Platinum and Diamond accounts do.
Members are allowed to upgrade, downgrade or cancel their account at any time. Membership fees are charged on a monthly basis making it convenient for many small business owners to try the service out.
Unlike Shopify, Big Cartel offers a free account to members who don't produce a large volume of products or services to sell monthly.
Also, Big Cartel doesn't charge transaction fees, but they only offer Paypal and Stripe for payment processing options.
Which:
Are on the higher end.
Getting The Free Trial Started
A 14 day free trial without requiring a credit card is available to all new Shopify members wanting to try out the site without obligation for the first time.
Because Big Cartel offers a free account option, it isn't advertised heavily that they offer any type of free trial.
In fact, in order to sign up for the membership level of a person's choice, they must provide a valid email address, password, shop name, and shop URL as well as read and accept the Merchant User Agreement.
---
Ease Of Use For Each Store Builder
---
Shopify Ease Of Use
To sign-up for an account with Shopify, you need an email address, password, and store name. Remember, there is a two-week free trial included with the service.
This gives you time to check things out before committing to the paid membership services offered by the company.
Big Cartel Ease Of Use
Big Cartel's sign-up process takes a matter of seconds to complete, just like Shopify's.
It does require an email address, password, shop name, and shop URL.
After signing up, you link a credit card or PayPal account up to the site to pay your monthly membership fees if applicable.
Shopify offers a free trial so its members can get acquainted with the website, its tools, and features.
Big Cartel offers a tour so that members can do the same thing on its site.
Each website highlights its biggest selling points so you know how your money is being spent.
Start Your 14 Day Shopify Free Trial or Start Using Bigcartel
---
Product Features For Both Of These Two
---
Shopify's pricing plans provide space for heavy hitters. If volume is something a business expects, they can adjust accordingly for it.
Big Cartel allows a specific number of items per membership level whereas Shopify offers unlimited listings.
The features that make Shopify a favorite among business owners include the following options for all accounts:
Staff accounts ranging from two to fifteen people.
Unlimited product listings.
Unlimited file storage.
Shipping label discounts.
A retail package of $40.
24/7 support.
Fraud analysis.
Manual order creation.
Discount codes.
Website and blogs.
Free SSL creation.
With the higher paid membership options, there are additional features including the ability to sell and accept gift cards as a form of payment, professional reports, abandoned cart recovery, and an advanced report builder.
There is also real-time carrier shipping. A store can be set up right away and a plan picked later if a person needs some time to check things out first.
Big Cartel is geared towards makers who want to keep in touch with their indie identity. Some of the premium product features offered by the service include:
A quick setup taking only minutes to upload images and tackle pricing information.
An order management options that allow you to view orders, print packing slips to include with products, and keep track of what has shipped and what hasn't.
Five images per product making it easy to sell what you have on hand.
Inventory tracking which helps you identify your big sellers and let customers know when you've sold out on a product.
The ability to sell digital products such as art, music, and eBooks.
The opportunity to sell in person and process the payments through Big Cartel's iPhone app.
The chance to sell on your Facebook page to family, friends, and fans of your products and services.
A quick and easy checkout process that allows people to pay with credit cards with Strip and or PayPal payments.
A real-time dashboard that gives you control over your business and its stats.
Google Analytics Integration makes it easy to see how many people are visiting your site, where they're coming from, and what types of keywords they're using to find you.
The opportunity to continue your branding with a custom URL.
Search engine optimization making it easy to find your business on the search engines.
A fast and stable shopping experience for your customers.
Templates that require no coding.
Coding friendly stores if you do possess HTML, CSS, and JavaScript knowledge.
The chance to offer discount codes as a way to promote your store or announce the arrival of a new product.
Guides and videos that you can refer to for inspiration and assistance.
A friendly support team ready to answer your questions and help you make your business a success.
When it comes to features, Big Cartel offers more but does limit how many items can be sold through its sites.
Companies with large inventories are better off using Shopify where unlimited product listings are available.
Big Cartel is geared towards small business owners with small inventories of products and services.
Shopify does offer a Theme Store, App Store, Videos, and Podcasts for its customers to refer to.
The number of resources it provides to you as a business owner is incredible. It's certainly made out to be user-friendly with its emphasis on learning.
Both companies offer mobile-friendly options for its storefronts. This is key in marketing to mobile device users.
If a customer cannot access your storefront while on the go, they may never shop with you.
---
Payment Processing Gateways
---
Shopify uses its own Shopify Payments which is powered by Stripe.
It also gives you the opportunity to use a third-party gateway such as PayPal, Stripe, and Amazon Payments.
Over 70 payment gateways from around the world are accepted by you as a Shopify storefront owner.
With Big Cartel, you can accept credit cards, PayPal payments or both. This gives you a lot of flexibility in how you prefer to get paid.
The checkout page is based on the theme, fonts, images, and colors that you chose for a seamless look, too.
---
Web Hosting Features
---
Shopify Hosting Features
With Shopify, you're given the option to use a new or existing domain name. You can buy one with Shopify or configure an existing domain.
You don't have anything to set up because Shopify takes care of software upgrades. It offers unlimited bandwidth and Level 1 PCI compliant web hosting and shopping cart software.
This ensures that your customers' sensitive information is protected at all times.
Shopify offers automatic backups and a Content Delivery Network that makes loading your website fast and easy no matter where your customers are.
It's built on Ruby on Rails which allows Shopify to offer speed and excellence at all times.
Big Cartel Hosting Features
Big Cartel users are able to use a new or existing domain. There isn't a lot of information to be found about web hosting features through the company's Help section.
In fact, it gives information about domains by answering commonly asked questions but offering very little in the way of explaining how web hosting features work.
If finding the information proves to be too difficult, users will need to contact Big Cartel for more information. Many business owners do not have more than a few minutes of time to spare.
This may not be the most efficient way to answer web hosting questions and Big Cartel as a company will want to take that into account when updating the information on its website.
---
Customer Service
---
Shopify offers 24/7 support as well as a Help center where its customers' most pressing questions are answered.
There you will find answers to questions such as "Can I offer my customers gift certificates?" and "How do I add Facebook, Twitter, and social buttons to my website?"
There is also the option to send an email, start an open chat or give Shopify a call. Calling is the most efficient option as it takes less than a minute of time to do and can only take six minutes to be connected to a representative.
Chatting takes up to two minutes in wait time and could take up to 26 minutes to reach a representative.
Anyone sending an email to Shopify must be prepared for a response time up to 25 hours. If it's something pressing, calling or chatting is recommended.
If it's not going to affect your store's operations in any way, emailing Shopify requires less involvement from you because you can send the email and go back to what you were doing without interruption.
Big Cartel also offers a Help Center. It divides its topics into different categories based on subject.
For example, there is Basic, Themes, Apps, and Developers. Each section of the Help Center aims to provide specific information based on the subject of the question.
There is the option to message us in your admin, email a question or request information about events and partnerships.
The support team is available Monday-Friday from 9 am to 6 pm EST. The team is very small so keep in mind it might take a while to get a response from them.
---
What I Would Do
---
So if I was going to build a eCommerce website right now I would be choosing Shopify out of these two.
Let me tell you why:
Shopify offers solutions at every level. What I mean by that is if your just starting out they got you.
As you grow though you can easily upgrade to the next level to accommodate your needs as a business.
I'd say Big Cartel does a good job focusing on the smaller business.
But:
That leaves a ceiling for your business.
Why would you do that unless your saying small.
---
Shopify VS Big Cartel Conclusion
---
Hopefully after reading this it will help you get a better feel on how they stack up.
Remember, test them out if it's down to these two options for you to choose from too.
The free trials make life a bit easier.
Compare The 5 Best Store Builders
Just to ask……
Have you tried out Big Cartel or Shopify yet?
Summary
Article Name
Shopify VS Big Cartel: Let's Compare These 2 (Online Store Builders)
Description
Looking To Compare Shopify To Big Cartel? Well Cool. Check This Shopify VS Big Cartel Article Out To Go Over All The Info To Help Decide Your Store Builder.
Author