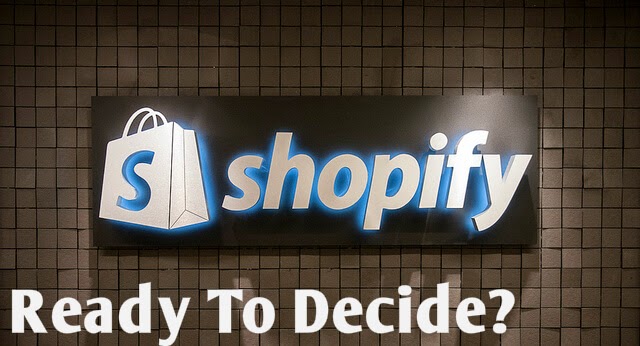 So, your building an eCommerce store and checking out Shopify right?
Ummmm, of course you are.
Or
I'm sure you stumbled here possibly by searching the search engines for terms like…
Shopify Review
What does Shopify do
Shopify customer reviews
Is Shopify easy to use
Or, of course maybe another way, 🙂
But, at the end of the day your looking to build an online store
And:
This article will break it down for you to see if Shopify is worth trying.
Let's Go:
Affiliate Disclosure: Just letting you know real quick that I'm an affiliate of Shopify. What does this mean? It means most likely if you click a link through to this site and use their product I can get paid out, with no cost to you, though. First of all thank if you do use my links, it really helps this site grow and provide more info. Second, this review is just a review on Shopify, plain and simple. I hope you enjoy it as much as I did writing this review.
---
What Is Shopify And How Does It Work?
---
Let's keep this super simple:
Shopify is a all in one complete eCommerce solution.
Meaning, everything is under one roof to run your eCommerce store.
Just to name a few:
Accept credit cards
Track and respond to orders
Setup your store and sell your goods
Customize your store front
A Quick Shopify Video
---
How Easy Is Shopify To Use?
---
Well, in general Shopify is super simple.
A lot of things you see with them is get started in 60 seconds
Which, you can literally be to the admin screen right around that time frame.
Don't believe me?
On top of that:
Drag and drop design (No coding or designer skills needed)
Easily manage inventory
Track customers and orders
Easily accept payments
Follow along with this video that's about 25 minutes long to get a ton done
Just to add, there won't be a dime out of your pocket to do all of this.
Just a simple 14 day free trial. That way you know your good or your not. 🙂
---
Shopping Cart Features For Shopify
---
A secure shopping cart
all your customers can be happy to know that you will be using the same level of security used by banks which is a 256-bit SSL certificate at the moment.
This is a huge think with all the debit/credit card fraud going on in the world these days.
Automatic shipping rates
I love the fact they integrate this right into their shopping cart and make it really easy on you. You just don't have time constantly keeping track of this.
Abandoned Check-Out Recovery
Ever get that email from some company cause you didn't complete your order? If not, this is a huge feature to help you capture potential sales that could be lost. This type of tool is huge because there is no reason to lose a sale if you don't have to.
Payment Gateway Options
I have been in some stores that I actually had to walk out of because the payment options they offered were so minimal I just couldn't make a purchase.
Shopify has a crap load of payment gateways, which when they say payment gateways they mean like Paypal.
Automatic Tax Rate
Shopify will update the tax rate based off of your location, and as well it will automatically take control of your major countries and state tax rates itself.
You might be wondering this:
---
Shopify Marketing & Shopify SEO Review (Combing These TWO Amigos)
---
Gift Card Options
This to me is just cool. You have the option to offer gift cards to your customers to give out as gifts. What a great marketing option for you to utilize.
Discount Codes And Coupons
Many popular stores have deals and coupons going on. Look at Kohl's, we all love their 30% off coupon code we get.
Well, now you can create your own for your customers, and get the words out about them.
A very nice feature to get your name out there and possibly get your discount code to go viral on popular deal blogs and websites.
Shopify SEO Options
Shopify took the work out of SEO and makes it easy for you with the ability to customize H1 Tags, Meta Tags, and more. Trust me, super important, this is what gets you found in the world of search.
And if you were like me when starting you might not know the first thing in regards to SEO, and I don't want to get into it here because that would be a whole new article. But Shopify has a nice section dedicated to this.
The Product options are huge aren't they?
---
Product Options – The More The Better
---
Digital Products Download
I like the fact Shopify gives you a way to offer products on your site like this. Great for eBooks.
Product Tags
This falls underneath SEO too but gives you the ability to tag everything in regards to the product to make it easily found for search engines. Huge plus in my eyes.
Multiple Images
A picture is worth a thousand words right? Sure, but also it's nice to show your customer every possible side for your product just as if it was right in their hands.
It's a huge feature to help your customer interact with the product as much as possible.
Inventory Management
I like how you can manage your whole inventory really easily with Shopify. In fact, Shopify knows when you're out of inventory and will stop selling it for you.
Unlimited Products
Shopify gives you an unlimited number of products regardless of which plan you choose with Shopify.
Big plus as you grow your business and don't have to worry about upgrading just because you need more products.
---
Shopify Web Hosting Features
---
Daily Back Ups
When I worked in an I.T. department we did this daily too, which when I saw them promoting this I was very happy. Can you imagine losing all your info?
Shopify does daily back-ups for many different items such as business information which includes customers, orders, inventory and products.
This is one of those things that may not seem like a big deal, until it happens to you.
Unlimited Bandwidth
This is more common in general, but I am personally glad to see it out on their website letting everyone know the bandwidth is unlimited.
Auto Upgrades
Shopify does all the hard work when it comes to upgrade. All of them will be automatic for you, so no worries on your end.
SSL Certificate
This keeps all your customers data and information secure. With all the data breaching that has gone on with companies like The Home Depot, Target and more it's good to have something in place that reassures your customers.
Shopify Hardware Solutions
Shopify actually offers a full line of hardware if you compliment your online eCommerce shop with a retail location.
They offer all your top of the line gear such as card readers, cash drawers, gift card stock, receipt printers and more.
They also offer packages such as having all the key components to set up which was a nice added touch.
This might not really fit your needs because you're looking for a fully online eCommerce solution, but it is still nice to know they have this if it is ever needed.
---
Shopify App Store
---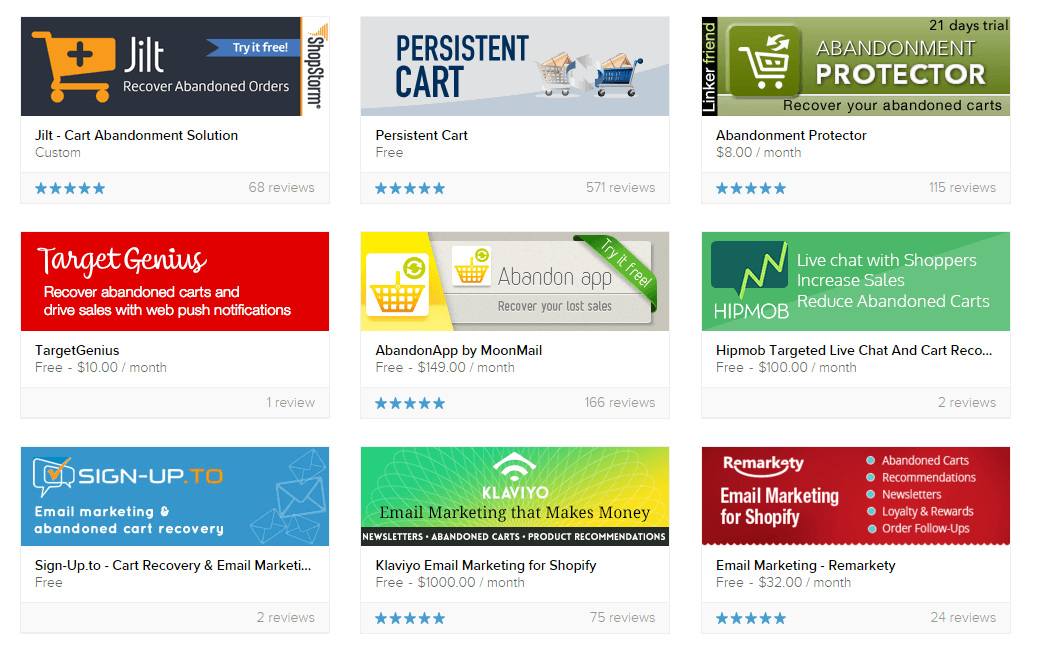 The app store is a great feature of Shopify for tons of different reasons. Let's say you want to run a marketing campaign to capture emails out in the world.
Well, you can head over there and purchase it and get it going through the Shopify app store. Keep in mind, some are free and some aren't.
Shopify Marketing Apps
The marketing apps Shopify offers has a ton of different ones that can help you in the world of attracting new visitors, driving traffic, promoting and more. You will be very happy.
Shopify Sales Apps
These apps are awesome if you're looking to help with abandoned carts, powerful recommendations, ways to increase your overall revenue per order and more.
Social Media Apps
Social media is a powerful thing, and it helps to have some drivers in place to assist in increasing your social media power.
The Shopify social media apps will help you promote your ecommerce store via Facebook, Twitter, Pinterest and more.
Shipping Apps
This section alone probably will be a life saver. From helping you ship via FedEx to helping you full fill orders, these apps will get it done for you.
Inventory Apps
Let's face it, keeping track of inventory can be super hard, and as well, super important at the very same time. The inventory apps in Shopify will help you manage this a lot easier.
These tools help cover areas such as monitoring your stores products, updating inventory, out of stock notifier and more.
Accounting Apps
Accounting apps are important for your day to day numbers and Shopify hooks you up with some great apps that can be synced directly to your own account software.
Some of the apps include QuickBooks, quickbooks integration, inventory management and more.
Customer Service Apps
I'd have to say these apps will be your bread and butter. If customer aren't happy there might not be a reason to need accounting software.
The Shopify apps here give you the ability to offer better email support and live chat solutions.
My thoughts on this
Tools are needed one way or the others and Shopify's app area has you covered in just about any way you can think.
Some are free and some aren't which you will look at a monthly charge for these.
At the same time, these tools can be so valuable to you that they are a no brainer, so having these options is something to be happy about.
---
Shopify Themes
---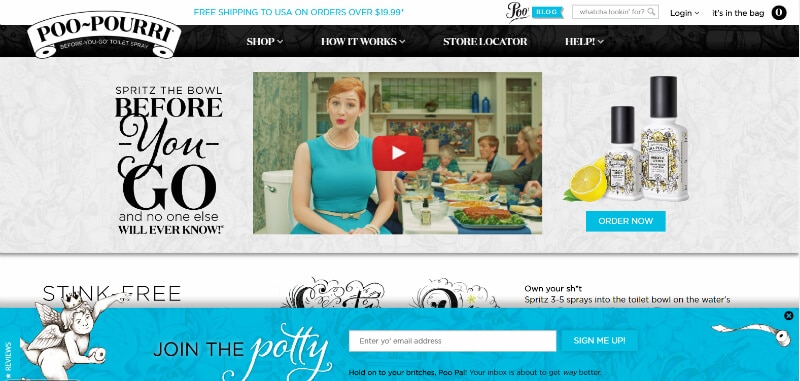 Internally Shopify has a nice selection of themes to choose from for your website. They range from free to paid, so you have a nice option at least to choose from.
The nice thing too, when you click on the theme it will give you a little info about it and let you view a live demo, which for me that can make or break it.
Free Shopify Themes
The free Shopify themes are very nice actually and cover all the different industries such as art, clothing, fashion, furniture and toys.
The free themes area a great touch and you will see they are a bit limited in selection but are still very professional Shopify themes.
Premium Shopify Themes
Just like the free Shopify themes, the premium ones cover all the industries and you have a larger selection to choose from.
From what I could tell is they range from $180 to $80 bucks which isn't that bad at all. In my opinion, a small price to pay to have a such a nice website.
Keep in mind, these are the ones that are shown on their site, so I'm sure other developers offer them externally for different price ranges.
Custom Shopify Themes
So if you're just not certain if one of these Shopify themes are good for you, or in a scenario maybe you like one that might not be a responsive Shopify theme, you're still in luck.
In the experts section of Shopify, you can connect with designers to help you create one from scratch.
---
Wouldn't it be nice to pick a Shopify experts mind?
---
Store Set Up Experts
You can hire a Shopify expert to help set up your store completely.
Personally, I feel this could be really helpful if you are migrating from another platform where many factors could take place and you want to make sure it's totally seamless.
Also, this might be a great option if it's not your area of expertise and having someone do all the work is a ton easier.
Designer Experts
Shopify has a list of their top designers to help you design and tweak a template that you like but just need that nice added touch to it.
Or, if you really want to they will help create one right from scratch so it fits all your personal needs.
Developer Experts
I really like this one, because they help turn your really awesome idea into an actual possible shop.
I mean think about it, you have a great idea and really aren't sure where to turn to for it, well, no you do with the shopify developer experts.
Marketer Expert
These shopify experts will help you attract the customers and as well help boost sales with different methods such as brand awareness, social media campaigns and SEO.
Also, keep in mind some of these areas are a total art in the marketing area and it could pay off big to hire these experts and learn from them also.
Photographer Experts
This is kind of cool because when I first read it I was thinking just a main photo and not really make your products shine to the fullest.
Keep in mind these experts aren't cheap, but at the same time how can you argue with top notch experts shopify hand-picked to represent their areas of expertise. In fact, look at it at this way.
If they cost $500 bucks and you end up having a great ROI how can you go wrong with this.
Think you need some knowledge?
---
Shopify eCommerce University
---
Shopify has a very powerful section for anybody looking to learn about Shopify and different help sections.
It's called their eCommerce university. In this area they are all about helping you learn to build your website, launch your website and grow your ecommerce website.
Check out the different sections below for the shopifyecommerce university.
Shopify Forum & Discuss
The forum has a ton of sections to network with others on different topics such as accounting and taxes, eCommerce marketing, wholesale & dropshipping and feedback on your store.
Shopify Blog
Shopify doesn't mess around with their blog section. It is updated constantly updated with data driven discussions that our presented very well and easily scan able.
To sum it up, they don't mess around in educating others on ecommerce solutions. From what I can tell they grade on SEO, store usability and social presence.
Here are some of the titles and topics they cover
Should you be Charging Sales Tax on Your Online Store?
3 Common Misconceptions About Conversion Rate Optimization That Are Wasting Your Time
6 Foundational Ecommerce Marketing Tactics to Stop Your Bucket from Leaking
5 Data-Driven Tips for Smarter Pinterest Marketing
Shopify Stories
They want you to know how they rock and they put this in a whole area of stories of successful owners that have done an awesome job. It is a very inspiring area on their blog that you have to check out.
Shopify Grader
Pretty cool area to let Shopify examine your website. It makes sense anyways because this tool might make you convert into using Shopify. Test drive it and see what they think of your site.
My thoughts on Shopify's eCommerce university
I think this area on their website just screams "see how much we care".
I mean they are in the business of making money when you sign up and use them, but at the same time they offer you so many tools in this section it is just awesome, it really helps you set up to succeed in all the areas that you need to.
---
Shopify History & Info
---
I figured it would be nice to fill you in on where Shopify came from, and some information about it. Kind of hard to believe too, that the first Shopify store was Shopify.
Founded – In 2006 by Tobias Lutke, Daniel Weinand and Scott Lake
Headquarters – Ottawa, Ontario
Funding – Shopify has received $122 million in series A,B,C funding from OMERS ventures.
January 9th, 2010 – Shopify acquired MNDCreative to expand their capabilities on mobile devices.
August 2013 – Shopify announced the launch of Shopify Payments. This gave Shopify the ability to accept VISA, MasterCard and AMEX credit cards.
---
Awesome Shopify Tools I Found
---
I happened to be scanning Shopify's sitemap and came across an awesome area labeled "tools" which has some really cool tools you can utilize.
Business name generator
All you have to do is enter a word that you're focusing on for your business name and it will generate multiple ideas and let you know if the domain is available too.
Great idea for brain-storming and plus you get a ton of options to choose from.
Personalized Terms & Conditions Generator
I find it very nice Shopify offers a nice tool to create these important pages on your website that many search engines like to see as well as your customers.
Don't stop here. You're at the pricing plans:
This Is One Thing You Will Want To Read On This Shopify Review If It's The Only Thing:
---
Shopify Pricing Plans
---
There are 3 basic plans to sell online with Shopify
Basic Shopify – $29/Monthly
Shopify – $79/Monthly
Advanced Shopify – $299/Monthly
Here is the comparison chart for you.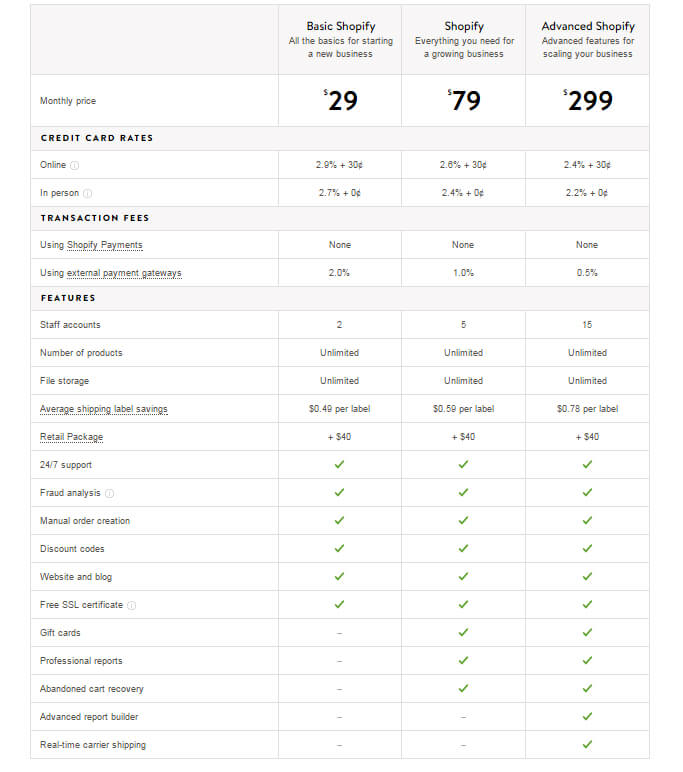 ---
Shopify Video Resources
---
How to build an eCommerce store
I'd personally have to say this is a great follow along video if you're planning on opening your store.
It breaks down everything to get your store up in 25 minutes. If you want, click here before starting the video and follow along while you open yours.

Shopify Intro Video
Just a nice quick introduction to Shopify. I personally enjoy these because they quickly give you a feel for shopify visually.
Creating Discount Codes
Earlier I mentioned as a perk of the ability to be able to do this with your Shopify site.
This video will go over it so you get a better understanding of what it is all about.
---
Shopify Customer Reviews & Complaints
---
Make sure you check out their awesome website, I was blown away personally by what they were willing to do in general, and pretty pumped to hear that Shopify is their eCommerce website builder of choice.
"Shopify is helping people who don't necessarily have the web development skills to connect directly to consumers. I see that as a real shift in the opportunities available."
– Patrick Buckley — Co Founder of Dodo Case
"You can change the task of designing a website from taking several months to no time at all. That's so valuable. You can't really put a price on it."
– Dave Petrillo — Co Founder & President of Coffee Joulies
"We're looking forward to building GREATS into one of the success stories everyone reads about and we couldn't do it without Shopify."
– Jon Buscemi — Co Founder of Greats
"It used to be so expensive and you needed to have expertise in those areas to setup an online store. Today, you can basically set up a store using Shopify for nothing."
– Cameron Parker — Marketing Manager for Black Milk Clothing
Nice testimonies and sites right? I was blown away too. If you want, head over to Shopify and get started on your site right now.
---
Want to know what personally sells me on Shopify?
---
400,000 + Businesses using Shopify
This is a crazy amount of stores using Shopify and were not just talking brand new businesses that you never heard of. The L.A. Lakers, Budweiser and G.E, heard of these?
Heck yeah, you have. Click here if you want to see some other big time stores that have too.
Mobile Commerce Ready
Holy Crap, this is a big one. So many people are now shopping on their phones, and it's super important you are ready too.
1.2 billion people are accessing the web from their phones and 58% of all U.S consumers already have a smart phone to do it, also did you know 30% of mobile shoppers abandon the cart when it isn't optimized for mobile? Yikes. (Source For Data).
I kind of personally feel mobile commerce ready sells itself totally.
It's So Easy And Fun
One thing they do great is make it simple. What I mean by this is if you can't code yourself, it doesn't matter because its all done for you.
You just put it together visually with no coding needed. If you aren't good at SEO and Marketing that's OK too, they make it easy, and as well explain it more on their documentation page.
Their Customer Service
I contacted Shopify in regards to something I was trying to figure out in regards to a Shopify feature that I was interested in.
I was very happy with the turn around time which was about a day or less, and on top of that was happy with the conversation.
Now on top of this too, I felt they left it in my hands, as in gave me options but were willing to go an additional mile if I needed them to.
This personally made me very grateful for customer service, especially cause I am in this field too.
14 Day Free Trial
Now many sites give you a free trial, trust me I know this because I totally use them whenever I can.
Want to know what I like about a 14 day free trial instead of 30? It gets your butt going once you have started to see the potential faster.
Sometimes we don't focus and wait till the last minute, yup procrastination. Embrace 14 days because you're going to learn faster and harder because of a time crunch. Use this to your benefit.
---
Some Things I Don't Like About Shopify
---
Pricing For The Little Guy
It's not that I don't mind $29 bucks a month. I just would like to see better pricing for the super little guy to start to scale. I did reach out and they do offer a $7 dollar lite plan, but I want to see that as an option right in front of your eyes.
Keep in mind this doesn't let you have a online store.
But, let's you sell on social media, in person, or if you already have a website.
Right now, that is the only thing I don't' like.
And really, I'm probably being way to picky
---
Shopify Review Conclusion
---
Shopify overall is going to be something you really enjoy. If you truly take the time to get using Shopify you have huge potential for your eCommerce business.
I mean how can you go wrong with great support, great templates, easy to use tools and great supporting documentation.
Enjoy Shopify and check out the free trial, it's for 14 days like I mentioned earlier.
I think though you will most likely be up in running pretty well in the first day or two if you really take the time and get going.
Have any questions, feedback or great stories?
Drop some good conversation below so we can all chat about it.
Summary
Article Name
Shopify Review: Will This Be (Your) eCommerce Platform To Use?
Description
Wondering if Shopify is the right fit for your eCommerce online store? Check this Shopify review to really give you a great idea on if it's for you or not.
Author