I thought it would be a huge benefit to do a Shopify Plus Review for everyone considering them.
Shopify's Enterprise eCommerce option for high volume and fast growing eCommerce businesses.
Afterall:
Either you are considering using Shopify Plus NOW
Or, it's your goal as you scale and grow your eCommerce business to get to this level.
And, you are curious and doing your homework for either the business you work for
or, because it's your business.
Let's get started with this Shopify Plus Review
---
So, What Is Shopify Plus? (In Case You Didn't Read Above)
---
Let's check out this great video by Making It Monday to tell us really quick.
Also, 8 reasons they feel you should upgrade it, or well, use it 🙂
But:
To some it up again in words if you don't feel like watching this, or reading it at the beginning.
Shopify Plus is Shopify's Enterprise eCommerce option for high volume and fast growing eCommerce businesses.
---
Shopify Plus API
---
Shopify Plus has marketing tools in the form of API, Integrations, and Extensions.
Designed to be add-on friendly, you're able to use the built-in integrations with providers SPA, NetSuite, etc.
as well, as you visit the App Store to find the extensions you need.
To do so, you'll need to simply paste the liquid code into your store to build features or add integrations.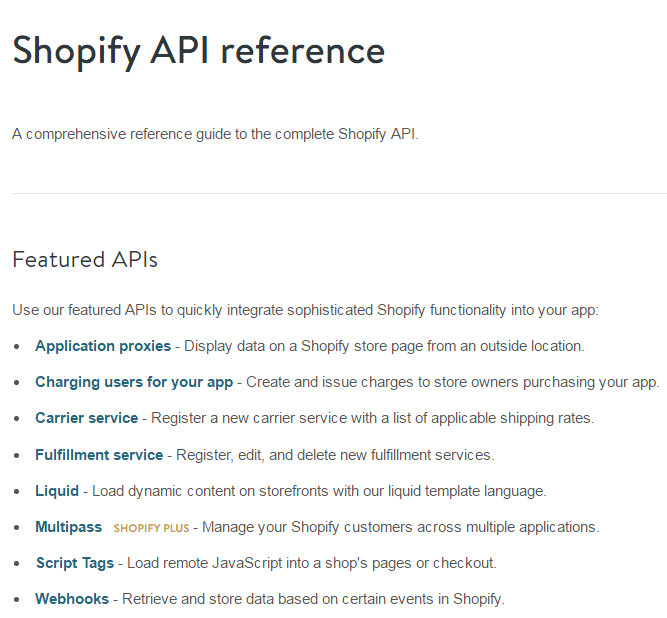 There are 4 API resources currently only available to a Shopify plus member which are:
Discount
Giftcard
Multipass
User
Here Are Some Additional Valuable Resources
---
Shopify Plus Transaction Fees
---
Shopify Plus charges a monthly fee based on the size of the business and the services rendered. Customers are urged to submit a request for a quote.
This gives them an idea of what to expect from the service.
The amount of sales and specific needs of the business are addressed in costs.
Depending on what the goal may be (growth, support, design, technology) and how much revenue is being brought in on a daily basis, Shopify Plus charges accordingly.
Transaction fees are non-existent with Shopify Plus. Other Shopify pricing plans levels of this service see fees of 2.2% to 2.9% with 30 cents per transaction.
That takes a significant chunk out of profits.
Shopify Plus makes it so you get to see more of the money you make. You're charged a higher monthly fee but don't have to pay as much to sell.
If you're a big enterprise, you know the difference between a regular and Plus account could mean a ton of money.
---
Shopify Plus Apps
---
Apps that enhance the Shopify Plus experience include:
SendOwl. Sell digital files and downloads with ease. SendOwl offers instant and automatic delivery.
ReferralCandy. Get more word-of-mouth sales. Reward your customers for making referrals to your store.
Searchanise. Perform smart and instant searches that turn visitors into clients. There are five customizable filters and different layouts with the improved search results page.
Returnly. Let shoppers print their own labels. This app saves you time and money.
LoyaltyLion. Reward repeat purchases, customer loyalty, and referrals. This app also helps you gain customer insights.
Rare. Send predictive emails that help increase conversions. Automated series capture customers at every point of the purchase.
Cart2Cart. Automated Migration to Shopify app makes moving from one platform to the next quick and easy. It's an option that is available in the Shopify App store that many people use.
Shiphero. Control pickers and packers in your warehouse using iPads and scanners. This app helps increase speed and accuracy.
Signify. Protect against fraud. Review orders with an on-demand plan at no cost.
ReCharge. Send recurring billing and subscriptions. If you sell physical goods on subscription, this app has got you covered.
Vantage. This analytics dashboard has revenue forecasting. It's free and used by over 15,000+ retailers around the world.
Klaviyo. Increase sales with personalized Facebook ads and emails. Use the data you receive from your Shopify store and within minutes, you'll be able to use pre-designed responsive templates that you make custom with your info.
And, more!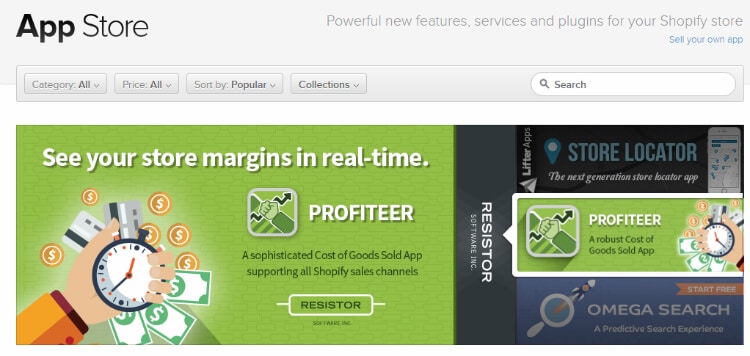 Special pricing on these apps is available with Shopify Plus.
They're designed to work seamlessly with your business and the Shopify platform.
You won't have any trouble taking care of searches, shopping carts, and referrals when you elect to add these to your website.
---
Shopify Plus Disadvantages – Hey You Gotta Have A Few
---
Some of the disadvantages that come with Shopify Plus include:
Limited CMS and Content. You'll find the built-in blogging tools and page management system ideal for some of the things you do. Publishing, however, is not well managed by Shopify Plus. It creates sub-domains within your website address which doesn't work well for SEO purposes. It also requires additional analytics and advertising to account for the subdomains, too.
Limitations on the Custom Back-end. If the company that you're working with for inventory or fulfillment doesn't have information that integrates in Shopify's API, you'll need to have them do it for you. You also don't have access to the FTP or database. You have to go through the front end to achieve anything.
Locked into the Platform. If Shopify has issues financially, your business is put at risk. You do not have your own servers which you can backup and easily move to another company. This poses a pretty hefty vendor risk for you to consider.
Platform Expertise. Liquid does not allow you the same freedom that you receive on a hosted platform. If you can learn the tools, however, you'll be able to rely on people who know how Shopify works and can help develop templates that meet your needs. It's not a perfect solution but one that works, nonetheless.
These are things to think about when determining whether or not Shopify Plus is the right platform for your business.
You can easily weigh out the pros and cons and make an informed decision after getting a price quote from the company.
It's an option that helps you get the right fit for your business.
---
Shopify Plus Advantages & Benefits
---
The advantages to having a Shopify Plus account has to do with the fact that it addresses the subject of opportunity cost.
Feature-rich options make it possible to use one platform versus many.
From feature implementation to order management to bandwidth to file storage, you're covered with a Shopify Plus account.
Pricing is predictable.
There aren't many surprises which allows you to grow your business however big you'd like to be without a lot of effort.
Fixed pricing is available but once an account reaches expected traffic levels or adds a lot of custom features to their storefront, then they'll see a soar in monthly fees.
User Friendly
There is also the advantage of a user-friendly platform with 99.99% up-time.
Rather than waste valuable time troubleshooting avoidable issues, your website is up and selling.
You're profiting instead of losing time trying to figure out a technical problem with the company's tech support team.
Be Everywhere For Your Customers
Shopify Plus is also available to use across all the major marketplaces and social networks.
You're able to meet your customers wherever they spend the most time.
Having multi-channel capabilities improves your interactions with them, making it easier to sell products and services, and well as increase brand awareness.
The benefits that come with Shopify Plus include:
Scalability
Customization
Support
The Ability to Sell Anywhere
Flash Sales
Security
Let's take a look at each in detail.
This gives you the fullest scope of what is offered with the service.
It allows you to weigh the pros and cons of Shopify Plus pricing and transaction fees.
---
Support – They Always Strive For First Class
---
Success managers helps solve even the most complex business problems.
There are also 40+ migration tools as well as free launch management to help business get off the ground initially.
Starting up takes a matter of no time at all.
The Help Center
Shopify's other membership plans provide access to the Shopify Help Center which could help Plus customers answer basic questions.
The center offers answers to basic Shopify tasks such as an Intro to Shopify, Migrating to Shopify, and the Shopify account.
There is also 24/7 customer service support for Plus members.
3 Options
The three options that exist include Open Chat, Send an email, and Give us a Call.
The average wait time for chat is 7 minutes.
The average wait time for email is 22 hours and the average wait time for calls is 6 minutes.
Instant Help – AHHHHH
Immediate responses are almost inevitable with chat and phone support.
Email support takes longer but is an option if someone has a unique situation that requires answers.
It's also good for members who do not have the time to be on a chat or phone call but still need some level of help.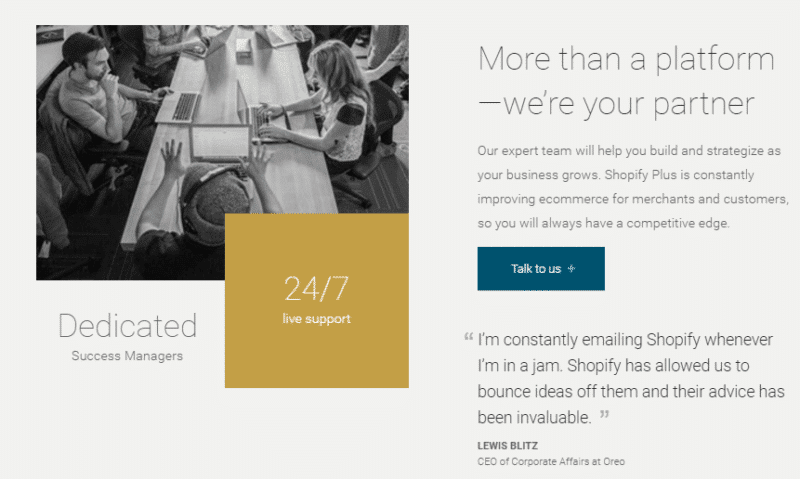 ---
Scalability With Shopify Plus
---
Shopify Plus offers scalable SaaS hosting. The advantage of this is that it lowers IT and labor costs. It is also guaranteed to provide performance and flexibility.
Shopify is the fast, responsive, and reliable solution your business has been looking for.
Growing With Demand
It is designed to grow with your operations. That is why it offers no transaction fees and unlimited bandwidth.
As your company gets bigger and demand for products and services increases, you're able to stay right where you're at with Shopify Plus.
Stay
That means less time moving from one site to another. You won't be forced to learn how to navigate a different platform, either.
You'll be able to stay where you're at, with your tools already in place, and sell to make profits.
---
Customization
---
Making the Shopify Plus experience personal is easy using the custom tools, apps, and integrations offered with a paid membership.
The Checkout
Customer checkout and reporting takes on a new look with APIs and SDKs. Applications from third-party partners further enhance the experience, creating a unique ecosystem to run your business.
Creating a truly personal website that aligns with your values and showcases your products and services is easy with Shopify Plus.
You can get things just the way you want them using the personalization tools and features.
Applications
Adding applications gives you additional support in the areas that you need them most such as administrative work, analytics, mailing list management, and even inventorying.
It's like having a team of workers behind the scenes doing multiple jobs for you.
If you're a small up-and-comer, it helps you give off the appearance that you're just as professional as some of the giant enterprises doing business on the net.
---
The Ability to Sell Anywhere – Have A Multi-channel Sales Strategy
---
There are so many different places to sell. For example, users are given the option to use Facebook, Pinterest, Amazon, and even Houzz to sell their goods and services.
There is third-party apps to help with this process, too. They help drive customer engagement, increase sales, and even improve brand awareness.
Being able to sell across channels does a lot for a company. It meets the customer where they spend their most time.
They get the added benefit of selling through already established, familiar companies that customers have already done business with, too.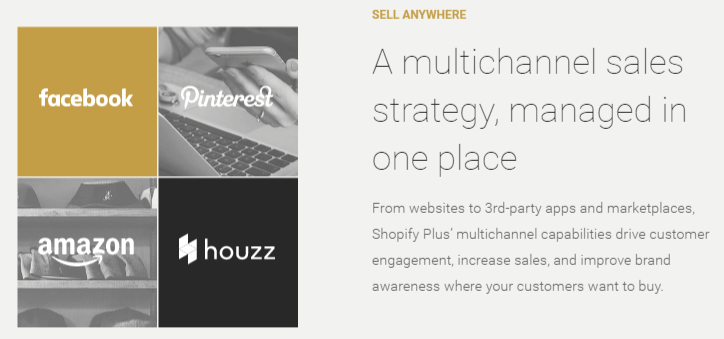 Check this out selling right on Facebook Messenger
---
Flash Sales
---
Meet customer demand with very little effort.
Your Shopify Plus business has unlimited scale as well as bot protection and a dedicated team.
Your customers will have an incredible experience when they shop with you during your product launches, flash sales, and special events.
---
Security With Shopify Plus
---
Shopify Plus is Level 1 PCI DSS compliant
Which:
Keeps your business safe and secure. With an actively managed platform with annual compliance assessments is available.
On top of that…
There is also advanced fraud detection as well as tools designed to deter bots and other types of security attacks.
---
Other Features Worth Mentioning
---
Some other features worth mentioning include fast servers and unlimited bandwidth as well as high rates of up-time and over 1,000 professionally built apps.
Another feature that has gained a lot of interest is the 24/7 phone and email support.
Immediate Help
If a Shopify Plus customer needs assistance, they don't have to wait long periods of time for it.
Being able to reach someone by phone or email at any hour of the day is advantageous.
It's one feature that is definitely worth its weight in gold.
Compatible
Shopify Plus is supported on a number of devices including Windows, Android, iPhone/iPad, Mac, and web-based.
It is available in a number of different languages including those spoke in the USA, UK, Canada, and India.
It is comparable to Yahoo Stores, Cs-Cart, Infusionsoft, and Oracle iStore.
Dedicated Account Manager
Shopify plus comes with an account manager that helps you decide which features are best for you and your growing business.
You also get unlimited bandwidth that allows you to receive up to 500k hits per minute. That's a pretty significant number of sales for any business!
Large Brands Using And Backing Shopify Plus
Some Shopify Plus customers include Endy, Death Wish Coffee Co, MVMT, Thinx, BlackMilk, Hootsuite, Dodocase, and Kith.
If these names sound familiar, there is a good reason.
They have access to the tools and support that they need to stand out in a sea of competitors.
---
Support & Account Management
---
Support and account management is a big part of Shopify Plus.
Having a dedicated team of individuals assist you with running your business helps it be more success.
Users are encouraged to contact the company anytime they need additional assistance.
Phone or email
A contact form allows you to make a request that can be followed up by phone or email.
There is also a chat option that allows you to get help with your most immediate questions.
You'll get a response right away so you can keep taking care of your business like you should each day.
24/7 Customer Support
Having 24/7 support options available is especially valuable because many companies charge extra for this service.
Shopify Plus includes it as part of the monthly package that you buy from them, allowing you to make the most of every dollar you spend.
Solutions are fast and you're not stuck with a frustrating situation involving your business that takes days or even weeks to address.
---
How Do I Get Started With Shopify Plus, Or Atleast Talk To Someone?
---
They really hold your hand when it comes to Shopify Plus.
Literally, go here
Fill out these 5 fields asking a bit of information to get a hold of you.
or:
Hit the chat button and talk right now
Don't worry either if you already have a Shopify store and looking to scale it.
They will ask you this 🙂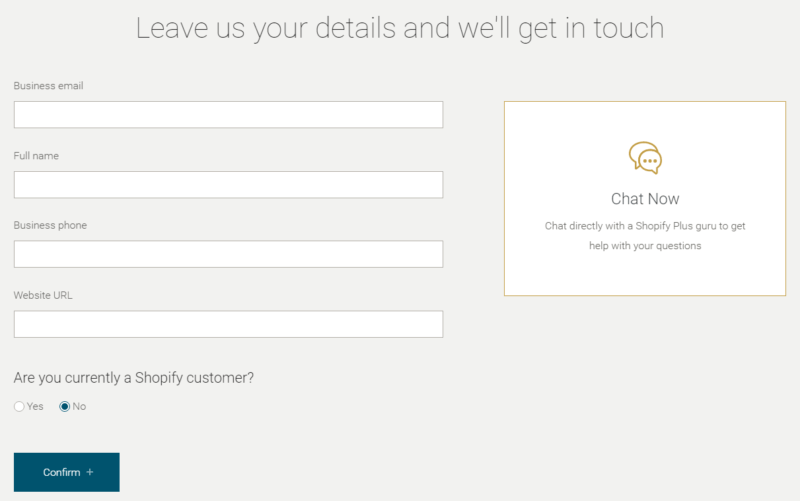 Worst part of it all?
They just make crap to easy to get info or started.
So, if your a business decision maker at your desk right now, entrepreneur ready to go, a Shopify store ready to scale.
It's literally a click to chat now.
Kind of scary cause it's about to be real isn't it?
Also, gives you a taste of how much they are ready to help you.
I Can Actually Help Too If You Don't Like Those 2 Options
Just fill out this form to get started and I'll work with someone from Shopify to make it a bit easier for you.
I'll get a hold of you and Shopify for you today.
---
Some Shopify Plus Customers You Might Know And Case Studies
---
I want to show you who actually is using Shopify Plus.
This will really show you how great their platform is.
I mean, if Marshawn trusts it………….
Here are some large brands using Shopify Plus too….

Let's Check Out Some Company Case Studies And How Shopify Plus Helped Achieve What They Need
I'll keep this one simple.
But if your interested in diving in deep and seeing some awesome case studies and how Shopify Plus helped them.
Shore Projects Case Study With Shopify Plus
---
Shopify Plus Vs Magento
---
I haven't followed Magento a ton due to the fact its more in-depth and a solution that isn't just same day.
In all fairness though:
Either is Shopify Plus.
But since I cover a ton on Shopify, and if you already have a plan and looking to upgrade to Shopify Plus
It kind of makes sense to go over it.
If you want to compare Shopify Plus & Magento here is a link to a Shopify comparison page
I know, I know. totally biased
I'll add more reviews as I find them.
But since I don't have squat I want to give you something if you care
Wait…
---
Shopify Plus Pricing – Gonna Keep This Simple
---
You aren't going to find a pricing comparison chart with Shopify Plus.
I reached out to Shopify for an answer and was told the following.
The pricing plan on Plus depends on the client and is negotiated with the sales hacker. We have no public pricing. However, Plus is around $2,000 a month.
Bottom Line:
it's negotiated
To add one last thing:
What about the Shopify Plus price increase?
To break that down check out this from Shopify to explain it 🙂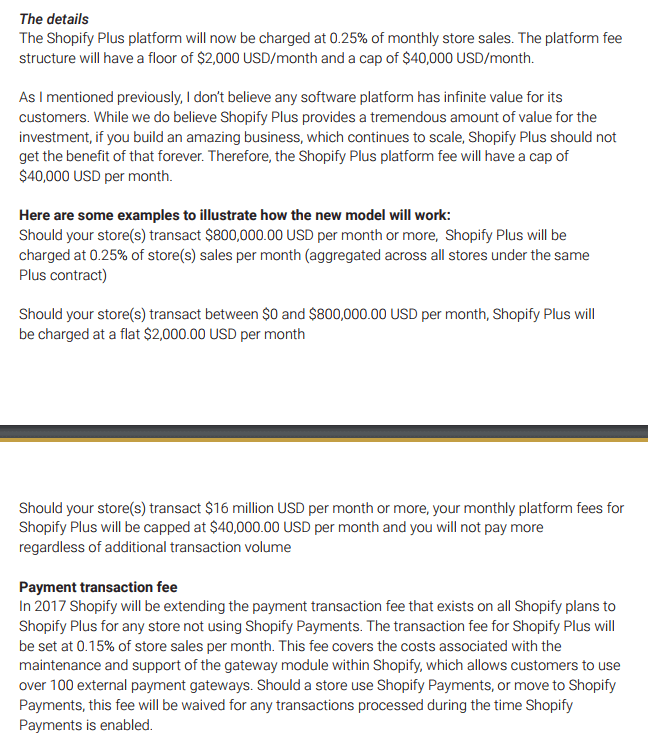 ---
Shopify Plus Vs Shopify Advanced, Shopify, & Basic Shopify
---
The funny thing is:
One of the main competitors for Shopify Plus our the other Shopify plans.
Especially:
Shopify and Advanced Shopify
I though I'd reach out to Shopify to get their take on it to help you understand better too, instead of just me explaining. 🙂
My first chat
15:18 Chris Pontine: Hey there,
15:18 Zuzanna L: Hey, I'm Zuzanna, a Guru here at Shopify, how can I help you out today?
15:18 Chris Pontine: Quick questions, what exactly is the difference between Shopify Plus and the other Shopify plans?
15:19 Chris Pontine: Good Afternoon Too 🙂
15:20 Zuzanna L: Ah so Shopify Plus is our premium tier plan for both rapidly growing businesses, as well as high-volume, existing stores. With Plus, you're not getting your typical enterprise commerce vendor. It's designed for enterprise-grade businesses to include the high efficiency sales tools minus the traditionally high price tag that you expect from these types of services. It works with high volume stores as well as globally recognized brands to keep business scalable and successful. The features also include: Shopify Scripts, Discount API, Gift Card API, Multipass API, User API, Customized and fully branded checkouts, Up to 2 store clones (for different currencies and/or languages), Discounts on some apps, Increased API call limits, Avalara Reporting, POS Retail Package is included, Unlimited staff members, 0% transaction fees, Launch Manager to help get the store set up, Merchant Success Manager for a personal touch after launch, Agency partner introductions and recommendations and finally, 24/7 priority support 🙂
15:26 Zuzanna L: Does that help clear up the difference?
15:31 Zuzanna L: It looks like you may have stepped away. I hope you don't mind, but I'm just going to disconnect so I can help the next in line. If you have any other questions, or need help, we are here 24/7 365! Have a good one, 🙂
My second chat asking With Hailey, she rocks by the way 🙂
15:37 Hailey T: Hi! Hailey here. What can I help you with today?
15:43 Hailey T: Still there?
15:44 Chris Pontine: What exactly is the difference between Shopify Plus Vs Shopify
15:47 Hailey T: Hi there Chris! Thanks for reaching out, great question! Shopify has 4 plans ranging from $9 to $299, which are listed [here] with their respective features. Shopify Plus is our white-glove, fully account-managed enterprise solution. Plus' added features include custom SSL, your own dedicated account manager, the ability to customize the checkout process and much more! Pricing can be discussed with our Plus team, if you're interested in hearing more I can put you in contact with them.
Every Plus plan has access to these features:
Shopify Scripts
Discount API
Gift Card API
Multipass API
User API
Customized and fully branded checkout
Up to 2 store clones (different currencies, languages)
Discounts on selected apps
Increased API call limits
Retail Package included
15:48 Chris Pontine: So, just to ask. If I started with the Advanced Shopify plan, or another plan I could upgrade at a later date as my company scaled?
15:48 Hailey T: Absolutely!
15:49 Chris Pontine: Ok, thanks for answering that for me Hailey. Fill in some blanks for me 🙂
15:51 Hailey T: Glad I could help shed some light!
15:51 Hailey T: haha
15:51 Hailey T: Can I help you with anything else today, Chris?
15:55 Chris Pontine: All set here 🙂 thank you very much!
15:55 Hailey T: My pleasure! Thanks so much for reaching out, at the end of this interaction you'll be sent a transcript and if you were happy with the services, please leave me some feedback!
---
Meet High Demands Without Worries
---
Shopify Plus is designed to hand the most incredible product launches, flash sales, and special events.
As a customer you are given a dedicated team ready to go if it was needed
Imagine in this scenario your site was down and the sales you would miss out on.
Check out this scenario in this video where a situation arose where the website scaled fast.
But overall it brought peace of mind because they didn't have to worry.
---
A Few Questions Answered People Ask In Regards To Shopify Plus
---
Who is the owner of Shopify?
Shopify was founded in 2004 by Tobias Lütke, Daniel Weinand, and Scott Lake after attempting to open Snowdevil.
Is Shopify free to use?
Shopify isn't free to use, but you do get a free 14 day trial to test it out.
How much does Magento cost?
The cost to build the website could be $20K and up. But the license to run on Magento should be right around $18K per year based off the research I did.
Why do companies use Shopify?
Many companies prefer this route because its a complete self hosted eCommerce solution under one roof. This makes it easier on companies to compete online and have full support.
---
What If I Wanted To Get Started Now, And Don't Know If Shopify Plus Is Right For Me? Or Really What To Do.
---
These are some pretty flippin good questions to be asking yourself
Especially
If your the one the makes the decision at your company, your the owner, or the entrepreneur ready to get started.
Afterall, you need to make the best decision
And, you might not want to enter your contact information like I mentioned above.
Your just ready to get something rolling and going and get the info while your moving.
The great thing is, you can totally do this. And really, it's what I would do.
Ok, let's just walk through a simple set up, so your on your 14 day free trial, and then how to have someone help you from Shopify now.
Step 1. Click here to go to the homepage
Step 2. Enter your email address and click get started
Step 3. Enter a store name and some personal data (You now will be in your store admin site)
Boom:
your trial is now started from here. So you have the 14 days to look around and decide.
But, your considering what is the best action plan for you so you might want to select a plan and get started.
So, there should be a little button select plan you see. Here is the screen that pops up.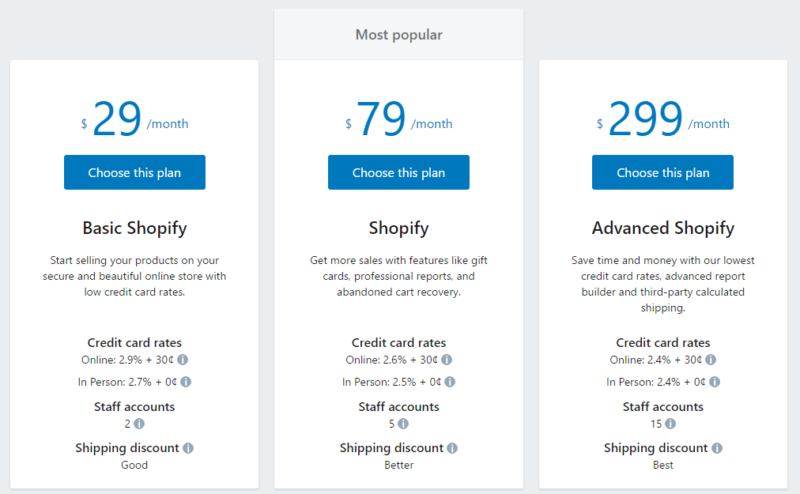 You won't see Shopify Plus here, but you will see the 3 main plans.
So, either select a plan or chat with Shopify to help you decide (this is why I love them)
So in the bottom left scree you will see a picture of you.
Click there and a pop up screen comes up
Select Enable Live Chat
A little box will appear at the bottom to chat.
Click that and start talking to a GURU right there.
They will walk you through the best option and help you get in touch with a Shopify Plus Expert.
See, now you actually have some momentum started 🙂
Also, I'm always free too, if you need to chat.
---
Shopify Plus Review Conclusion
---
As you can see, Shopify Plus is an amazing eCommerce Enterprise platform options.
It offers a ton for a larger company at one price without having to outsource certain things.
Just to recap real quick:
Here are a few things it offers.
99.99% Server Up time – Your Customers Don't Have To Worry When You Scale
Dedicated Account Manager & Priority Support – Amazing Treatment And Customer Service Ready When You Needed. You Always Have Someone.
No Transaction Fees – You Keep Everything Coming In.
Fully Managed Services – Shopify Does All The Technical Updates, Maintenance Work Behind The Scenes, And Security Patches. Total Peace Of Mind For You.
Custom Domain Check Out
So, anything you can chip in on? Tried Shopify Plus? Considering it? Maybe a question? Or could anything be added to this Shopify Plus review?
Summary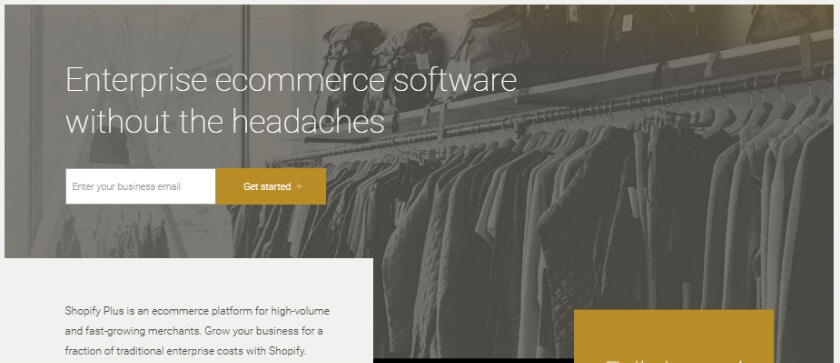 Article Name
Shopify Plus Review (A Powerful Enterprise eCommerce Platform)
Description
Shopify Plus Is Focused On Enterprise eCommerce. It Offers $0 IT & Maintenance Costs, $0 Transactions Fees. This Shopify Plus Review Will Cover Everything.
Author