Sometimes when were starting to enter the world of eCommerce a product like Shopify Lite is just what we need.
Because:
We already have a website ready to go such as on WordPress or another platform we have been tinkering on and that were happy with.
But:
Were now ready to enter the world of selling online with avenues like
Social Media
In Person
WordPress
Another Website Platform
And yet, were really not sure how to start selling, or what to use, or where to turn.
I've been there too:
Well, Shopify Lite helps you resolve these issues with a all in one package for $9 bucks a month.
And as Shopify puts it
Sell on social media, in person, or on an existing website with Shopify Lite.
or
Sell on Facebook and chat with your customers on Messenger, add products to any website or blog, and accept credit card payments for only $9 per month.
or
If you want to sell your products in person — at a farmers' market, a tradeshow, or a pop-up store — then you can do so on the Shopify Lite plan by using the Shopify POS app and a card reader.
Make sense? I hope 🙂
Let's Answer One Question Real Quick
Just to clear things up, with Shopify Lite you don't get a eCommerce online store.
This is what Shopify is mainly known for
But:
They started offering this method.
However, if you want a eCommerce store and all the features of Shopify Lite
You will want to go with the Shopify Basic Plan that starts at $29 monthly.
Ok, let's get started on this Shopify Lite review.
---
Real Quick, So What Would I Do – In Case You Cared :-)?
---
For me:
It would be simple:
I personally would do the $29 Basic Shopify plan. (82.1% Of The People I Help Start Here, even if it's just to test the 14 day free trial)
The reason you ask?
It offers everything the Shopify Lite plan offers (which your about to read), but as well you get an eCommerce website too.
Now, if you have that already you can integrate Shopify Lite right around your current store.
Just my 2 cents before you ready this 🙂
So….
---
What Is Shopify Lite?
---
Shopify Lite is an offering from the makers of original Shopify for users who desire an easy-to-use program that is a bit easier on the budget.
It offers all the basic features an entrepreneur or business needs to start an e-commerce business without too much fluff or too much monetary investment.
At just a $9 per month starting point, Shopify Lite is a perfect resource for businesses just starting out or working with a low overhead.
Even at the low price point, Shopify Lite provides easy ways to sell and market products online using social media, 24/7 customer support, a comprehensive resource library, and even an in-person point of sale mobile app.
There are four basic ways to utilize Shopify Lite — through Facebook, with Facebook Messenger, a "buy" button on your business website or blog, and the point of sale mobile app.
Here's how to utilize each feature:
Facebook With Shopify Lite
Shopify Lite offers features that integrate directly with Facebook. It's a great way to turn social media marketing into sales.
Consumers can buy items directly from the Facebook Page by building a Shop page with Shopify Lite.
Fully Integrated
Since it is fully integrated with the Facebook business page, Shopify Lite has built in marketing.
Each Facebook post can be an opportunity for a sale — without the customer ever needing to leave Facebook.
Removing that extra layer of resistance for the customer could mean bigger conversions from your social marketing.
The Facebook Page also comes with a built in target audience of people who already "like" or follow your brand.
It almost makes you wonder if it is worth it to take the time to build a full storefront on your website when you have full Facebook integration with Shopify Lite.
Facebook Messenger
Similar to the Shop page on the Facebook, Shopify Lite offers another way for consumers to buy your products through Facebook messenger.
It integrates with Messenger to allow consumers to place orders and track purchases all through the messaging app.
Buy Buttons
Shopify Lite allows you to add Buy Buttons to your own site or blog.
It fully integrates with a large variety of platforms including WordPress, Squarespace, and even social blogging sites like Tumblr.
Point of Sale App
In addition to online options for sales, Shopify Lite offers a point of sale application that allows you to accept credit card payments virtually anywhere.
This is great for businesses that do a lot of in-person work like fairs, popups, and other live events.
The Shopify Lite point of sale app is compatible with both iOS and Android systems.
---
Shopify Lite Pricing & Transaction Fees
---
So, How much is Shopify Lite you ask?
Will keep this one simple.
It costs $9 bucks a month for the service.
And when it comes to the transaction fees it's going to run you what Shopify states:
Use Shopify Payments to accept credit cards online an pay 2.9% + 30¢. Accept payments in person and pay 2.7% + 0¢. Accept credit card payments using an external payment gateway and pay 2.0% on all transactions.
See the chart just below to give you a little more detail on it.
---
Shopify Lite Plans Vs Basic Shopify Plan – What Is The Difference?
---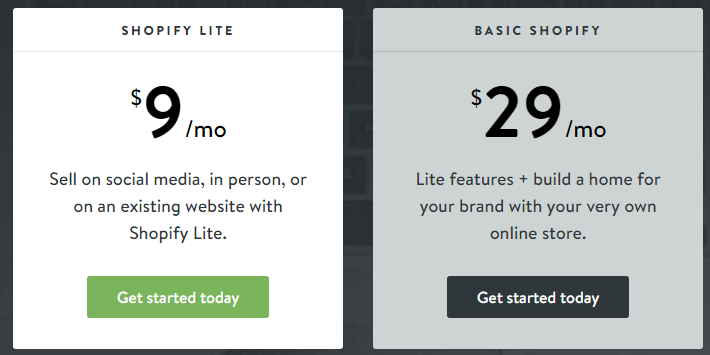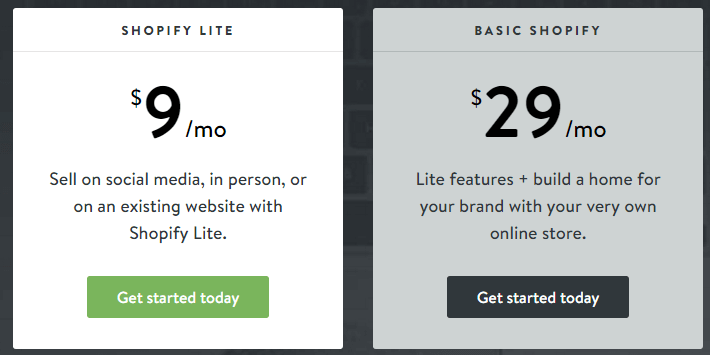 Shopify offers multiple levels of subscriptions to allow business owners to choose the best fit.
Shopify Lite is the lowest price points and Basic Shopify is the next level. Here is how the two subscriptions compare.
Pricing
Shopify Lite is a great option for budget conscious business owners at just $9 per month.
Basic Shopify is available for $29 a month.
Both Shopify Lite and Basic Shopify have the same credit cards fees at 2.9% plus 30 cents for online transactions and 2.7% for in-person purchases.
Features
Basic Shopify has all of the features of Shopify Lite outlined previously.
Both have unlimited about of products, unlimited sales, social media capabilities, and in-person sales through the app.
With Basic Shopify, you will get a bit more for your money.
A Few More Things
Basic Shopify is geared towards entrepreneurs that want to open an online e-commerce business on their own site.
It has Facebook integration as well — but allows you to have a separate online store on the business website.
That's a feature Shopify Lite does not allow.
Basic Shopify allows for two staff accounts in addition to the main administrator.
Shopify Lite only allows for one staff account.
---
Using Shopify Lite With Your Own Website
---
Although Shopify Lite does not allow for the creation of a complete online e-commerce store on your website, it still offers functionality for selling within your own branded website.
The Buy Button
Shopify Lite offers a "Buy Button" that can be added to virtually any website or blog.
This allows you to quickly and easily embed a product card and checkout into any website — without having to build an entire storefront.
For example,
you could embed a product that people can buy with one click within a blog post.
It's a handy way to monetize a blog or website without a big fuss or investment.
For help setting up or integrating the Buy Buttons into your particular site, visit the comprehensive library of reference materials that Shopify has put together.
Or contact the 24/7 customer support Shopify provides to all Shopify users — at all price points.
---
Top Shopify Lite Cons
---
Shopify Lite is a great product, but it is entry level with a few drawbacks.
No Store Front
You can't build an entire storefront on your own website which will limit how you can sell products and services.
A Tad Limited
The Shopify Lite plan is more limited than other Shopify subscriptions in how many users have access.
With Shopify Lite you only have one main and one staff log in — meaning only two people can access the program.
For small operations, this could be fine, but it would be easy to out go Shopify Lite's access restrictions.
Lacks Some Social Media Integrations
Shopify Lite allows you to utilize Facebook for your e-commerce business, but is limited elsewhere.
With Basic Shopify, you have integration with Pinterest and Twitter.
Shopify Lite does integrate some elements with blogging sites like Tumblr, but doesn't have the integration with Pinterest and Twitter.
This Hits The Pocket Books Gently, But, You Miss Out On Features
The monthly fee of $9 for Shopify Lite is quite affordable, but the credit card fees are higher than with other plans.
If business takes off and products are moving quickly, the higher credit card fees could quickly negate the savings from the cheaper subscription level.
---
Top Shopify Lite Pros
---
Shopify Lite is a great way to get started in e-commerce business with a long list of pros to check off for businesses.
Low Cost With Shopify Lite
The biggest pro of Shopify Lite is its low cost. At just $9 a month, any business can justify the cost of Shopify Lite.
This low price point offers plenty of valuable features and isn't out of reach of businesses with small or tight budgets.
That low price point also means it is less risky to start an e-commerce business than with other programs.
User Friendly For Beginners
Shopify Lite is also super easy to use. If you can operate a Facebook business page, you can operate Shopify Lite.
The integration with the social media giant means that you have a built in set of customers through Facebook followers.
Allowing customers to buy directly from Facebook means your social media efforts can more directly convert into sales.
The option to buy through Facebook removes a layer of resistance — there is no need to "click through" customers can just "buy now!"
Tons Of Ways To Integrate With Shopify Lite
Outside of Facebook, Shopify Lite lets you easily provide an option for purchases with the Buy Buttons feature.
This feature integrates a buy button into your already existing website or blog.
It's a great way to monetize a website or blog without having to devote time, money, and energy into building an entire storefront.
The buy buttons are a less pushy way of promoting products and help to remove a layer of resistance to purchase directly for a website.
The Buy Buttons are compatible with a wide variety of platforms including WordPress, Squarespace, and Tumblr.
This Could Be A Huge Plus If Your Selling Everywhere
Shopify Lite also provides a platform to offer in-person product sales. Included in the $9 a month subscription is a Shopify Like point of sale app.
The app is available for both iOS and Android mobile systems to get you started selling in the real world.
This is an excellent feature for businesses with a brick-and-mortar, live events like fairs and expos, and traveling businesses for on-the-go sales.
It's the in-person point of sale application that rounds out Shopify Lite's full-services.
A Little Simplistic Invoicing Never Hurts

On top of social media selling and buy buttons, Shopify Lite offers the ability to create and send invoices from within the platform.
Businesses that offer services — as opposed to physical products — will benefit greatly from this feature.
You can send the invoices and accept the payment all from within the Shopify Lite platform.
Support & Resources Are Top Notch
In addition to all the e-commerce and sales benefits, Shopify Lite comes with 24/7 customer support.
It is a nice piece of mind to know that even at low price points, you will have support in setting up your e-commerce business with Shopify Lite.
There is also a comprehensive library of content to help Shopify Lite users successfully launch and run their business.
Shopify has compiled a slew of podcasts, marketing tips, and other resources to help you succeed.
It is clear with all the features, reasonable prices points, and serious support — Shopify Lite wants its users to thrive in their e-commerce business.
---
Shopify Lite Review Conclusion
---
I really like the Shopify Lite idea.
It's simple. Easy to use. And immediately ready to go.
As they put it.
It's awesome for utilizing it to sell as I mentioned before if you…..
Sell on social media, in person, or on an existing website with Shopify Lite.
or
Sell on Facebook and chat with your customers on Messenger, add products to any website or blog, and accept credit card payments for only $9 per month.
As you can see though, if you need a eCommerce website solution
That's where the trouble would lie
I mean sure, you can build a site using WordPress and then utilize Shopify Lite with it. (Which can be a great route)
Or, of course.
If you already have a website.
But, if you need everything Shopify Lite offers plus an eCommerce website.
Your ground floor plan most likely will be the Basic Shopify.
Here are all the pricing plans to help you though:
Every Shopify Pricing Plan Page To Compare
So:
What are your overall thoughts on Shopify Lite?
Have you use it?
Thoughts about using it?
Summary

Article Name
Shopify Lite Review (Should You Use The Shopify Lite Plan?)
Description
If your considering using Shopify Lite or even Shopify's other plans. This Shopify Lite review is something you will want to read.
Author