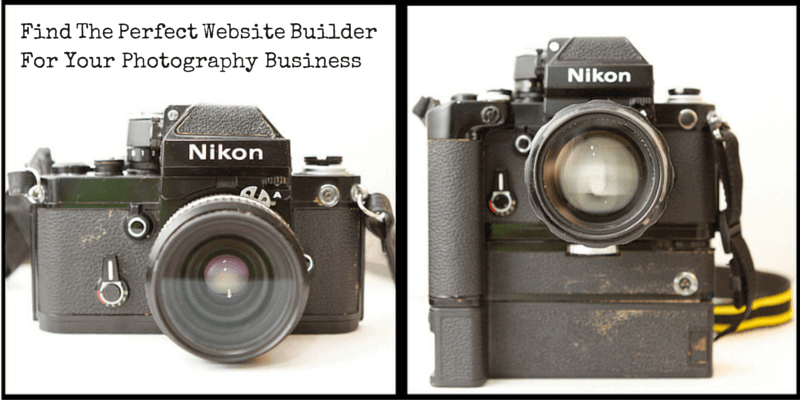 Looking for the perfect photography website builder?
or hunting and searching the search engines for terms such as…..
Best Website Builder For Photographers
Websites For Photographers To Sell Photos
Best Photography Website Builders
Wix For Photographers
Trust me, your not alone
But:
Come to find out, with just a little time you can have your own photography website up and running today.
In this article, I will show you 4 options to help get your photography business, hobby or whatever you call it, up and going, and show you some features of each one to help you decide.
One Thing:
Here is a little motivational back rub before you get started trying these out.
According to the Bureau Of Labor Statistics, the top 10 percent of photographers earned over $32.21 per hour.
And really, with what a photography website offers you such as easy information for clients, package deals, portfolio examples.
You get to reach out more and possibly earn more.
Right?
So – Maybe One Dying Question You Might Be Wondering (Sorry, still blabbing)

Let's Check Out The Benefits Of You Using These:
Low-Cost Professional Website:
These photography website builders offer you a low-cost professional look to your clients and potential clients
No expensive coder needs to be hired. You are the person piecing it together just how you want it.
Easily Show Off Your Work:
Set up a great portfolio fast with SEO and marketing in mind too.
Scalable:
As your website grows you need to be able to take it to the next level.
Start small if needed and you can upgrade easily as your photography business does.
No Coding:
I mentioned it earlier, but you can drag and drop and arrange as you need too.
So that super expensive edit with a custom website costs you ZERO bucks out of pocket.
Support:
When you have issues you can turn to your website builder provider for help.
A simple peace of mind is so important especially with your own website.
Hope that helps:
Affiliate Disclosure: Just so you know I can make some BUCKS if you sign up through these links below, but just so you know its no money out of your pocket, it just helps support what I do.
OK:
Let's dive into the 4 best photography website builders
---
#1 Wix – The Best Photography Website Builder In My Opinion
---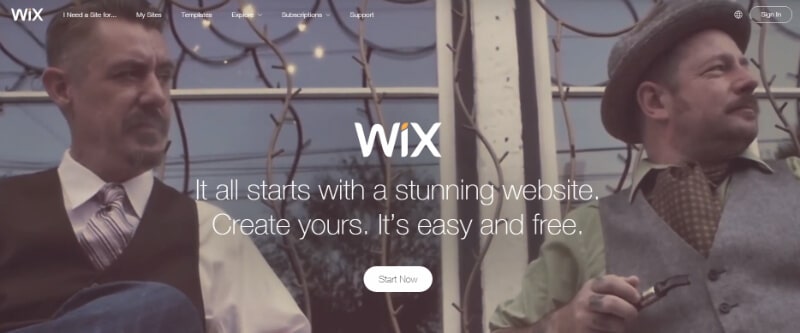 Wix Has a very nice user-friendly layout with many features.
One of the key things that got me enjoying it was that it took me about 3 minutes (no joke) to actually have a website up and running.
When you start you pick what type of site you want.
Most likely, in this case, a photography website, they even break it down with what type of site such as a wedding photographer.
Wix is free for the basic user but to get what you need I would say you're going to spend some money to take it to the next level for your photography website.
If you really are serious about Wix and want to read more about it, you have to check out my detailed review on Wix because it should help you see all the value and info on it to make that final decision.
Wix Pricing
Free – Limited Features
Connect Domain – $5 Monthly
Combo – $10 Monthly
eCommerce – $17 Monthly
VIP – $25 Monthly
Sell Your Photos
Integrate your Etsy website to sell
Turn your pictures into downloads and charge
Showcase your services and events with a awesome pricing table
Easily track income and expenses and creating invoices
Make It Easy To Get More Bookings
Let your clients make appointments right on your website
Let them see your calendar
Let's Get Started Building One. Atleast The Beginning Stages Should only take 60 seconds
Click here to go to the homepage of Wix photography
Click start my website
Sign up with personal info, or certain social media accounts
Continue with thid video at the 3 minute mark if you did the first 3 steps, or follow along completely.
The Benefits Of You Using Wix
Super Easy Set Up For You (My Site Was Up In 3 Minutes)
SEO Will Be Easy For You – Check this video out to learn more about how Wix will help you with SEO
Tons Of Photography Website Templates For You To Choose From
Purchase Your Very Own Domain Right On Wix
Tons Of Photography Templates For You (Weddings, Sports)
Mobile Ready So Your Clients Can Easily View On Their Phones
You Can Hire Wix Designers To Help You
Start My Photography Site With Wix Today
---
#2 Zenfolio – Loved By Many Photographers And Rising
---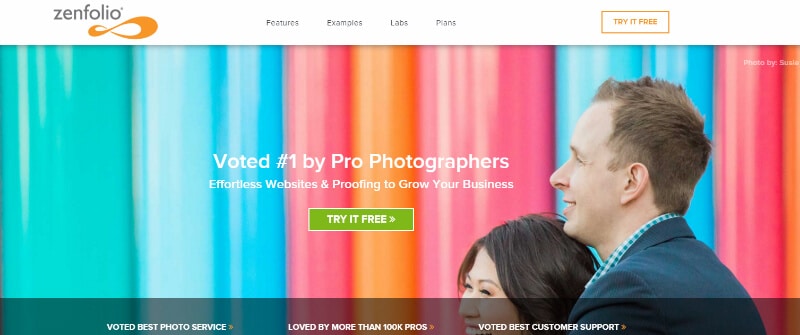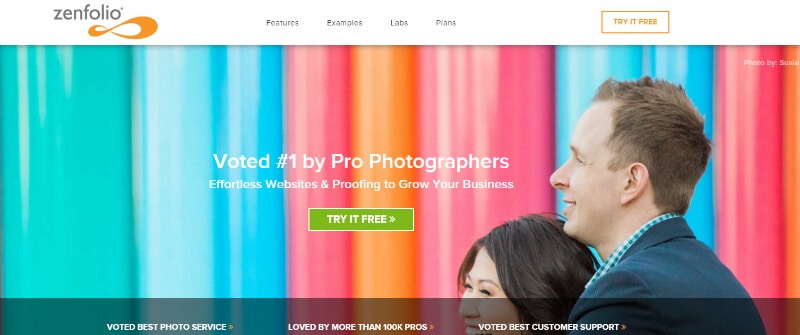 Zenfolio has quite the rap sheet of awards.
It has voted best photo service and best customer support which I personally find pretty awesome.
They are a great overall website builder providing tons of photography website builder services for any photographer.
They seem to make it very simple when it comes to client proofing.
You can even create mini sites for your clients so they can go right there and see their photos. I found that super beneficial.
Let's check out some other key benefits for you:
Marketing Made Easy (SEO, Social Media, Visitor Sign In)
Easily Sell Online With Over 2,000 Items To Choose From
Amazing And Award Winning Customer Service
Simple Website Design & Customization
Built-In Photography Blog – Display Your Awesome Photos
Simple And Nice Zenfolio Template Themes To Easily Customize
Zenfolio Pricing:
Starter – $5 Monthly
Pro – $20 Monthly
Advanced $30 Monthly
You can check out a full detailed review about Zenfolio right here.
---
#3 Squarespace – A Great Photography Builder
---

Squarespace has some nice features and templates to offer anyone looking for a really nice website builder for your photography needs.
With multiple template options and different pricing plans, you should be able to find something to help compliment your overall needs for your photography business or hobby.
Head on over there and check it out, the worst thing you do is use the free trial to give it a test run.
Make sure to check out my article Creating That Eye-Catching Photography Site With Squarespace for more information on this photography website builder.
Perks I love On Squarespace:
Their style editor (just easy to change your website)
Mobile Ready (A Must)
CDN Included (Content Delivery Network)
Pricing For Squarespace
Personal – $12 Monthly If Paid Annually/ $16 Month To Month
Business – $18 Monthly If Paid Annually/ $26 Month To Month
Basic – $26 Monthly If Paid Annually/ $30 Month To Month
Advanced – $40 Monthly If Paid Annually/ $46 Month To Month
---
#4 Redframe – A Great Photography Website Software
---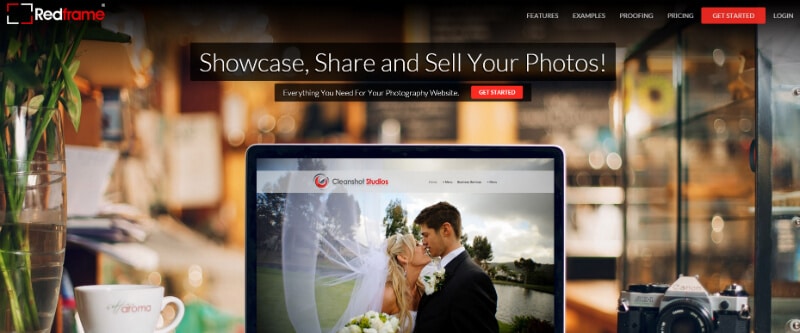 Redframe is a dedicated provider to the person needed a website for their photography business.
Since 2004, they have grown to over 60,000 plus photographers using their service for a beautiful website.
Powerful Perks:
Commission Free
Personalize A Photo Gallery Just For Your Clients
Integrate Google Analytics
Full Access To CSS
Unlimited Galleries
Easily Sell Photos
Redframe Pricing:
Annual is paid at $16 monthly with a 33% savings for the year, or $33 monthly
Now:
They also offer Bi-annual, 2 Year and 3 Year plans as well as early subscription promotions with prices going as low as $13.17/month.
---
Compare Side By Side
---
If you're looking to compare these side by side before making a decision I highly suggest checking out the photography website builder comparison chart I put together.
It lets you see everything more visually to help you decide
---
My Final Thoughts On The Best Photography Website Builders
---
Finding the best photography website builder that meets all your needs take a little time and research.
But:
you should have a better grasp after reading this article and testing these out.
Let's Recap:
The Top 4 Photography Website Builder Options Are:
Wix
Zenfolio
Squarespace
Redframe
So, just to ask you:
Have you tried any of these out yet?
Image Credit: Image Credit
Summary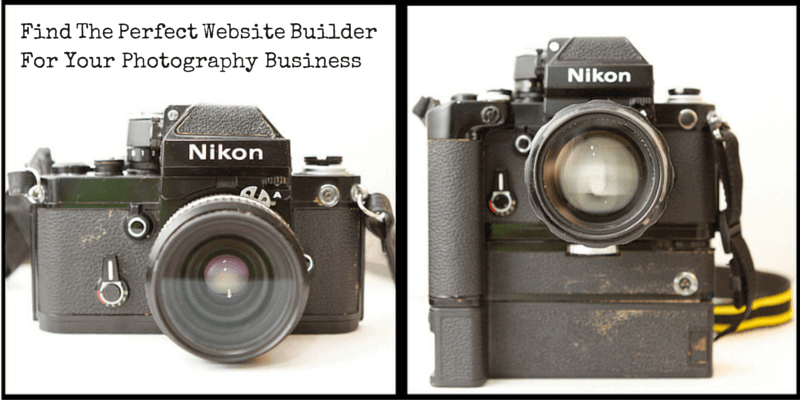 Article Name
4 Best Photography Website Builder Options (Ranked 1 - 4 For 2018)
Description
Looking For The Best Photography Website Builder To Power Your Website And Blow Your Clients Out Of The Water in 2018? Let's Check Out The Top 4 And Look At Their Pricing, Top Features And More To Get A Better Idea How They Compare And Which One Is Best For You To Use.
Author