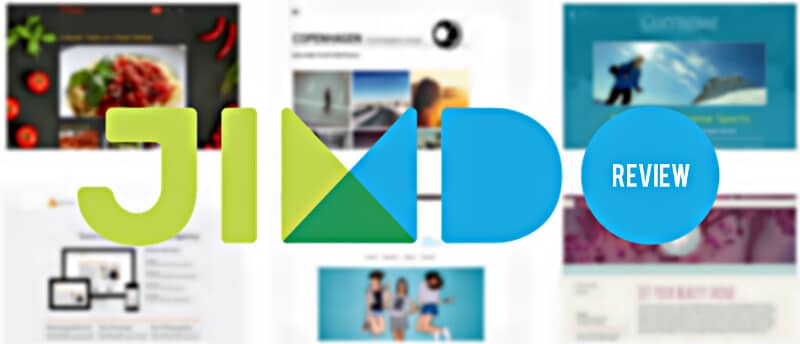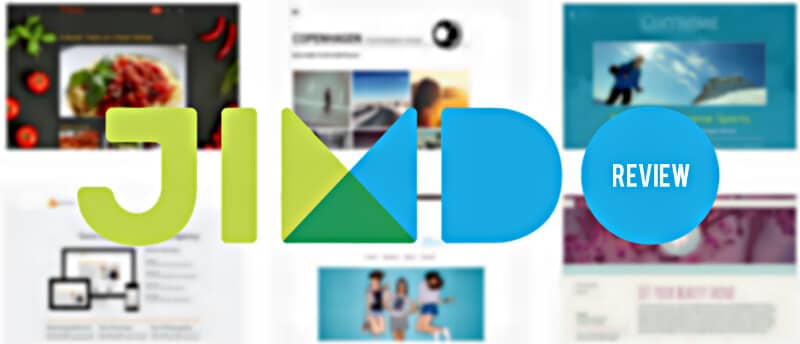 Consindering Jimdo for your website builder?
I've broken it down nicely for you in this behind the scenes Jimdo review.
Ready to get started?
I think the answer is yes, 😉
A Little Info On Jimdo
Since the company was founded in 2007, 15 million websites have been built with Jimdo. Its clients include entrepreneurs, photographers, musicians, and bloggers.
Jimdo's founders, Fridtjof, Christian, and Matthias, used feedback from the clients they built websites for to create Jimdo.
Learning that their clientele wanted to build websites but didn't want to be limited because they didn't know how to code helped shape the German men's vision for their company.
Jimdo is a website builder much like Wix and Weebly that doesn't require users to understand or write code. Using pre-created templates, free and paid users of the service are able to add elements of their own to personalize their websites.
Jimdo is perfect for novices and people who have extensive knowledge of code, too.
Its pricing plans range from free to $20 a month billed annually making it an affordable option for people in a range of industries and professions.
A few of Jimdo's competitors are Wix, Squarespace, and Weebly. Offering similar templates and pricing plans, it all boils down to which company a person prefers and which tools and features are perceived to be the most beneficial for users.
Some eCommerce sites charge a fee per transaction whereas Jimdo does not. This could make a sizeable difference where cutting costs is concerned for big businesses who sell a lot through their online websites.
---
Jimdo Ease of Use
---
Jimdo takes the guesswork out of building a custom website by providing a simple website builder free of code.
It markets to entrepreneurs and creatives in a number of fields including writers, photographers, restaurant owners, wedding planners, and travel bloggers.
The templates provided by the company range in style from sleek and sophisticated to bold and trendy.
Each is customizable so Jimdo users get the website that they want that best represents them or the companies they're wanting to promote.
The very first thing one has to do to start building a website is to choose a template and register using their email address and choice of password.
Once you've confirmed your account by opening the message sent to you by Jimdo, you're ready to start editing your website.
You're given the option to name your URL with Jimdo branding if you've elected to use a free account, purchase a domain or use a domain you've already purchased.
Customizing your website takes practice and although everything is laid out neatly and categorically, it does require patience moving blocks of text, changing colors of backgrounds, and adding photographs.
You're able to upload or access Dropbox for pictures which is a nice feature if you don't have a lot of personal photographs saved on your desktop or laptop.
You're also able to edit items through the Jimdo apps for iPhone and Android enabled devices. Making changes while on the go is one feature that many business professionals and creatives appreciate.
They may not always have access to a computer but they do have a phone or tablet on hand to make changes immediately.
One of the biggest selling points of Jimdo is the option to change templates at any time. You're also able to build a website from scratch if you do know how to code.
This allows users from all walks of life and knowledge bases to utilize the website builder for his or her needs.
Since a domain and email are included in paid Jimdo plans, you can literally build a website one day and be up and running the very next day without any issues.
Let's Check Out How Easy It Is To Get Started With Jimdo
Now, let's See How Easy It It To Use
---
eCommerce Options with Jimdo
---
JimdoBusiness offers paid subscribers access to an online storefront with unlimited listings. Entrepreneurs with a long list of inventory benefit from no transaction fees.
Similarly, JimdoPro users with fewer products, no more than 15, also benefit from not being charged a fee for transactions.
The advantage paying for the more expensive payment plan is this. JimdoBusiness users get priority customer support when things go south on their websites.
This type of premium service often costs users additional money each month but it's part of the monthly plan on Jimdo.
Tools and widgets make eCommerce stores work seamlessly behind the scenes.
Rather than source out work to other companies or purchase additional software and services, business owners and entrepreneurs have access to everything they need to conduct inventory, promote their products and services, communicate with their customers, and even collect payments for products sold and services rendered.
Let's Check Out Building An Online Store With These 4 Videos
---
Jimdo Website Templates
---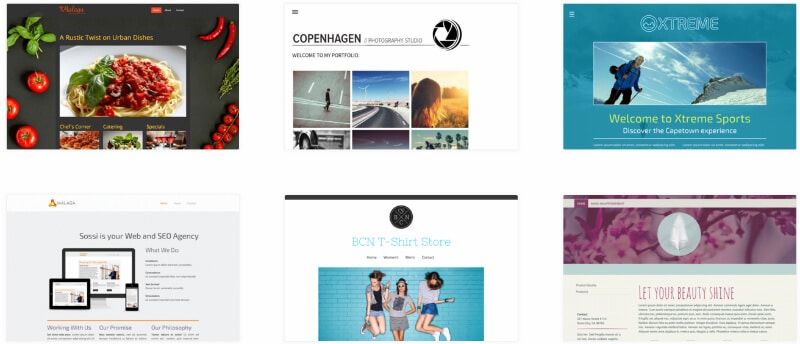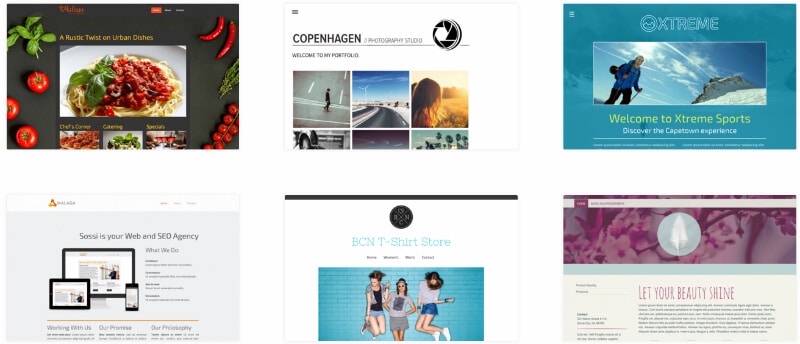 A great website is key to gaining customer and fan trust and interest in what you have to offer. Jimdo offers a variety of templates for you to choose from based on the objective you have for your site.
Choose from the following categories based on your needs:
•Business
•Store
•Portfolio
•Personal
Business templates include options for travel agencies, restaurants, and web agencies specializing in SEO and marketing. Store templates include options perfect for selling t-shirts, food, and cupcakes.
Portfolio templates are perfect for photographers, musicians, and graphic designers. Personal templates range from minimalistic to bold and exciting.
Customizing templates is easy through the inclusion of fonts, text, photographs, audio files, and videos.
You don't need knowledge of how to code unless you want to add something extra to your website like a personalized banner or want to create a website from scratch.
Affordable pricing plans include a domain for one year and access to email which is something you'd have to pay additional for if using other companies for these services.
---
Jimdo Tools & Widgets
---
Tools that Jimdo users utilize include email marketing and scheduling services, content creation and social media management, video galleries, photo slideshows, payment options, event registration, and chat support for customers as well as company, product, and service reviews.
Some widgets Jimdo recommends on its blog include floating social media buttons, brightly colored and dramatic images, email marketing, calendars, customer service, and analytics.
Each is designed to enhance your website by making it easier to reach and engage customers all over the world.
Some of the companies that work with Jimdo websites is MailChimp, Doodle, Prezi, and AWeber.
eCommerce tool companies include PayPal, Freshbooks, Ticketbud, and Munch.
Community tools users have access to include Rumbletalk, Olark, Polldaddy, and Disqus among others.
Design tool companies with a relationship with Jimdo include 99Designs, SproutVideo, Bannersnack, Photosnack, and Flickr as well as many, many others.
Jimdo Domains & Email
Paid account receive a free domain and email account. This keeps branding consistent and eliminates the need to use additional services for hosting and communicating with customers and fans.
A free Jimdo account does not come with a custom domain. It has the website building company's name attached to it much like Wix and Weebly's free accounts do.
If you want a personalized URL, you're going to need to pay for it. This is advisable if you already own a domain, want to use your own name or company name without having Jimdo branding in the URL.
You'll have that option from the moment you register for an account with the website builder. You can also go back to that option later on if you haven't made your mind up about it just yet.
---
Jimdo SEO
---
Built-in SEO tools make getting your website out to the masses quick and easy. For example, did you know that you can easily add your site to Google? That's right! You can by accessing the Google Indexing tool.
It allows you to take your URL and submit it to the search engine. Even more exciting, you can claim ownership of your website using Google Search Console.
You're also able to set your Site Title and Page Titles. By including keywords that describe your business in the titles of your website, you increase the chances of people finding you after doing a web search using those words and phrases.
Adding page descriptions and preparing page URLS allows people to find you easier based on the keywords and phrases they choose to enter into the search engines as well.
---
Jimdo Review On Pricing
---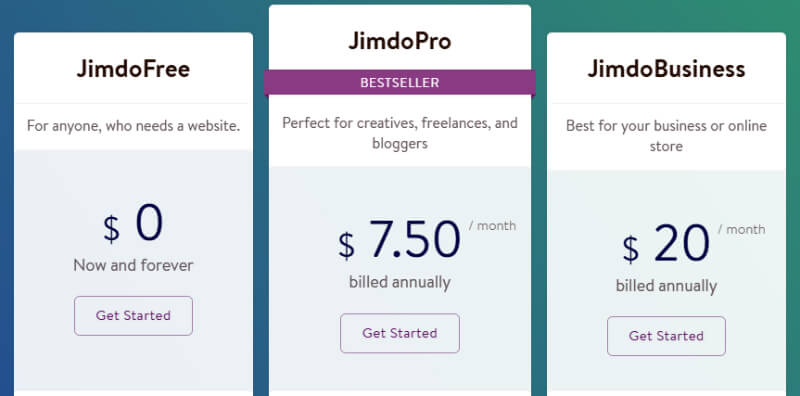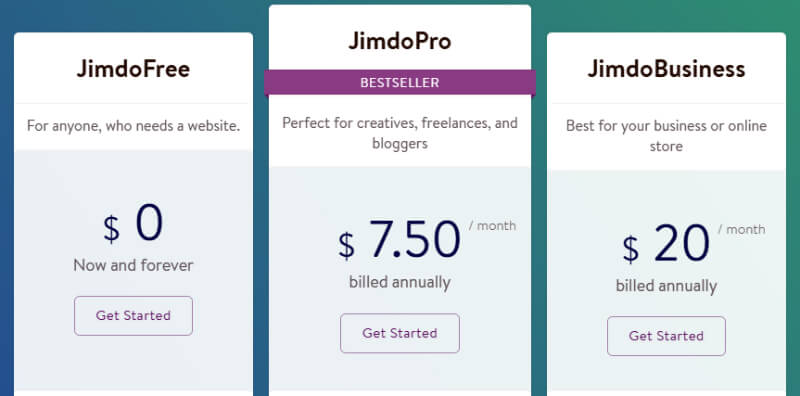 Jimdo has three different pricing plans to meet its customers' needs. Each is charged on a monthly basis and offers a wide range of features to a specific group of people. For example, the most basic of the three plans is JimdoFree.
As its name suggests, it doesn't cost money to use the plan but it only comes with a Jimdo.com subdomain.
If you're looking to personally brand your website, you may be interested in the other two plans. The first is JimdoPro which is best for creatives, freelancers, and bloggers. It costs $7.50 a month billed annually and offers a free domain and email account.
In addition to Jimdo support, users that elect this pricing plan access statistics, a basic online store for 15 products with no transaction fees, and a variety of widgets that enhance the website and experience for your customers.
The ad-free website is also optimized for mobile devices such as smartphones and tablets.
The last pricing plan available through Jimdo is JimdoBusiness. It's intended for use for businesses and online stores. It costs $20 a month which is billed annually and offers many of the same features at the JimdoroPro including a free domain and statistics.
It comes with a business email package and personalized priority customer support from Jimdo. The complete online store allows you to list and sell unlimited products with no transaction fee, too.
JimdoBusiness also allows you to create discount codes for your customers, accept different forms of payment including PayPal and invoices, and charge shipping based on the weight of the product. More importantly, Jimdo keeps you up-to-date with international law so your online business continues to be successful.
As with the other plan, you have access to SEO and have a mobile-optimized website that people can view wherever they go.
Paid plans come with a free 30-day trial. This allows you to see if JimdoPro or JimdoBusiness is right for you. If it isn't, you can cancel any time during the trial period to avoid being charged for a year's worth of service.
Other website building companies offer 14 day free trials so it's rather generous of Jimdo to give you 30 days to test things.
---
Jimdo Support & Customer Service
---
Jimdo's Support Center addresses topics by breaking them down into categories by subject. The different subjects it provides information for include Basics, Design, Domains & Email, Blogging, Store, Search Engine Optimization, Account, and FAQ.
Sample topics include how to recover a forgotten password and how to change your background image. Jimdo also addresses other concerns through the creation of a support ticket.
You have the option to choose your issue and fill out a contact form to receive a response from Jimdo's support team.
The website does not give a specific timeframe for responses but does state that if you've made multiple attempts to contact support with no success, you may need to check your spam folder and mark correspondence as "not spam".
Jimdo does not offer phone support. It does, however, offer live chat support.
It's available according to staff availability from 9 AM to 5 PM Pacific time. If you're not able to reach someone, don't give up. You'll reach someone in a matter of no time.
---
Final Thoughts On Jimdo
---
Jimdo is a great website builder for beginners. There are ample templates to choose from and customizing details is easy with its drag and drop functionality. Pricing plans are affordable and offer many time saving and economical features.
Rather than pay for a separate email provider, hosting service, SEO specialist, and social media manager, you have access to each with Jimdo.
Priority customer support for JimdoBusiness customers is advantageous because the people signing up for this pricing plan are clearly interested in the unlimited listings that it offers. If their website was to experience a hiccup along the way, it could significantly hurt their profits.
That's why having a dedicated team of support specialists available to assist at any given moment pays off. It's worth $20 a month for just that service alone!
Jimdo offers one of the longest free trials available for website building companies. Instead of just two weeks, you get to try everything out for a month. This gives you plenty of time to test the water, see what features you love and can't live without, and how your customers or viewers like your website before committing to a paid plan.
There are also mobile apps available for all types of devices running iOS and Android software. If that wasn't convenient enough, Jimdo also has social media accounts that address new offerings, customer questions, and serve as inspiration for people designing their own website.
If a topic isn't addressed on Jimdo website or social media accounts, you can count on their customer service staff being able to answer it for you.
If creating a fully functioning website in little to no time without the assistance of a web design team appeals to you, Jimdo is an option to consider. If you're still on the fence as to which website builder is best, you have the opportunity to 'try before you buy' with Jimdo's lengthy free trial.