Looking to check out the Godaddy eCommerce website builder?
or scouring the search engines with terms like….
Godaddy Online Store
Godaddy eCommerce Builder
Then you're in the right spot partner.
GoDaddy has always been one of the most well-known domain registration and web hosting companies.
However, the site has expanded to include all kinds of store builder and e-commerce integration services.
With all of these new services, it's becoming an all-in-one type of web hosting provider.
While the eCommerce builder isn't free, the price is relatively low compared to competitors.
The Godaddy online store builder is easy to use and actually allows merchants to create a site in less than 5 minutes. There are some disadvantages, but overall, it is a great value.
Try GoDaddy Totally Free For 30 Days – No credit card needed either, I checked
Benefits of GoDaddy eCommerce:
The store builder wizard by GoDaddy has just three steps for merchants who want to quickly set up a site and shopping cart.
You also get free hosting, customer support, email management and iStock photos.
There are a range of templates that you can choose from, but many people will likely choose to upgrade to a premium template or design their own considering the selection is slim with the basic plan.
The All-in-One Difference:
You can register a domain, host and build your store all from GoDaddy.
You don't have to go anywhere else for any part of the process. There are three different plans including economy, deluxe and premium.
Each plan ranges in storage, free iStock photos and product limits.
Only the deluxe and premium plans offer mobile solutions. This is essential for today's businesses as mobile e-commerce is quickly overtaking other types of online shopping.
If you want SSL certificates include, you have to purchase the premium plan.
GoDaddy Online Store Shipping Features
Godaddy offers features for domestic or international shipping.
Also, if you live in the US you can get real time shipping rates. How cool right?
Another thing you can do is to choose what type of shipping you want.
For example:
Maybe you want to run a promo and offer free shipping. You can set it up to that for your customers 🙂
But over-all, choose from free shipping, flat rate, or weight based shipping.
So What Type Of Payments Can I Accept If I Use Godaddy?
Godaddy has a flat rate it charges at 2.9% + $0.30 per transaction when you make a sale. Don't worry, no monthly fee with this. Here is some more info to give you a better idea.

So What About The GoDaddy eCommerce Templates?
The template designs on GoDaddy are pretty simple. If you want something more complex and eye-catching, you may have to go elsewhere to find a premium template.
There are 24 categories on GoDaddy that range from clothing, animals, health, hobbies, sports and finance.
You should look at the templates first before choosing a plan as the selection is limited and may not appeal to what you want for your brand.
Here are a few examples: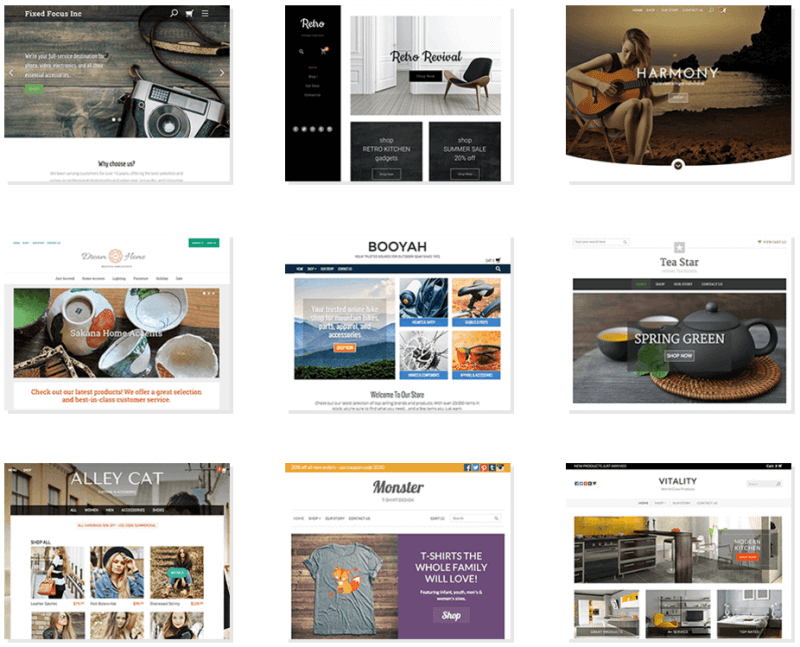 Let's Check Out This Video To Do A Quick Run Through On Godaddy Templates:
Some Other Benefits For You:
Try it completely free and risk-free for 1 month. That way you completely know what you get and know your decision
Easily open up a Facebook store so your customers can shop right on your Facebook page.
Show your customers up to 10 images of each product. This way you make sure they see everything and every angle.
24/7 customer support. This way you always have someone to turn to when you need help.
A totally secure checkout
Sell unlimited products. That way if you start with 10 products and end up with 100 your completely good to go.
Offer coupon codes to your customers.
Simple drag and drop website builder. It's totally a piece of cake to design and edit without having to hire someone.
Godaddy eCommerce Plans For Pricing
Well, Godaddy keeps the online store builder plan pretty simple. I think this screen-shot sums it up.
You will most likely want a SSL certificate too especially with selling online.
So:
Here is a little Godaddy Promo Code I found that should help you lower the cost by 25% (cjcgroups).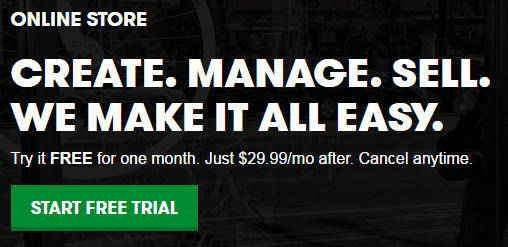 Hire Someone To Build Your Online Store At Godaddy
Listen, if you just don't want to get your hands dirty with coding, SEO, customization, etc Godaddy offers a service that will help build your eCommerce store.
So what does it cost? It's going to run you over $1400 bucks. But, keep in mind they are doing it for you. Let's check out what you get.
Set up done in 2 weeks or less
Theme based off of your industry
6 hours of updates in the first 12 months
Or to 10 products added
A few others thing that is included are a 1 year SSL certificate, free email accounts, and SEO tools.
I'm not saying this is the best route for you but check it out and call to get the free consultation to see if it's of great value to you.
Check out the Godaddy web design service
Some Drawbacks to GoDaddy:
In comparison to other e-commerce store builders, GoDaddy doesn't really provide the best marketing or SEO tools.
It also doesn't have as many templates. The builder may actually take a while to set up if you want to customize any part of the site as you would have to know some HTML.
If you are a beginner and want something cheap and simple, GoDaddy can definitely provide an all-in-one solution that also has customer support, mobile store and SSL certificates.
However, you may need to upgrade to get all of the things that you need a site or you may also want to pick your own premium template elsewhere.
Check Out This Godaddy Hangout Video To Build Your Website
What About Godaddy Online Store Vs Shopify For eCommerce?
I mean:
You're probably wondering right?
Comparing these two I feel Shopify is easily the overall winner because of the ease, tools, support, and functionality to start.
Obviously you might want a little more information and maybe why though too.
Here are a few links to assist in backing this info up:
5 Best eCommerce Website Builders
Godaddy Online Store Conclusion:
Overall, GoDaddy is a simple to use e-commerce builder that gets the job done.
There are some features that need to be updated, but it's a cheap option that is relatively low priced compared to competitors.
For new beginners and those who want a simple solution for an online store, GoDaddy offers the most features for the price.
Start Building With Godaddy Free
Summary

Article Name
2016 Godaddy Online Store Website Builder Review
Description
Looking To Build An eCommerce Website With The Godaddy Online Store Builder? Check Out Online Store Pricing, Features With This Godaddy Review.
Author