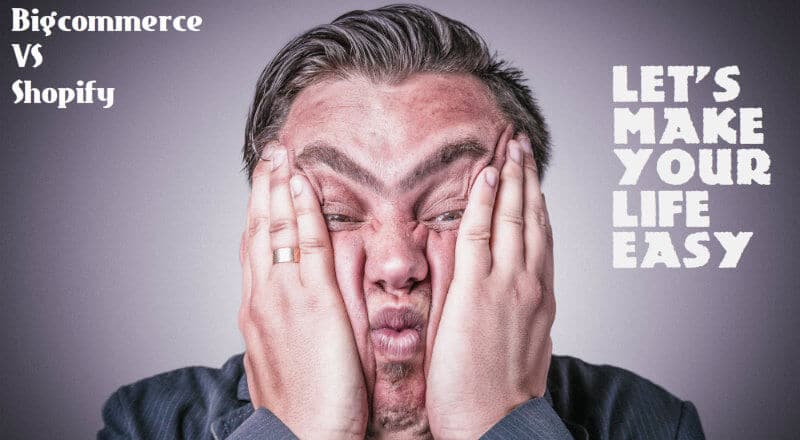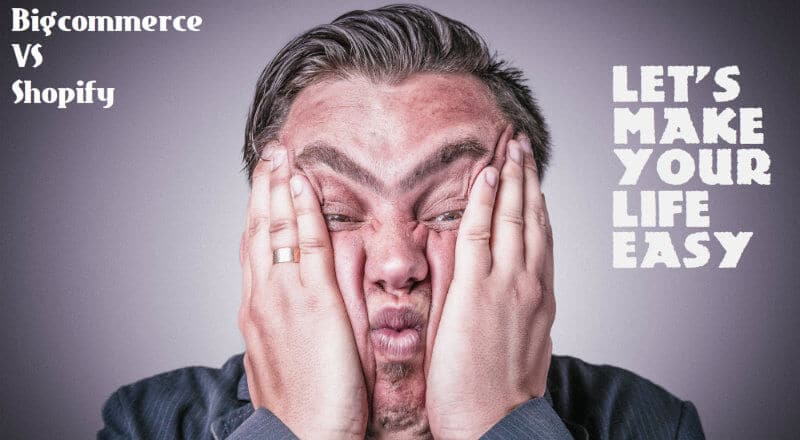 I'm having a feeling you got to this page by possibly searching or hunting for terms like:
Shopify VS Bigcommerce 2017
Bigcommerce VS Shopify
Should I Use Bigcommerce Or Shopify
Trust Me:
You by far aren't alone at all.
In fact just like you, there are probably thousands each day hunting for this.
I mean, all you want to do is get your eCommerce website started today right?
but you're not feeling 100% confident with your gut feeling on the one you want to use.
UGH:
Bad feeling right?
The thing is, you probably are already leaning towards one but just need a little more insight and info.
Well, you're in the right spot my friend. I'm going to break Bigcommerce and Shopify down so you know which one I feel is the best, which will make your life way easier.
---
Their History Looked At:
---
Shopify History
Founded by Tobias Lutke and Scott Lake, Shopify's success story came from humble beginnings.
Using investments from family, friends, and an angel investor, they were able to launch the customizable online storefront builder in 2006.
The duo didn't receive a paycheck for their hard work until 2010 when investors saw potential in their website.
That's how the company was able to go from one store to over 200,000 in ten years.
The Motley Fool Canada notes the "massive, untapped enterprise potential" of Shopify and calling it "one of the best bargains available on the market."
While other companies were down 15%, the e-commerce website's stock was increasing by 5%.
The potential for growth serves as proof as to how well the company fares in the public's eyes.
Shopify continues to add apps and features to meet the diverse needs of its customers.
Recently, POS payment processing became an option for mobile phone users.
People who operate small stores, craft or flea market booths or have a busy Craigslist account now have the ability to accept payments via smartphone or tablet thanks to Shopify.
Merchants in the US and Canada are eligible for a free credit card reader. They can then accept Visa, MasterCard, and American Express through the POS app.
There are three different plans through Shopify.
The first, Basic Plan charges 2.9% + 30 cents per transaction.
The Professional Plan charges 2.6% + 30 cents per transaction.
The Unlimited Plan charges 2.4% + 30 cents per transaction.
You can read more on pricing though in a little bit 🙂
Bigcommerce History
Bigcommerce, like Shopify, is a paid-for e-commerce solution for business owners.
It lets them set up an online store and sell products to people all over the world.
It's customizable and integrates a number of tools that make running a business easier.
Founders Mitchell Harper and Eddie Machaalani remain a part of the company despite turning over the reins to Brent Bellm, former PayPal Europe boss.
Since the company started in 2009, it has grown exponentially with its last valuation topping $3 billion.
Bellm is currently preparing the company for a US public listing. In an article published IntheBlack.com, he notes a two-part strategy for success.
The first entails knowing "your customers' needs before they do." The second is to "offer them something different that you think they'll love."
As CEO, he notes the importance of credibility in the eyes of the customer. It always goes back to doing what you say you would do.
That's how he's transformed the company into one of the leading e-commerce platforms in the world quickly.
Data To Support Popularity On Both
As you can see based off of search trends on Google Trends Shopify leads within this data used.
Try Shopify 100% Free or Try Bigcommerce 100% Free
---
Ease of Setting Your Store Up
---
Shopify Store Set Up
Shopify's features are vast and varied to meet its customers' needs.
In addition to a variety of professional themes to choose from, users of the e-commerce platform are able to use their own domain name or purchase one for an additional fee.
Working with a Shopify Expert to customize your store is an option as is branding and customizing your online storefront by yourself.
Each template has customized settings that are quick and easy to use.
You get full access to the HTML and CSS of your store so your online image is consistent and your business purpose clear.
Rather than go through another company to provide a fully interactive shopping experience for your customers.
You get everything you need from Shopify including a built-in mobile commerce shopping card accessible from computers, mobile phones, and tablets.
as well as:
a full blogging platform that allows you to communicate directly with the people who shop your website.
The mobile shopping cart offers the same level of security used by banks which is a 256-bit SSL certificate and allows you to accept Visa, MasterCard, Discover, and American Express from the moment you launch your storefront with low credit card rates and no hidden fees.
It also allows you to take payment from 70 external gateways including bitcoin, PayPal, and iDEAL. This type of flexibility makes first-time customers repeat customers.
Setting up your store takes very little time but Shopify does recommend doing the following steps before announcing your launch.
The first is to double check taxes and shipping.
The next is to check the status of your domains. Once those steps are done, make sure your shipping rates don't limit the customer.
Next, you'll want to do a test transaction.
Once you've seen that it's successful, open your online store for business. Step-by-step instructions on how to do each task is listed under documents on the Shopify website for reference purposes.
Shopify
Step By Step Video Guide

To Set Up Your eCommerce Online Store
Bigcommerce Store Set Up
Bigcommerce offers many of the same features that Shopify has but at a higher monthly price for Pro services.
In addition to a large number of themes to choose from, it has a storefront editor that makes customizing a website with personal details easy.
It also has built-in desktop and mobile previews so you know what your customers see when they look at your site.
The e-commerce platform offers PCI DSS Level 1 certification as well as multi-level security and DDOS defense.
This makes transactions and confidential information secure which eases the mind of the customer.
The cloud-based platform allows its user to focus on selling not keeping the website online.
There are also a number of tools that convert lookers to customers with "buy buttons," as well as shipping calculation and couponing and discounting.
These are things that attract customers by making the shopping experience effortless.
When a person is given the option to apply a limited time discount or purchase an item by clicking a button, they're more likely to do so when visiting a website.
Setting up an e-commerce store on Bigcommerce is significantly harder than Shopify because it requires you to look at more things.
For example, in the Store Launch Guide, users are directed through the Bigcommerce site, through themes, categories, products and product options as well as payment gateways and merchant accounts.
It's then recommended that they take a look at shipping, tax, content pages, and domain names.
Once that's done, it's time to examine the SSL Certificate and then launch your store.
Additional areas of the Guide address managing and growing your business and getting help when you need it.
Each area has a drop down button where more information is provided to Bigcommerce users.
---
Comparing Pricing Plans With Bigcommerce And Shopify
---
Shopify Pricing Plans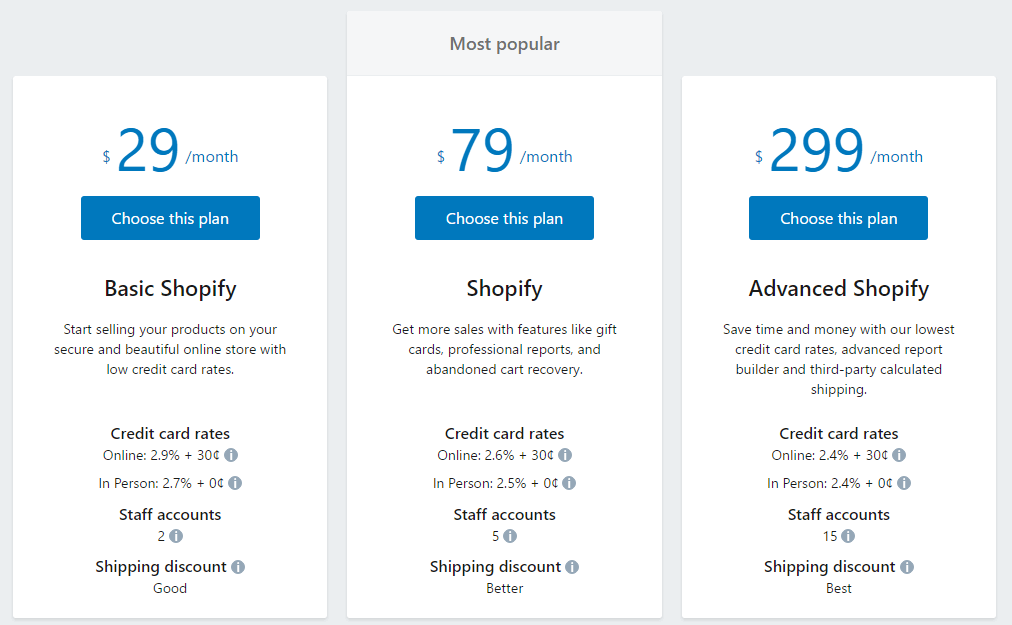 With a 14-day free trial, it's easy to 'test-drive' Shopify without making a financial commitment.
You don't need a credit card to sign up but you will need a form of payment in order to use the service after the trial is up.
The different options to choose from include:
Basic Shopify at $29 per month.
Shopify at $79 per month.
Advanced Shopify at $299 per month.
Each offers an unlimited number of products, 24/7 customer support, and unlimited file storage.
There are no transaction fees if using Shopify Payments and smaller transaction fees for Pro and Unlimited users because of the higher monthly fee paid.
Keep in mind that Shopify collects taxes in states where it is required by law and that the fees listed here do not reflect the additional charge for sales tax.
There is also a retail package that offers additional features such as staff accounts and hardware integration as well as Shopify Plus that provides "enterprise-grade selling capabilities." This gives power sellers the opportunity to work with Shopify, too.
Bigcommerce Pricing Plans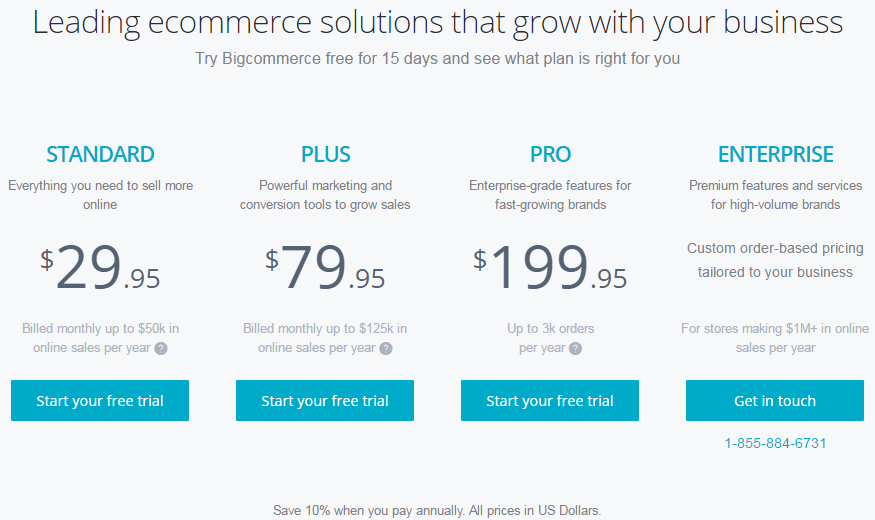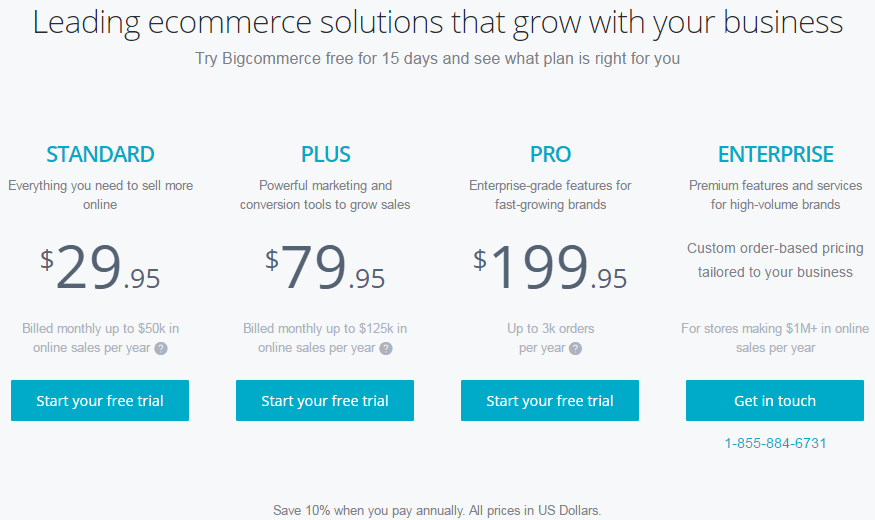 Before making a financial commitment of any sort, Bigcommerce offers a free, no risk, 15-day trial for all new users.
This gives you time to try things out to see if they'll work for you.
After the trial is up, you have four different pricing options to choose from.
They are:
•Standard at $29.95 per month. This option is ideal for business owners with up to $50k in online sales per year.
•Plus at $79.95 per month. This option is ideal for business owners with up to $125k in online sales per year.
•Pro at $199.95 per month. This option is ideal for business owners with up to 3k orders per year.
•Enterprise which is custom order-based pricing tailored to your business needs. This option is ideal for stores making $1M+ in online sales per year.
Customers save 10% when they pay annually versus monthly. Each pricing level offers its own list of features.
For example, Standard includes hundreds of built-in features, Plus includes all Standard features, Pro includes all Plus features, and Enterprise includes all Pro features.
Each offers different transaction fees with Pro and Enterprise offering the lowest.
---
The Themes They Offer
---
Shopify Themes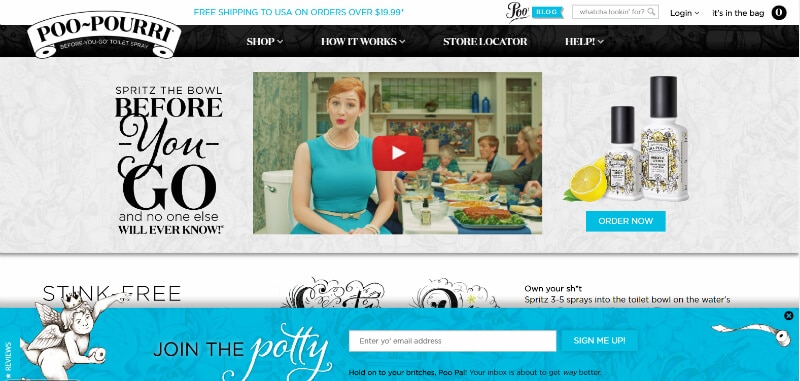 With over 100+ free and paid professional themes to choose from, it's easy to see why so many businesses use Shopify.
The industries represented by the e-commerce platform include Art & Photography, Clothing & Fashion, Jewelry & Accessories, Electronics, Food & Drink, Home & Garden, Furniture, Health & Beauty, Sports & Recreation, Toys & Games, and Other.
Some of the top free themes include:
•Venture. Choose from Boxing, Snowboards or Outdoors.
•Boundless. Your two options are Black & White or Vibrant.
•Brooklyn. Perfect for your modern apparel store.
•Pop. Toy and Bone are the two selections available.
•Solo. Great for small to medium-sized stores.
•Supply. Pick Dark, Blue or Soft Green depending on your personal preferences and chosen color scheme.
•Classic. Choose from Sharp, Dark, and Light.
•Minimal. Stay focused with minimalistic Music, Fashion, and Vintage.
•Many Others. There is Lookbook, Simple (Beauty or Light), New Standard (Dark, Sepia or White), and Kickstand (Ebook or Starter).
If you have your own theme, feel free to share it with Shopify.
The company allows you to make money from your design skills by offering your new theme to thousands of merchants around the world.
This is one way to defray the costs of your new e-commerce store.
Bigcommerce Themes
Bigcommerce has new responsive eCommerce themes in the works.
Interested parties can sign up for notifications for when that service becomes available.
For the time being, they can get a glimpse of what the e-commerce platform has in mind but can't view specifics.
Current eCommerce themes are free or paid depending on how they're classified. Some of the top free themes include:
•Classic Next.
•Runway.
•Outdoor.
•Musik.
•Munchen.
•Home IQ.
•Health & Beauty.
•Grease Monkey.
•Fun 'N Games.
•Classic White.
•Classic Hip.
•Bride to Be.
•Bedazzled.
•Wine Store.
•Hipster.
•Beautification.
Some of the top paid themes include:
•Sugar & Mint.
•Bright & Bold.
•Dusk & Dawn.
•Cookies & Cream.
•Ohio.
•Hawaii.
•Connecticut.
•Alaska.
•Indiana.
•California.
•Minimalist Lifestyle.
•Mercante.
•Clarity.
•Cloud Store.
•And, Many, Many More!
According to Bigcommerce, customized features are available that all you to stay consistent with branding by using your own logo, fonts, and colors as well as integrating your social media accounts so you can engage your customers with meaningful posts and updates.
---
Bigcommerce Vs Shopify For Customer Support: Let's See How They Stack Up
---
Shopify Customer Support
With 24/7 customer support, you can rest assured that your business will never be down for long if there is a problem.
Shopify's support team is available to contact by email, live chat, and phone.
You'll reach someone anytime day or night via whatever means of communication is easiest for you to access.
If you're more of a DIY problem solver, you'll be pleased to know there is a Frequently Asked Questions (FAQ) page, user guides, and tutorials in the Shopify manual to consult.
You can also ask questions and take part in conversations in the discussion forums.
Finally, there is Ecommerce University which is jam packed with e-books, video series, webinars, and more.
Learning, all there is to know about your e-commerce website of choice helps you make the best decisions where your business is concerned.
It gives you an advantage over people who don't possess the knowledge that you do.
There is even a podcast called Shopify Masters that features successful e-commerce entrepreneurs.
Guests provide insight on ways they've made their businesses stand out. The 40 to 60-minute segments run twice a week via Soundcloud.
It's one more tool to add to a jam-packed Shopify toolbox and yet another way the company sets itself apart from the competition.
A Little Test I Ran With Shopify Customer Support:
I reached out to them VIA chat with a little help I needed in regards to my readers in extending their free trial.
Now they couldn't help me personally extend my readers free trial, but they did say they would be happy to help out my reader once they signed up to extend their free trial.
They were super helpful too, I felt as if they answered all my questions and gave me a resolution.
Bigcommerce Customer Support
The Support Portal touches base on a number of different subjects including Configuring Your Store, Running Your Store, Store Design & Content, Marketing Your Store, and Billing & Account.
Articles address topics such as shipping, payments, themes and design, and payment details.
Like Shopify, Bigcommerce offers 24/7 support via phone, email or chat.
The company strives to resolve problems on the first phone call which speaks volumes about its support.
Providing a solution to an issue quickly and without adding stress to the customer is how e-commerce platforms make a name for themselves publicly.
I Contacted Customer Support For Some Help:
I reached out for a little help to see how they stacked up. They responded fast, but my issue is still not resolved (Update, they did resolve it, took about 1 month).
Really though this issue needs to touch multiple hands, so doing an ok job. Butttttt, I didn't get the follow up I was promised.
Try Shopify Free or Try Bigcommerce Free
---
Marketing & SEO Tools These Bad Boys Have
---
Shopify Marketing & SEO Tools
Marketing and Search Engine Optimization (SEO) are important to any successful business.
That's why Shopify commits itself to offering some of the best resources where promoting your business is concerned.
Some of the free tools you get with Shopify include:
•Business Name Generator. You need a great name to stand out in a sea of competition. That's where this tool comes in. Shopify helps name your business so you can move forward with branding and marketing.
•Slogan Maker. Come up with a jingle or motto that makes people remember who you are and what your business is all about with the Slogan Maker tool.
•Wholesale Product Search. Connect with wholesale suppliers that help you grow your business. Find a product in a matter of minutes with the Wholesale Product Search tool.
•Pay Stub Generator. Create cloud-based pay stubs whenever you need them. Take care of your expenses in minutes with the Pay Stub Generator tool.
•QR Code Generator. Create mobile phone readable QR codes. Make data scannable and easy to decipher.
•Terms and Conditions Generator. Decide what's permitted and what's not permitted. Create the Terms and Conditions for your website.
•Business Card Maker. Don't pay extra to have someone else design your business card. Use Shopify's tool to create one fast and for free!
•Gift Certificate Template. Appeal to more customers by offering gift certificate options. Help others select the perfect gift by using the Gift Certificate Template.
•Invoice Generator. Create invoices that help you get paid faster. The cloud-based invoicing tool is among the handiest available.
•Purchase Order Template. Create purchase orders with this template. Tackle that hard administrative work in a matter of minutes.
•Privacy Policy Generator. Highlight your company's privacy policy. Post it to your website so others see how much you value confidentiality.
•Shipping Label Template. Go to one place to print your shipping labels. Make sure your orders get out on time with this valuable tool.
•Refund Policy Generator. Let your customers know what constitutes a refund. Spell it out clearly with the Refund Policy Generator tool.
•Mockup Templates. See what your image would look like on different products. Design t-shirts, phone cases, and more with Shopify's Mockup Templates tool.
•Bill of Lading Template. Create your Bill of Lading forms. Spend your valuable time coming up with new product ideas rather than spend time doing menial tasks.
•Barcode Generator. Create, track, and organize products easily. Assign each its own unique, custom barcode for inventory purposes with the Barcode Generator tool.
•Image Resizer. Resize photos so they look their best. Keep everything uniform and attractive for your customers with the Image Resizer tool.
•Business Loan Calculator. Use Shopify's Business Loan Calculator to determine how much money you can borrow. Invest in your business and grow exponentially with a little outside financial assistance.
•PayPal Fee Calculator. Learn how to save money on hidden PayPal fees. Don't get stuck paying any more than you have to with the PayPal Fee Calculator.
•CPM Calculator. Optimize campaigns. Make ads profitable with the CPM Calculator.
•Profit Margin Calculator. Decide how to price your products. Learn how to make the biggest profits imaginable.
As you can see, Shopify offers a lot of features that makes the service worthwhile.
Rather than go to other providers for additional tools, you find them all in one place, and more importantly, one price.
This helps you keep track of your expenses and familiarize yourself with Shopify's platform fully.
Bigcommerce Marketing & SEO Tools
Bigcommerce offers marketing and SEO tools much like Shopify. It helps your store rank higher on Google, Yahoo, and Bing.
Bigcommerce uses auto-optimized titles and page URLS, 301 redirects and URL rewrites, and customizable category pages and canonical product pages as well as additional SEO features.
Creating, publishing, and distributing content through the built-in blogging platform assures that what you share ranks and engages customers. You're also able to improve click-through with product reviews.
When a customer likes your products, their positive reviews are included in search engine results.
Enterprise-grade analytics help you measure performance and see how many orders were placed, the number of people visiting your site, the conversion rate, and more.
This allows you to create a better overall shopping experience for the people visiting your website.
Email marketing through MailChimp and HubSpot helps target customers based on their buying history, reward them with incentives such as coupons and discounts, and win back former customers by offering them some sort of special deal.
Bigcommerce reports that "The average ROI of an email campaign is 4,000%!" The e-commerce platform makes it easy to market by providing the tools a business needs most to be successful.
---
Apps They Have To Offer You
---
Shopify Apps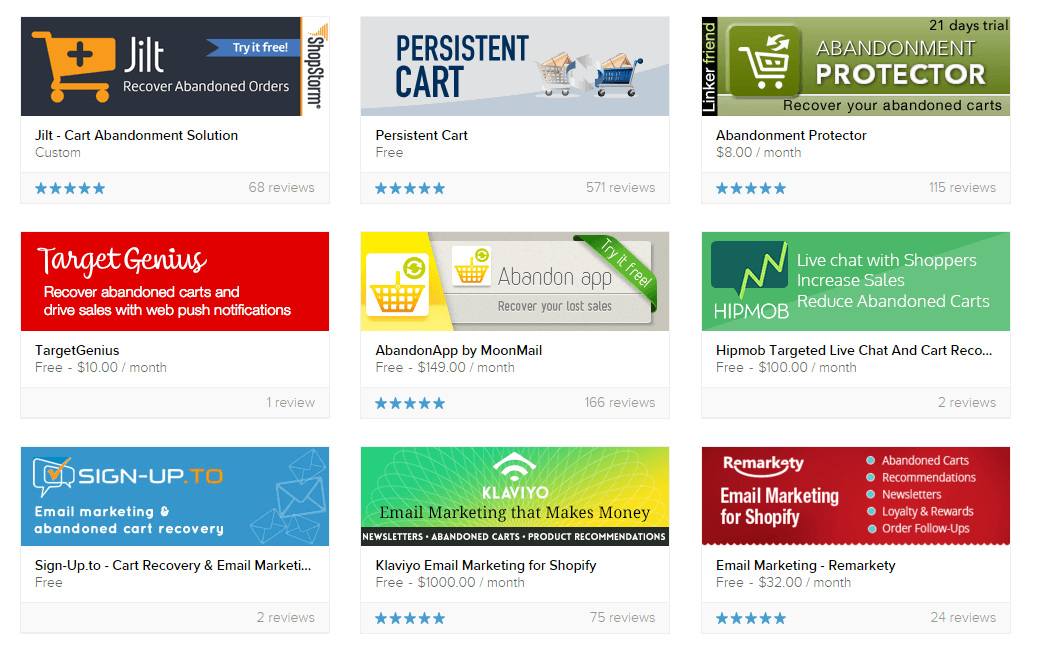 With over 500 apps to choose from in the Shopify App Store, you've got decisions to make.
According to the eCommerce platform, the following twenty apps are their most popular downloads:
•Chimpified (Free)
•Order Printer (Free)
•ShopPad (Free)
•Facebook Store (Free)
•Plugin SEO (Free)
•Retail Tower (Free)
•Yotpo (Free)
•Live Web Insights (Free)
•Shopify Widgets (Free)
•SumAll (Free)
•AddThis Sharing Tool (Free)
•Variant Images (Free)
•Want Button (Free)
•AddShoppers Social Analytics (Free)
•Personal Bar (Free)
•Concierge (Free)
•AfterShip (Free)
•Vantage (Free)
•Shippo (Free)
There are a lot of free and paid options to choose from but as you may have noticed, Shopify emphasizes the free ones.
This is a bonus because according to the company, they are the apps that account holders use frequently.
It's up to you, the business owner, however, to determine which are the most beneficial.
Bigcommerce Apps
Bigcommerce offers a variety of free and paid applications through its App Store.
Each is clearly labeled with the word "Free" or information about the app's cost.
For example, Upsell and Reciptful are free apps that work seamlessly on the Bigcommerce platform.
Pixelz, however, offers a free trial but then charges a per image fee for image editing service after that time is up.
Some featured free apps include:
•Ordoro: Order and Shipping
•Salesforce
•QuickBooks Online
•McAfee SECURE
•Better Coupon Box
•Facebook Shop
•AfterShip
•PriceWaiter
Some featured paid apps include:
•S Loyalty
•Coopt
•Google Shopping
•BoostSuite
•Justuno
•Optimizely
•Sellbrite
•Squixa
Paid apps range in price which is listed below the name of the app.
Many offer a free trial so you can see what they're all about and how they work for your business without making a formal commitment.
If you want to use them for the long haul, however, be prepared to pay either a monthly fee or annual charge.
---
The Bigcommerce VS Shopify Final Results + What I Would Do
---
Now that you can see how Shopify and Bigcommerce compare to one another in terms of features, pricing, and customer service, you'll have an easier time deciding which is the right platform for your business.
Each has something unique to offer its customers. From monthly payment options to apps and features, it's a good time to put your business online.
Final Thoughts On Shopify
Shopify has a tendency to be the most popular option because of its ease of use, massive list of features, and round-the-clock support.
It's also priced to fit all sizes of businesses and budgets which is truly beneficial to users.
Shopify continues to impress and attract new users with its addition of much-needed services such as mobile POS payment processing and educational services including its new podcast featuring real entrepreneurs making a living off their e-commerce websites.
And Bigcommerce
Although Bigcommerce has gained a significant amount of attention in recent years, it's still the lesser known of the two e-commerce platforms.
There isn't a lot of information available on its website about how the company came to fruition, nor does it state its plans for growth openly.
The information found and shared in this article came from interviews with the company CEO and founders but wasn't easy to find on the Bigcommerce website.
Shopify is very open with its disclosure of information.
This boosts customer confidence in the e-commerce platform.
That's why people are starting to see Shopify stock as a great investment. As more storefronts open on the e-commerce site, the value of the company itself will continue to rise.
In a world where being the owner of a business is no longer a dream but a reality for many people, providing a comprehensive platform with all the tools, features, and support needed to run optimally under one company and at one monthly cost, makes sense.
It's only a matter of time when other competitors try to recreate Shopify's business model.
For the time being, Bigcommerce remains an option but one that hasn't quite made the impression that Shopify has.
So, the overall winner is Shopify
Try Shopify Free or Try Bigcommerce Free
Summary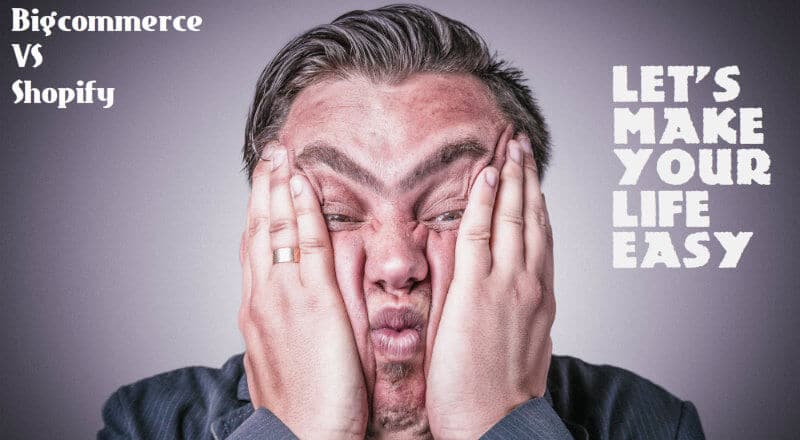 Article Name
Bigcommerce VS Shopify:(A Crammed Packed Article To Help You Decide)
Description
Make your decision easier with the Bigcommerce VS Shopify review page to break down 14 categories to compare.  Pricing, templates, support and more.
Author