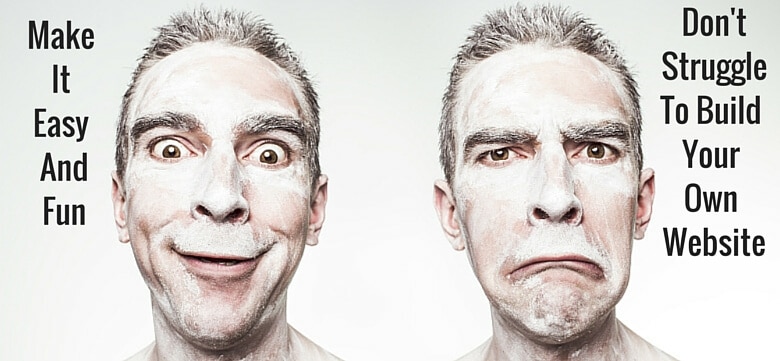 What are the best website builders for beginners? Good question right?
I mean, you don't need anything ridiculously crazy, just something user-friendly and powerful:
in other words:
Just a simple website you can be proud of.
But, don't worry, they still are packed full of tools and efficiency you still need.
They just know how to develop their platforms so anybody from the beginner to the techy can build an amazing website.
The other great thing is:
These website builders have templates, tools, and more for most likely the reason you're looking to build a website.
For example: maybe you fall in these categories:
I want to start blogging
I'm a photographer that needs a website
I'm looking to start my own online store for my small business
I'm an artist looking to sell and display my work
I'm a realtor looking build my own website
See?
A Quick Note:
Don't get these mixed up with options solely focused on let's say building an eCommerce website, or building a photography website. These options are for a basic website builder with options within them to build sites like this
And:
May even rank #1, #2, or #3 for the top options for eCommerce or other niche-focused markets. But their sole focus is not in these niches (well, while I'm writing this 🙂 )
Does that make sense? I sure hope so!
OK, let's check out the best website builders you totally need to be using if you're looking to build a website.
Especially, if getting started today is a goal of yours.
---
#1 – The Best Website Builder For Beginners To Building A Solid Website.
---

Wix is your #1 option when it comes to building a website.
I've tested it out and compared it to the others and with all the features and templates it has combined with how easy it is to use, your going to be CRAZY not to at least take it for a test drive.
After looking over Wix I feel they do the best job at having a ton of templates broken down into niche specific categories for you.
For Example:
Look at all the main categories they have for you to start. This doesn't even include the sub-categories under each one.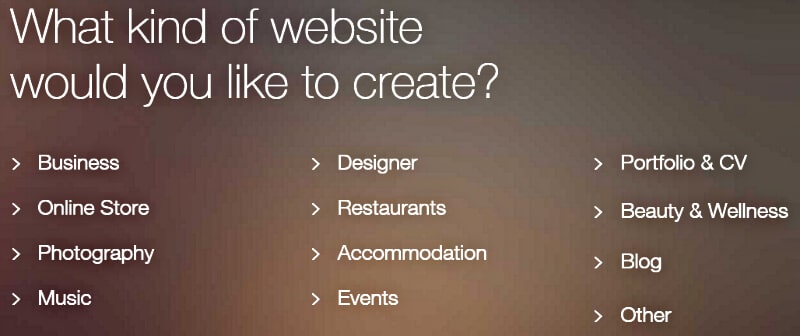 Boom, you click one of those and you already have a huge jump start on your new website.
So, let's quickly do a run-down of some benefits Wix is going to offer you.
Great Benefits:
Super Simple To Start Setting Up
Tons Of Templates To Help You Decide
SEO Tools To Get Your Site Found On Search Engines
Marketing Tools To Help Brand Yourself
Low Costs Plans For Your Budget
My Top Pros Of Wix I Love:
A Very Fair Price
Love The Template Options
Offers Great Options For Photographers, Small Business Owners, And Artists
Drag And Drop Site Builder Makes It Easy
Tons Of Support Outlets (Phone, Email, And Forum Support)
My Top Cons Of Wix:
Wix Ads Displayed On Free Websites (I Get It though, they have to do something)
Can't change your template once selected without creating a new website and then transferring premium plan and domain to it. So possible, but just more work.
Wix Pricing Plans:
Free – Limited Features
Connect Domain – $5 Monthly
Combo – $10 Monthly
Unlimited – Most Popular – $14 Monthly
eCommerce – $17 Monthly
VIP – $25 Monthly
Let's go ahead and walk through some steps together real quick to just get started. This will take your about 60 seconds.
Click here to go to the home page
Click the start my website button
Sign up and fill out the info. Or sign up VIA your social media account.
Boom, your now on your admin panel 🙂
Build Your Site For Free & Easily With Wix – Get started and join millions that power their site with Wix
---
Weebly – The #2 Website Builder
---

Weebly is a very powerful and easy to use website builder. At the moment, it has over 30 million users that use Weebly to run their website.
The great thing is it's one of the easiest website builders to use and covers a lot of bases such as giving you features to build an eCommerce website or just the simple basic bloggin website.
Let's check out some benefits for you:
Easily build your website same day
Flexible pricing structures for you
Tons of tools for you to build your site
You can easily drag and drop how you want your site to look
My Top Pros For Weebly:
Easy for anybody to build a website
Tons of themes to enjoy
The costs are low
My Top Cons For Weebly:
Weebly branding on free website
Hard navigation for customer support (not that it's bad, let's just make it easier)
Valuable Links For Weebly:
Check Out This Nice Video To Get A Better Feel On Weebly:
Ready to try out Weebly? Or maybe read my full Weebly review?
---
Squarespace – The #3 Website Builder For Beginners
---

Squarespace is a great overall website builder. It has a ton of features and a ton of templates and tools to support you regardless of what you will be building.
For Example:
It has dedicated plans for eCommerce, Blogging, and a one-page website.
Squarespace also has amazing templates like I mentioned to get started. Another great thing for someone new to building a website is it takes 3 clicks and you are already picking your template.
Let me show you really quick:
Go to the main page and click the "Get Started" button
Next:
Just choose what type of website you are building.
And last but not least.
Select the template you want to use. It's crazy how easy it is.
So, What Are Some Top Benefits Of Squarespace?
Tons Of Template To Really Make Your Website Look Great
Great Blogging Features For Your Blog
Great SEO Features For Getting Your Site Seen
Squarespace Links:
Ready To Try Squarespace?
Conclusion On The Best Website Builders For Beginners:
To recap real quick.
The 3 best website builders for beginners are:
Wix
Weebly
Squarespace
All 3 offer a simple approach to setting up a website.
They offer a simple yet great looking website at a great low cost rate for that brand new beginner.
Enjoy trying them out and seeing which one fits your needs.
Just to ask you:
Have you tried any of these yet?
Summary
Article Name
The 3 Best Website Builders For Beginners (Start Easily Today)
Description
See The Best Website Builders For Beginners Right Here. These 3 Options Make It Simple To Start Building A Website Today Easily With No Experience.
Author