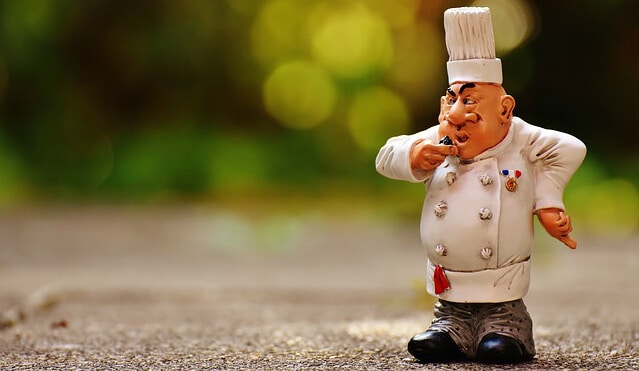 A website for your restaurant is vital to compete with other restaurants.
After all, your customer are most likely searching for restaurant ideas in your town.
Or even:
Soon to be visitors to your town.
You need to be seen and show up on search engines.
These 3 best Restaurant Website Builders I found make it super simple and provide you with the tools you need to show them important info like:
The Menu 
Your Hours
Who You Are
Directions
Phone Number
Even better:
You can have it up and running today.
Let's get started and check out these 3 super simple restaurant website builders.
---
Flavor Plate – Dedicated To Bring Your Restaurant Online
---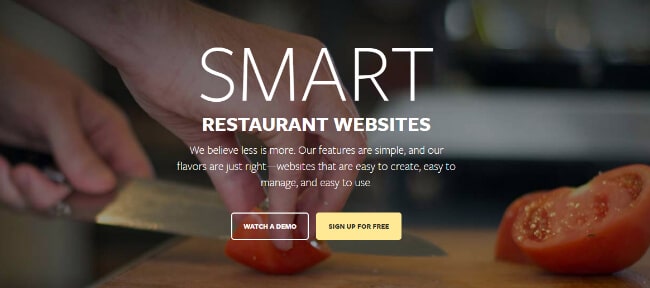 Flavor Plate is free to sign up for and has pricing plans that range from $9-$35 a month, pay as you go.
There is a 14 day free trial with no credit card required.
This is a great way to try out the website's features without fully committing to using it month after month.
Flavor Plate Pricing: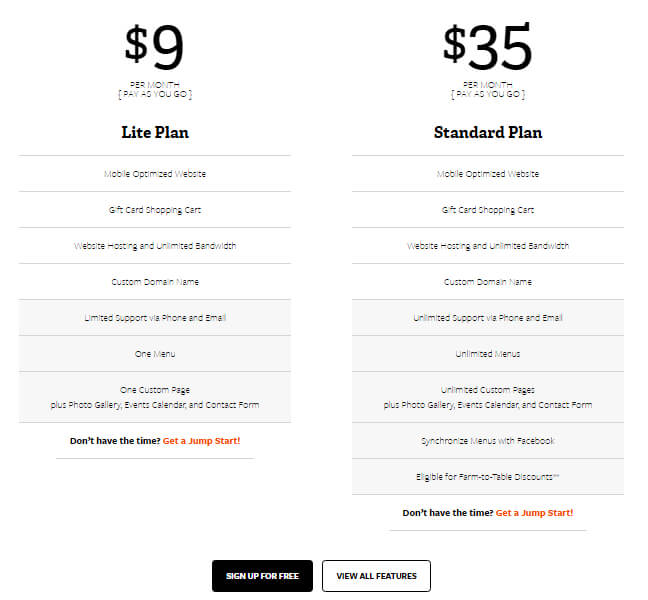 Flavor Plate's website manager is easy to use and allows you to take control of your website content quickly and from one location.
The set of tools are the most useful ones you'll have access to throughout the website.
For example, you can capture revenue for your restaurant successfully by giving people the option to purchase gift cards or gift certificates online.
Best of all, there is no set-up fee required and no additional cost added to your monthly subscription fees.
Other tools that will make you believe in the power of Flavor Plate include the restaurant website builder's menu manager which allows you to compose, edit, and publish as many menus as you'd like.
This allows you to update seasonal offerings and introduce new menu items with ease.
Flavor Plate Is Responsive
You can also rest assured knowing that your website is optimized for mobile devices.
Customers viewing it from a tablet or smartphone will have a similar experience as they would viewing the restaurant site from a laptop or desktop computer.
Responsive design makes this possible.
Social Media And SEO
Social media integration allows you to keep up with one people have to say about your restaurant online.
You can create posts as a way of reaching out to your Facebook fans and Twitter followers. That's where you truly engage these people and motivate them to share your posts with others.
SEO optimization is a default option included in every Flavor Plate website. You can set page titles, URLs, and meta descriptions with the intention of ranking well on the search engines.
If you don't know how to do these things, the website building site does it for you.
Some Other Great Features
There is a photo gallery where you can show off your best dishes and an events calendar that allows you to promote special occasions on your restaurant calendar.
People can click on it to view it and see if you're offering something they'd like to attend.
This is very helpful during the holidays when people are looking for something special to do with their loved ones and friends.
Email marketing lets you sign up for a free MailChimp account that you're able to get a custom email template to use.
It's branded to match your website so that you're able to achieve consistent branding throughout the marketing process.
You can use the emails to announce changes to your menu, star employees, and customer feedback.
This is a great way to offer discount codes and coupons, too. If you have a new dish that you want to test, you can invite people to come in and try it by giving them a discounted price off a future visit.
Some Flavor Plate Template Options
Flavor Plate offers 10 different templates you can customize to your liking.
The nice thing is they are simple and straight to the point which I really like, and I think you will too.
Click on the pictures to check out a demo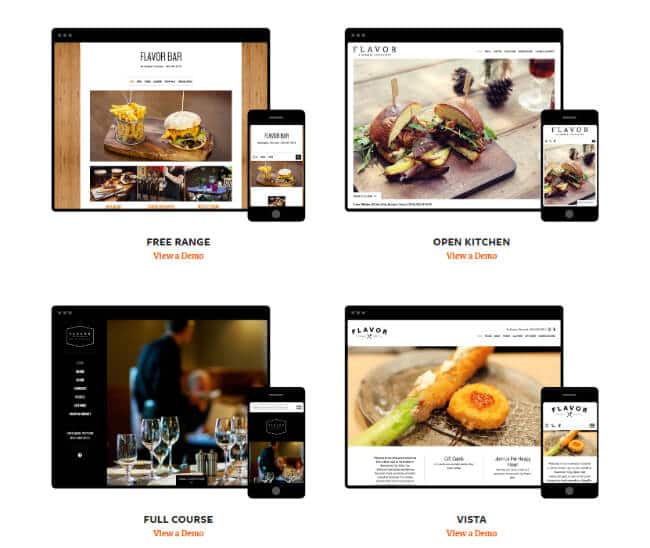 Try out Flavor Plate to see if it fits your needs
---
Wix – Great Features To Build A Booming Restaurant Website
---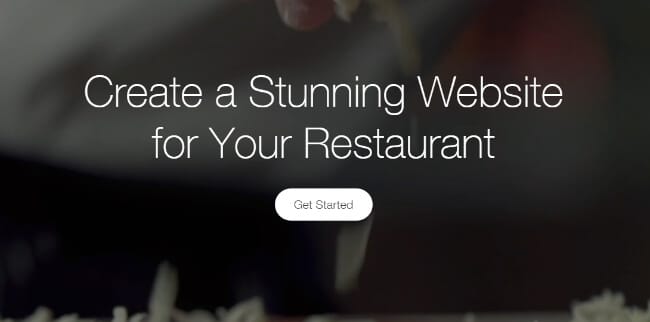 Wix is free to sign up for and offers several pricing plan options to choose from.
It ranges in price from free to $25 a month and all paid accounts offer unlimited pages and free web hosting.
VIP and Unlimited accounts offer unlimited bandwidth, too.
Wix Restaurant Pricing & All Pricing Options In General For Wix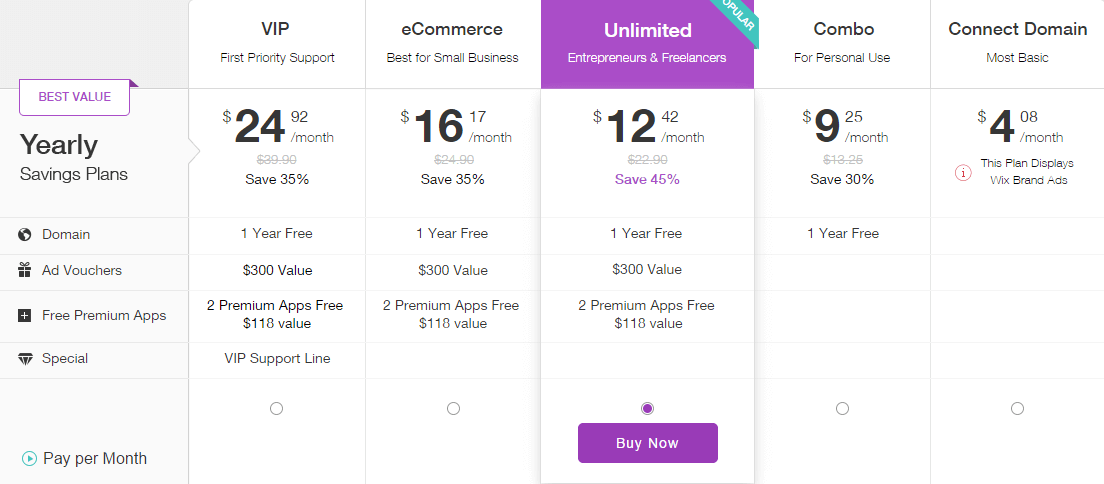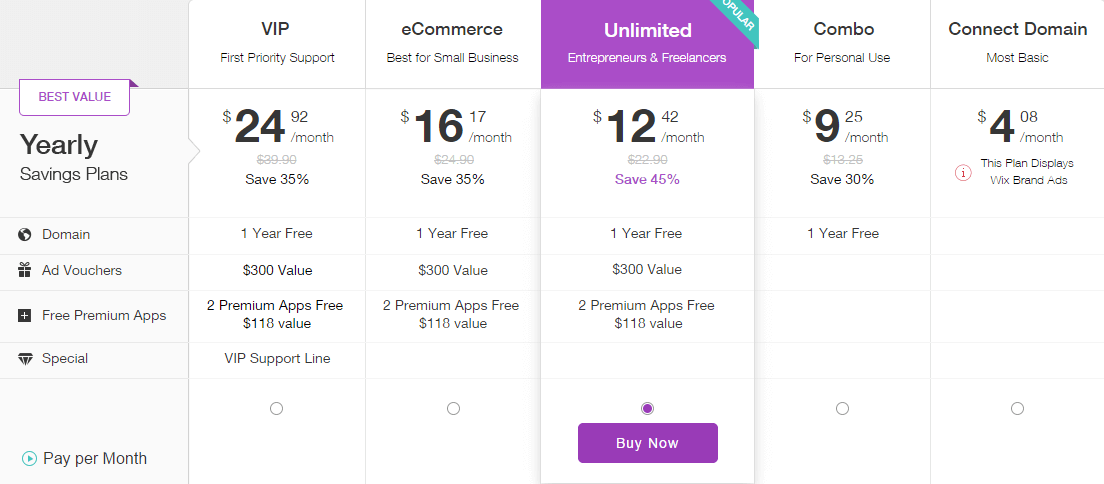 Customizing Your Restaurant Website
Restaurant owners love what Wix has to offer them in the way of beautiful, responsive website templates, online menus, and unique image galleries.
Here are a few of the Wix restaurant templates they offer.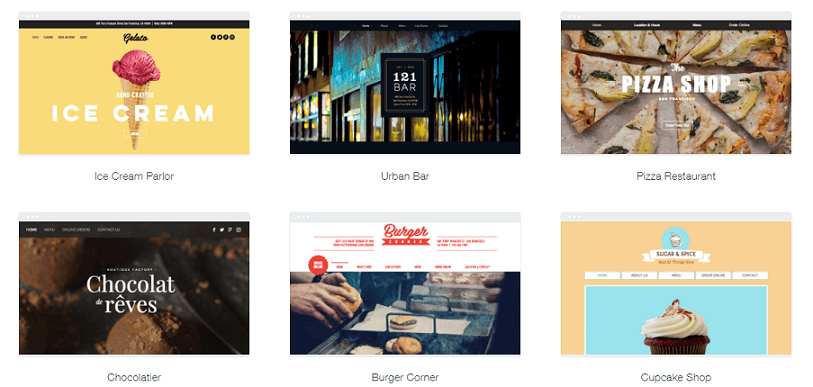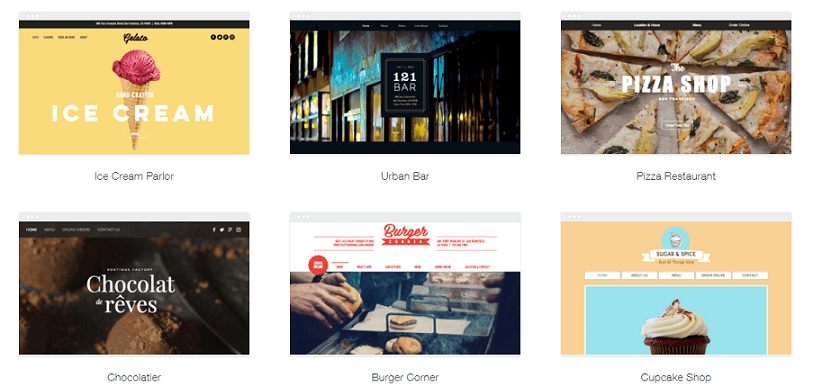 Coupled with a wide range of tools such as OpenTable Restaurant Reservations which allows customers to make reservations while on the go using their mobile phone and Google maps which makes finding the restaurant quick and easy.
Check this out
Here Is What The Table Reservations Looks Like….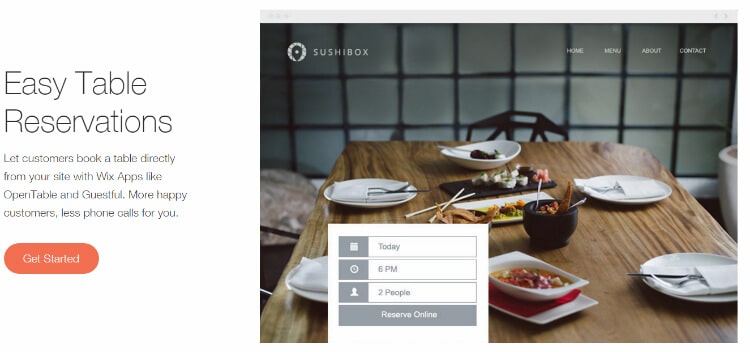 When it comes to delivering an unforgettable experience, Wix does its part by making your website one that people come back to again and again.
When it comes to building your restaurant website through Wix, you're given options as to what template you want to use.
From there, you can customize details and even set up a storefront that allows you to sell your homemade consumables.
Wix Stores, Shopify, Ecwid Store, and Etsy are supported by Wix.
Promoting Your Restaurant With Wix
Wix makes it easy to promote your restaurant business through social media networking.
In addition to providing a Facebook-like popup on your site, there is also the option to add social media icons to your homepage.
People can follow your accounts, post on your wall, and comment on your content.
You can even create coupons as enticements to get your customers off the couch and into your restaurant.
You can offer discounts in exchange for Facebook likes, tweets, and other social media shares. This helps get the word out about you and your business.
Online Ordering Made Simple
This is a great touch to really ramp up your online presence.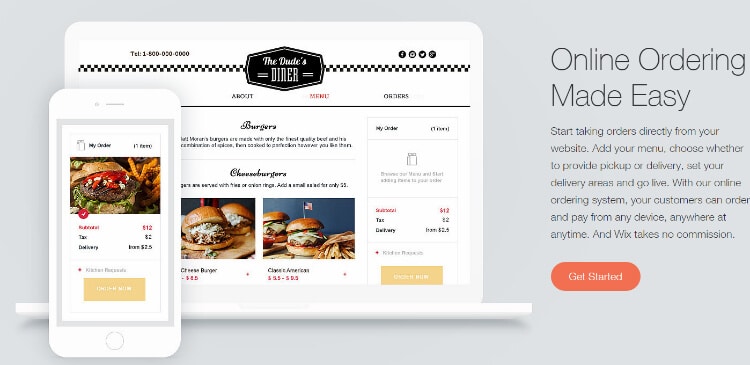 A Nice Restaurant Touch
Wix lets you announce special events and build buzz with a countdown timer.
You can also have people register through Eventbrite for special occasions such as menu samplings and charitable dinners.
A Google Event calendar keeps everyone in the know about upcoming events so they can take part in them.
Analytics & SEO
If you want to track how well your marketing and promotional efforts are working, you can use analytics to get real-time web stats.
You also have access to a number of SEO tools designed to make your business stand out in the search engines.
If you want others to know just how many visitors you've had on your website, add the Wix Hit Counter and watch the numbers roll in.
Wix makes it easy for you to get your site listed with the search engines. It also allows you to create targeted campaigns that help you gain new customers.
Being able to measure your progress and make adjustments along the way gives you a distinct advantage as a restaurant owner.
Start building your restaurant website with Wix right now
---
Squarespace
---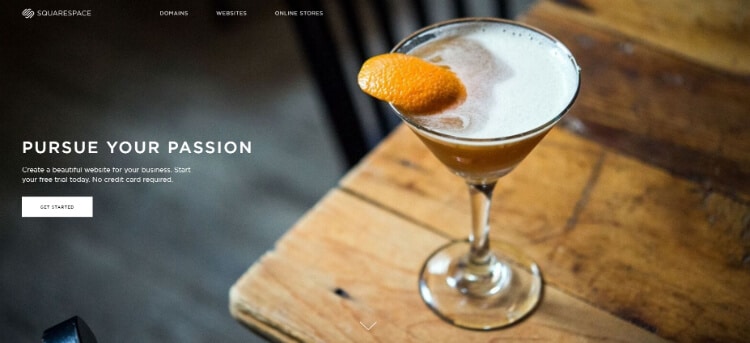 Like Wix, Squarespace is free to sign up for. You get a free trial with no credit card required to enjoy the website's benefits.
Businesses pay $18 a month if paid a year in advance or $26 month to month, depending on whatever is more convenient for them.
Squarespace Pricing


Getting Started
Building a restaurant website is easy with Squarespace who details the steps required to get it launched in the support area of the company's website.
The first thing you're required to do is sign up for an account and select the membership plan that meets your needs.
Then, choose a template that makes your cuisine stand out in a sea of competitors by featuring color photographs of your best appetizers, salads, entrees, and desserts.
Squarespace Templates For Restaurants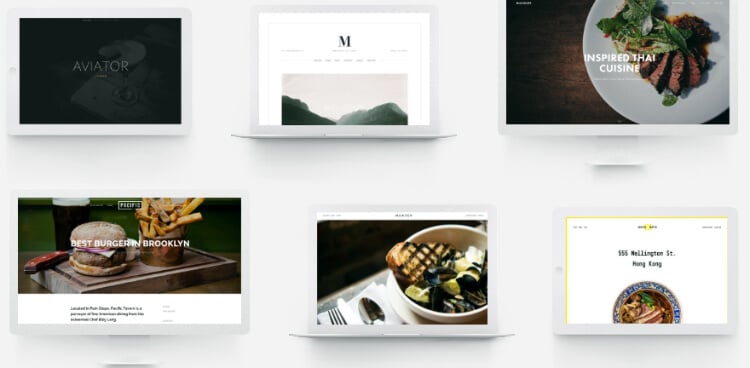 Use Marquee to tempt patrons with your mouth-watering dishes. The carousel option continues to stroll while a customer is reading other information on your website.
A site-wide footer lets you keep important information about hours and location on every page.
Then there's Pacific which lets you include hours, location, menus, and images in a seamless way on your website.
You can use the site-wide footer for whatever else you want your customers to know about your restaurant.
It's a valuable piece of virtual real estate that you can use throughout your website on each page you have up.
The templates are samples of what you can do with Squarespace. You can also display hours and the location of your business as well as a contact us page.
This is important in the event that people have questions about your cuisine.
Make Online Reservations
Customers can use OpenTable to make reservations and you can list your restaurant phone number and email for this purpose, too. That's one of the distinct advantages of Squarespace.
It helps you attract visitors to your website and hold their interest with descriptive banners, galleries, and blocks of images so they can see what your food and restaurant looks like before visiting you the first time.
Get In Touch With Your Customers
Like Wix, sharing information via social media account is easy once you've connected them.
This is a great way to connect with people through Facebook, Twitter, Yelp, and other social media platforms.
Add specials, answer questions, and promote your latest menu offerings where your customers spend most of their time, on social media sites.
Start using Squarespace to build your website for your restaurant
---
Conclusion On The Best Restaurant Website Builders
---
Just to recap:
The 3 Best Restaurant Website Builders Are:
Flavor Plate
Wix
Squarespace
All three offer an easy method of creating the perfect restaurant website with menu options, contact options, and beautiful templates.
Also, when testing these they made it the easiest to get started with which I'm huge on when it comes to building your website today.
Have you ever used one of these?
Summary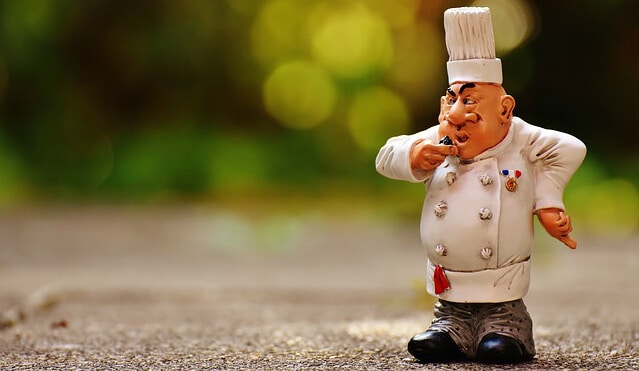 Article Name
3 Best Restaurant Website Builders To (Grow Your Restaurant Now)
Description
Are You A Restaurant Owner Without A Website? Yikes!!! It Can Be Overwhelming To Build One. These 3 Best Restaurant Website Builders Will Make It Easy.
Author