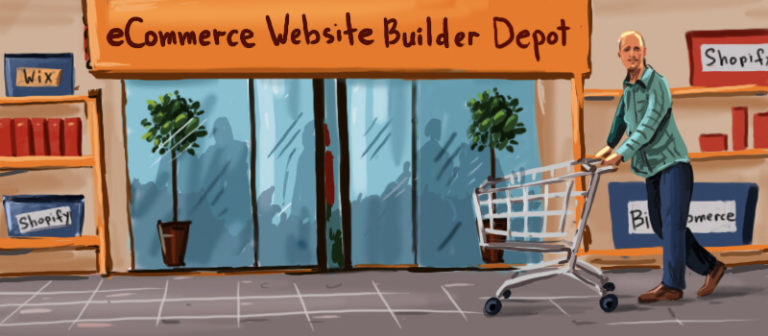 Let's get to the point:
You're most likely here because you were searching for terms like…..
Best eCommerce website builder
Top eCommerce website builder for a small business
Best online store builders
Best Way To build An eCommerce Website
eCommerce Website Builder Reviews
Am I right, or close to it?
Darn right I am: <—- Some confidence on my part 🙂
Listen, I've tested all the platforms, reviewed and compared them to one another, and researched what other the top influencer's in the website builder industry are saying, and compiled the list to easily help you decide on the top builder for your soon to be online store.
But on top of that:
I'm sure you want to test drive a few of these eCommerce online store builder platforms to see what they have to offer you and not just listen to me.
Well good, you should be testing:
The great thing is, they are right here, and if you utilize some of the most popular eCommerce software platforms out here, you can have your site up and going today and be visible online before you know it.
Want another good reason to get it going today?
According to a statistic by eMarketer, they expect retail eCommerce sales will increase to $4.058 trillion in 2020, making up 14.6% of total retail spending that year.
Or, maybe this helps paint a better picture: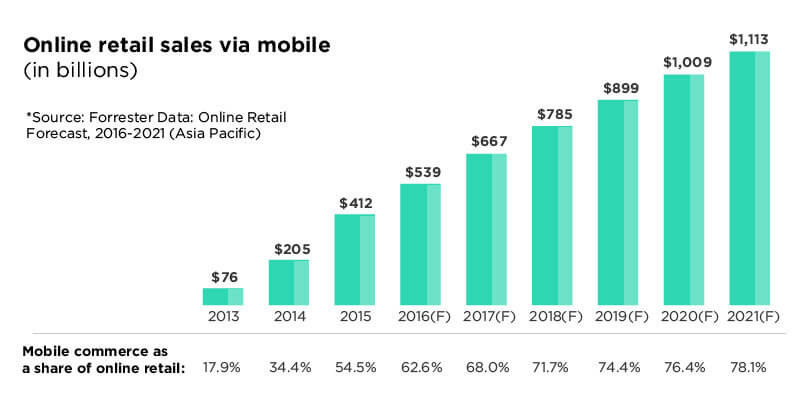 Think it might be worth grabbing a piece of that pie?
The answer is yes 🙂
In this list, I am going to go over some of the top website builders for anyone looking to build an eCommerce website and show you some of their top perks to offer your shoppers for an awesome experience.
So, what the heck went into putting these in order?
The 5 best eCommerce website builders are in order in which I feel they're ranked based off research, reviews, and comparing one another when it comes to building an eCommerce website.
If you're struggling with choosing one or pulling your hair out get a hold of me over at my "About Me" page.
Just to stay transparent with you:
Just so you know I can get paid out by you purchasing through these resource links below, nothing changes, it just helps support this website.
If you have any questions on this affiliate disclosure just let me know, I'd be happy to answer any of them for you:
Before Reading The Top 5 You Can Take This 30 Second Quiz To Give You An Idea Of Which One Might Be Your Best Fit Based On Your Answers
---
1. Shopify – The Best eCommerce Website Builder For Beginners, Pros, And Anyone Looking To Dominate Online.
---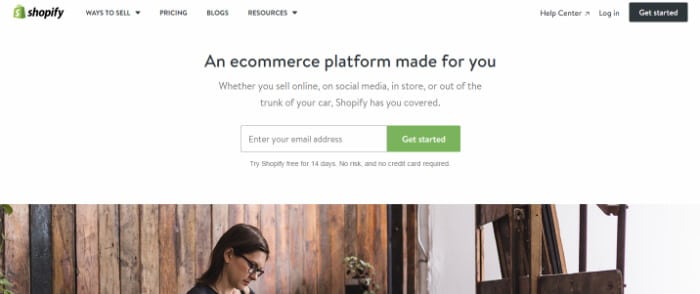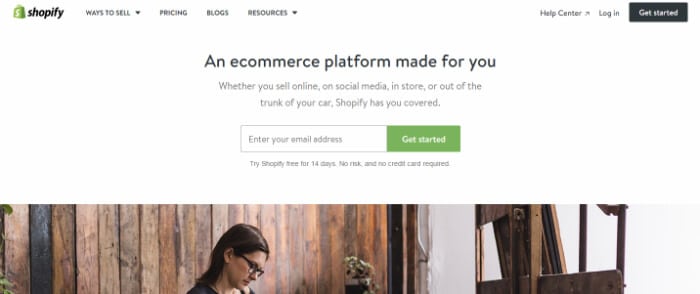 Shopify is a one-stop solution for business owners who want to be able to run an eCommerce store on their websites.
Much like other site builders that allow you to build your site exactly the way you want it, Shopify gives you access to its online store builder.
You can use the provided templates to save yourself some time, or you can put everything together from scratch.
Over 500,000 online stores run on Shopify because of its dependability and countless features, some of which include SEO and marketing resources, secure shopping carts, and mobile device compatibility.
Just to add, if you still are not sure on Shopify, yet really want to try it.
just head over there and enjoy the 14 day totally free trial they offer.
Want some more great news before you start your free trial?
When you click that button just below and go to Shopify. It will only take you about 10 minutes to get your business name and eCommerce website up and going.
How awesome right? Also, having some issues or just a quick question once you set it up? Just shoot me a quick message ok?
A Few Other Things:
Shopify Offers A eCommerce Enterprise Platform Too
For new and existing customers
Companies like The Los Angeles Lakers Use Them
No transactions fees
$0 IT/maintenance costs
Focused on fast-paced companies
Powerful Data About Shopify To Make You Feel Better Using Them:
In 2006, the Shopify platform was released
Merchants in over 150 countries
680 + Experts In The Shopify Network
10 Billion Plus Total Shopify Sales
1000 plus Shopify apps to power your store
Shopify Benefits You Can Take Advantage Of:
100 + Professional eCommerce Website Templates
Easy Template Customization
Flexible Website Design
Let Your Customers Pay With Their Credit Card
Great Shopping Cart (Tons of features to benefit you and your customers)
Unlimited Web Hosting & Bandwidth
Easy Search Engine Optimization (SEO) Features
Shopify Forum (valuable spot to get feedback and throw ideas around)
Shopify Apps (Apps make your life simple)
All In One eCommerce Website Builder And Hosting
6 Of The Most Frequently Asked Questions People Want To Know About Shopify
Is the 14-day free trial totally free? Yes, no credit card needed.
Is there a setup fee? No
Can I cancel my account at any time? 100% yes
Can I change my plan at any time? You can upgrade or downgrade whenever
Can I use my own domain? Sure can, purchase one through them, or use one you already have
Do I need to host my website? No, this is all part of your Shopify plan
Pricing For Shopify
Shopify Lite -$9 Monthly – Sell On Social Networks, In Person, Or Existing Website
Basic Shopify Plan – $29 Monthly – Everything Lite Offers Plus Your Own Online Store. (82.1% Of The People I Help Start Here).
Shopify – $79 Monthly – When Your Starting To Grow – 1 Client Has Been Happy With This Since It Started In 2012
Advanced Shopify – $299 Monthly – Advanced Features When Your Scaling
Shopify Plus (For Larger Companies)- Negotiated Pricing – This starts at about $2,000 Monthly – Read More About Shopify Plus here
Discount Pricing– Once you select a store plan you can pay monthly/1 year/2 year/or 3 years with each offering a better discount (This offer works for the Basic Shopify Plan, Shopify, & Advanced Shopify as far as I know)
Features I Really Love
Instant customer support – average wait time for an answer is about 1 minute from my experience
Tons of themes that are easy to edit – no coding just easy drag and drop and edit themes
Great for any level – they cater to small eCommerce to large. It's nice knowing this
Tons of apps – for conversion, member retention, product features, and tons more to really spice your site up
Shopify Testing
I reached out to them for help to see their customer service time and am pleased to say it only took 13 seconds to start talking to someone via chat. Very impressive time frame.
Awards I give Shopify
Best Overall eCommerce Website Builder
Best Small Business eCommerce Website Builder
Best Enterprise eCommerce Platform
Best eCommerce Website Builder For Beginners
Best eCommerce Builder To Start From Scratch
Start Your 14 Day Free Trial – Only Takes 60 Seconds
Just to add a quick personal note in case you're scratching your head on even where to start.
82.1% of the people I help start with the Basic Shopify Plan to start their 14-day free trial.
It doesn't mean they stay at this level, but it gets them started and they can change plans in a matter of clicks when they need to.
---
Don't just take my word about Shopify being the #1 eCommerce Website Builder
---
Check out what other leaders in testing online store builders have to say about Shopify.
The team at Website Tool Tester call it "The Swiss Army Knife of Online Stores"
Jeremy from Website Builder Expert says "Shopify is definitely one of the easiest eCommerce builders to help you create your online shop" and "Shopify is a leading online shop builder"
Steve from Site Builder Report says "Sets the bar for all store builders"
See, how even the other top websites that cover website builders love Shopify? Not just my word 🙂
---
So, How Do You Build An eCommerce Store From Scratch? Let's Do A Few Steps Together Real Quick
---
It will open in a new window don't worry this one stays open.
Step 1. Click here to go to the homepage (Totally free for 14 days too, don't worry about fees)
Step 2. Enter your email address, store name, & password you want
Step 3. Enter a little about you and your store
Step 4. You're now in your eCommerce store dashboard. (Awesome Job :-)) (Make sure to use live chat and a rep will totally help you if you need them)
Step 5. Watch Video 🙂 (If time permits cause this goes into detail of doing everything)
Conclusion On Shopify
Shopify is the best overall eCommerce builder they will have the tools to grow with you.
I encourage you no matter what to try Shopify's 14-day free trial because there isn't anything to lose.
It's such a leader, you're missing out if you don't at least test it.
Get Started For Free – Don't worry either, No risk, and no credit card required (I made sure of it)
Check out some of these eCommerce website builder reviews to help you out if needed
---
2. Bigcommerce eCommerce Builder – A Great Online Store Builder
---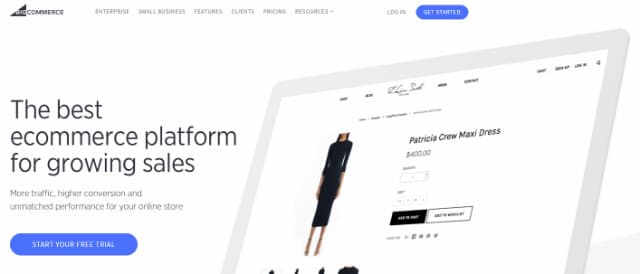 This eCommerce website builder is perfect for any serious business owner, or if your just a beginner.
They offer tons of features that make it super user-friendly.
Such as built-in marketing features to help promote your site, SEO tools to help get your site noticed on search engines, and a secure shopping cart for your customers and payment gateway.
You really can't go wrong with it because they also offer you a free trial. So the worst thing is you try it out and decide it's not for you.
Something worth reading:
Check out my full review of Bigcommerce.
Can These Benefits Help You?



Great SEO Tools (Helps you get found on search engines easier)


Great Conversion Tools (AKA – Makes People Buy Your Product)

Marketing Tools

Tons Of Product Configurations

Analytic Tools

Top Notch Security

Payment Gateway
Pricing For Bigcommerce
Standard – $29.95 Monthly
Bigcommerce Plus – $79.95 Monthly
Pro – $199.95 Monthly
Enterprise – Call Bigcommerce For Pricing
Frequently Asked Questions With Bigcommerce
Can I use my own domain name? Yup, yours or ours.
Is there a free trial? Yes, there is a 15-day free trial
Do you sell SSL certificates? Yes
Here Is A Nice Video To Learn About Bigcommerce & Get Started
---
3. Wix – The Best Basic Website Builder For A Small Business
---

With over 77 million users in 190 countries and growing at a great rate.
Wix is a great eCommerce solution to check out. I was able to open a site in general in just a few minutes which really impressed me because I didn't have a clue about Wix.
I wrote a nice detailed review on Wix that should give you, even more, info that you're looking for if needed.
Another really nice thing I like about is Wix is near the beginning when you are signing up and have to choose what type of template you need. They pretty much spoon feed you the categories.
For Example:
Let's say you're a realtor and want to build a real estate website.
Wix does an awesome job breaking it right down and helping you choose the templates for that industry within the first steps of signing up.
It's nice to have that peace of mind that you're already on the right track.
These are only a few of their great benefits for you:
Set up website fast (no joke, probably 5 minutes)
Simple drag and drop to make your life easy when designing your site.
Dedicated 24/7 to help you when needed
Optimized for your mobile users
Tons of templates to choose from that fit your needs and will catch your customers attention
Easily add blog features to your eCommerce website
Wix Pricing
Free – Limited Features
Connect Domain – $5 Monthly
Combo – $10 Monthly
Unlimited – Most Popular – $14 Monthly
eCommerce – $17 Monthly <— Just select see all plans to see the comparison chart
VIP – $25 Monthly
My Main Wix Con
I just am not a fan of their customer service options. I just feel it takes too long for a response. It's not a make or breaker but sure would like to see them implement a chat service.
Awards I Give Wix
A top online store builder for a small business not scaling
---
4. Volusion – Powering Over 40K + Stores
---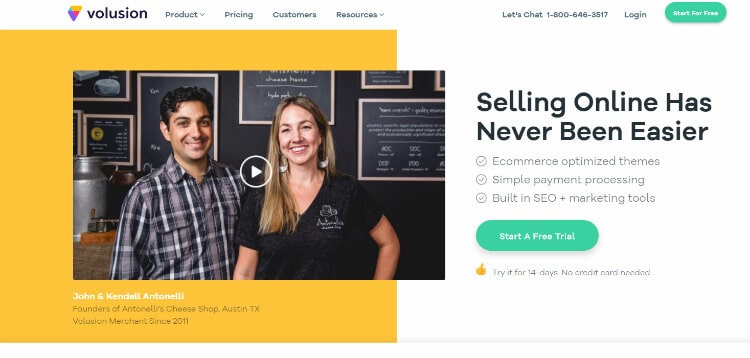 Of the sites on this list, Volusion is the one that equips e-business owners with the tools best suited to visually attractive product presentation.
While the designs are not overly Flash-heavy, every aspect of your store will look and feel very smooth and clean.
While Volusion can be tweaked to help you sell any kind of product, the way it is designed is geared more towards selling physical goods.
Customers will be able to easily navigate your store and browse through your products with ease.
Make sure to check out the article Creating A E-Commerce Store With Volusion for more information.
Benefits:
Simple SEO Features
One Page Check Out Feature
Auto Generated Site Map
Email Marketing Tools
Simple Payment Processing
Daily Website Backup
Volusion Pricing:
Mini – $15/Monthly
Plus – $35/Monthly
Pro – $75/Monthly
Premium – $135/Monthly
Here Is A Nice Little Intro:
You can start building with Volusion right here.
---
5. Weebly – Simply A Simple eCommerce Platform
---

Weebly is a very powerful yet easy on the wallet option for your eCommerce website that you're about to build.
Many times, you will hear it compared to Wix when your doing your research too on website builders.
It offers some very nice features such as powerful ways for your customer to search and filter for products they are looking for.
This is a very important feature because your customers need to get to what they want easily.
Just to add a little pricing bomb on you. The Weebly eCommerce pricing starts at only $8 when you get into the paid plans which I highly suggest.
Here Are Some Killer Features I loved:
Easily Set Tax Rates For Your Customers Locations
Integrated Blog (Great For Content Marketing)
SEO Options To Get Your Site And Products Found
Powerful Features To Search For Products
Weebly Pricing:
Free
Starter – $8/Monthly
Pro – $12/Monthly
Business – $25/Monthly
Performance – $38/Monthly
A Con For Me:
Weebly needs more templates. Tons of potential but I need some more options.
Ready to start building with Weebly?
---
Let's Address The Elephant In The Room
---
So:
What's the best free eCommerce builder?
UGH, I hate to say it
But, your not gonna find one.
You might find something very basic.
But, when it comes to building an eCommerce website you're going to have to pay something.
This is to your benefit too. All the features you get in a pricing package is so worth it.
Take the $29 Basic Shopify Plan
The fact you get immediate help on questions you have is worth the value all by its self.
Don't worry though, you get a ton more.
So, in my opinion, I would stop hunting for a free eCommerce builder and really test one of these 5 out.
---
So, What To Do Next? And, Which One Would I Use? And Why I Would Use It.
---
It's one thing to read the 5 best online store builders
and:
Another thing to know what to do next.
Your best option next is to test drive the one you feel will be your best choice.
Or:
At least test drive your top two options out there.
One thing I will tell you is it's easier to just dive in and test them out then to debate.
You don't get anywhere doing that.
So, now let's talk
If I was about to build an eCommerce website and was ready to get started.
What would I do?
I would ask myself this
How big do I want my eCommerce website to get, and what do I need out of it
If my answer was to stay small I would go with Wix or the basic Shopify plan, because these are the very simple options.
If my answer was to start an eCommerce website and my goal was to grow it over time I would want to use Shopify hands down.
In fact, I would call it a must try
A few reasons why:
It has awesome customer service (they are literally right there when you need help and that gives me peace of mind), I love there dashboard and visuals, and they have experts for everything you need that you can hire also.
They also, are just built around offering everything you need to have an awesome eCommerce machine.
Here is a simple link to Shopify to get started and at least test drive out their free trial
Get Started With My #1 Choice – Shopify – Don't worry either, No risk, and no credit card required (I made sure of it)
---
Conclusion On The Best eCommerce Website Builder Choices
---
Choosing the best eCommerce online solution doesn't have to be difficult.
I've shown you the top 5 online store builders. It's now just time for you to choose and test.
Each one has great benefits that can help you get online.
Just to recap:
The top 5 eCommerce website builders are:
Shopify
Bigcommerce
Wix
Volusion
Weebly
Have fun testing them and get your hands dirty.
Let me ask you something:
Have you had the chance to try any of these yet?
Or do you have a question in regards to using them?
Drop me a line below if you need help, or have a question.
If you want 1 on 1 help though head over to my contact page and we can talk via email
Summary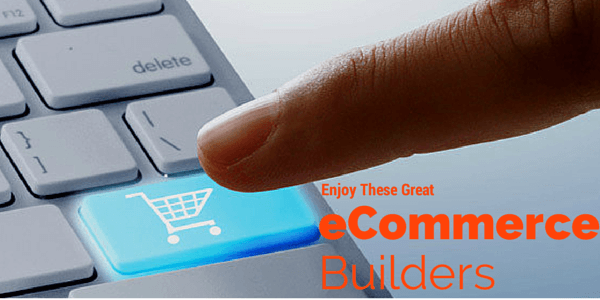 Article Name
5 Best eCommerce Website Builders (Ranked 1-5) Get Ready For 2018
Description
What Is The Best eCommerce Website Builder for You? See The Top 5 Online Store Building Options, And Get Started Build Your Store Easily Today.
Author